Day 1: Arrive Jingdezhen
Place&Transport: Jingdezhen
Today's Activities: Arrive Jingdezhen, Ancient Porcelain Street
Accommondation: Changfei Hotel
Meal: N/A
Upon your arrival in Jingdezhen,the Porcelain Capital of China! Be greeted by our tour guide in the Arrival Hall who is holding a sign"Huangshan Private Tour". A comfortable vehicle (non-smoking) with an experienced driver will transfer you directly to your hotel. Your guide will help you check in.
After a good rest, have a leisure walk in Ancient Porcelain Street. It was the busiest street in the late Ming and early Qing Dynasties, now renowned for its long history and beautiful traditions that come from its ancient culture.
Day 2: Jingdezhen
Place&Transport: Jingdezhen
Today's Activities: Jingdezhen Ancient Kiln and Customs Museum,Jingdezhen Museum of Porcelain,Hutian Ancient Kiln Site,porcelain plaza
Accommondation: Changfei Hotel
Meal: Breakfast, Lunch
Today, you'll have a full day exploration about porcelain. First, visit Jingdezhen Ancient Kiln and Customs Museum. The museum has collected over 5,000 items of historical relics where you could appreciate the display of ceramic of different times. You will also see the demonstration of traditional process of porcelain-making by hand while creating copies of ancient porcelain. Wander leisurely in this beautiful garden to view musical performances by ceramic instrument on water stage.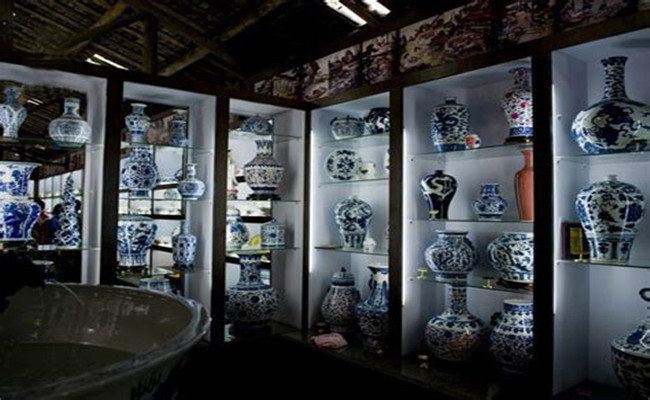 Later, go to the Jingdezhen Museum of Porcelain which is a special museum of Chinese ceramics.It has the rarest and most beautiful ceramic artifacts, in total 18,000 pieces of porcelain made in Jingdezhen from Tang Dynasty down to the modern times telling the history of continuous porcelain production in Jingdezhen.Inside the museum are a compound of ancient kiln buildings and a compound of dwelling houses of the Qing Dynasty.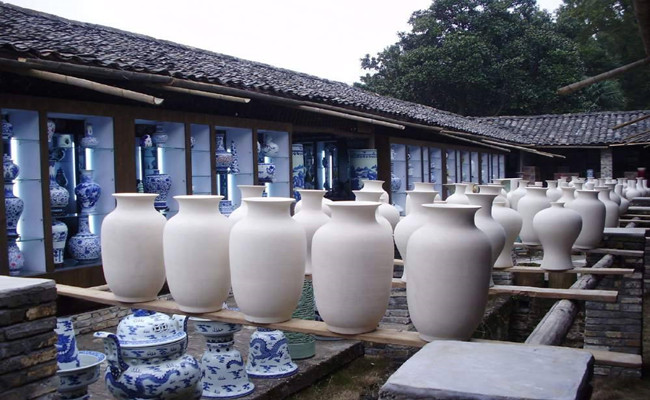 After lunch, continue to visit Hutian Ancient Kiln Site. It clearly reflects the important changes in the history of porcelain arts and crafts of this 1700 years and the complete process of porcelain manufacturing in ancient China. The Hutian Ancient Kiln Site is like a shining pearl among the ancient kilns in Jingdezhen, covering an area of 400,000 square meters.
Last, go to the big porcelain plaza, where you can enjoy the high-quality porcelain curiosity and do some artistic exchange and shopping as well.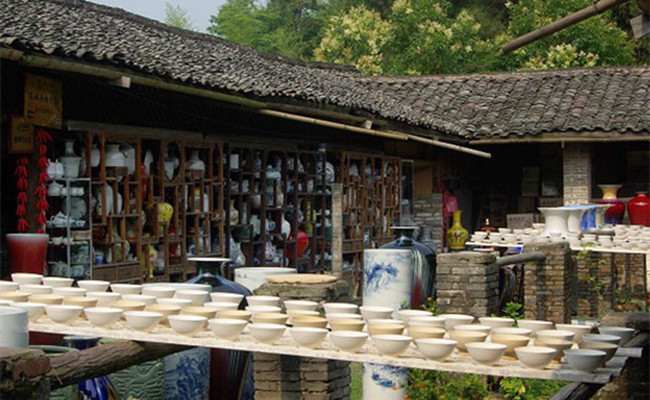 Day 3:Jingdezhen,Hongcun,Mount Huangshan (Yellow Mountain)
Place&Transport: Jingdezhen,Hongcun,Mount Huangshan (Yellow Mountain)
Today's Activities: Hongcun Village
Accommondation: Crowne Plaza Huangshan Yucheng
Meal: Breakfast, Lunch
After breakfast, be transferred to Huangshan to visit the famous Chinese-painting-like ancient village - Hongcun with about 3 hours' driving.
Has a member of world cultural heritage sites, Hongcun Village was built in Southern Song Dynasty and enjoys the history of more than 800 thousand years. Situated 10 kilometers far from Yixian County, it is folded in the fog of the Mt Huangshan, which makes it look like a natural landscape painting. Parts of the famous film "Crouching Tiger and Hidden Dragon" were made here. Hongcun is embraced by green mountains and blue waters all year round, peaceful in atmosphere and featured in landscape.It is a favourite haunt of artists and students who often stay with local families to paint here. Nestled at the foot of lofty Leigang Peak, the village is often enveloped by cloud and mist. In Hongcun, natural scenery blends to historical landscape in harmony and thus it is reputed as "Village in Picture" in China.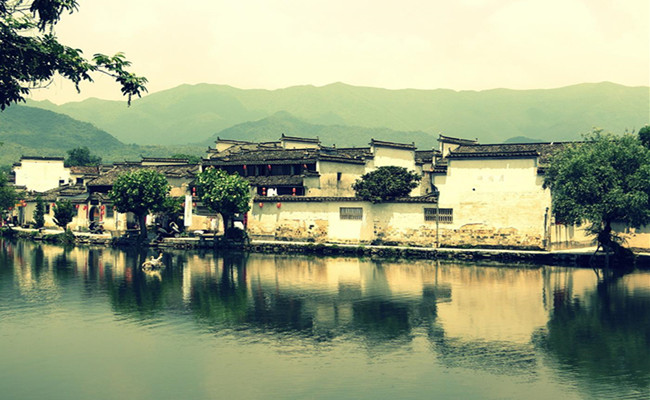 After the Hongcun visit, you will be escorted to your hotel in Huangshan City.
Day 4:Mount Huangshan (Yellow Mountain)
Place&Transport: Mount Huangshan (Yellow Mountain)
Today's Activities: Mount Huangshan (Yellow Mountain),Yungu cableway,West Sea Grand Canyon,Dispelling Cloud Pavilion,Bright Summit,Flying-over Rock
Accommondation: Xihai Hotel
Meal: Breakfast, Lunch
Today after breakfast, our guide and driver will pick you up at your hotel, then drive about 80 kilometers (1.5 hours) to the foot of Mount Huangshan (Yellow Mountain), the UNESCO World Heritage Sites and one of the most beautiful mountains in China. Your memorable Huangshan trip starts!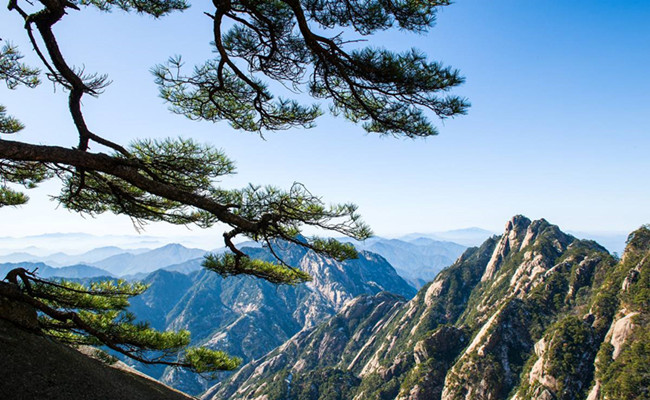 To save energy and time, you will directly transfer by park bus from the mountain foot to Yungu Temple to take a cableway to upper beautiful sightseeing area of Huangshan Mountain – North Sea Scenic Area which is famous for marvelous precipitous peaks, beautiful giant pine trees and far-reaching vision. Walk to lofty Begin-to-Believe Peak (1668m) to stretch your eyesight over cloud seas to far distance, and then hike about 40 minutes to Dispelling Cloud Pavilion to look down the Dreamland - West Sea Grand Canyon. Walk down along the stone steps to the bottom of the canyon while enjoying the Avatar-like rising rock peaks, unfathomable cliffs, bizarre stones and tenacious pine trees.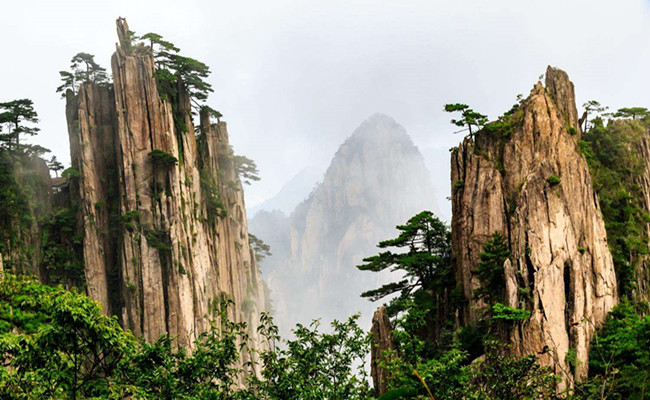 Generally speaking, it takes about 3 hours for energetic hiker to hike from the Dispelling Cloud Pavilion, via 1st Ring and 2nd Ring to the bottom and return to the starting point. For beginners, children, and senior travelers, you can decide the hiking length on your own according to your physical condition, usually 2 hours for the 1st Ring and 2.5hrs for the 2nd Ring. In the bottom of the canyon, there is also a monorail cable trains for those who don't want to return by walking to transfer back to the peak area.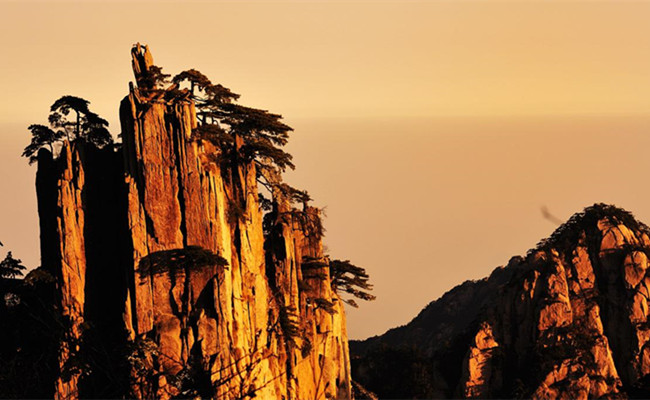 If time and energy allow, you can spend about one hour to explore the Sky Sea Scenic Area where you can enjoy the sunset from the second highest peak - Bright Summit (1840m), visit the incredible Flying-over Rock, then return back your hotel and have a good rest.
Day 5: Leave Mount Huangshan (Yellow Mountain)
Place&Transport: Leave Mount Huangshan (Yellow Mountain)
Today's Activities: Huangshan Sunrise,Dawn Pavilion,Stone Monkey Watching the Sea.Tunxi Old Street
Accommondation: Crowne Plaza Huangshan Yucheng
Meal: Breakfast, Lunch
Get up early (usually around 5am to 6am) to enjoy the magnificent sunrise from Huangshan. We suggest you watch the sunrise from the Refreshing Terrance which is only a few minutes' walking from Beihai Hotel. In good-weather days, you can see clearly the golden light of the sun piercing the mists, and rocky peaks rising above the frothy, ever-changing sea of white clouds. After the sunrise, get back to your hotel for breakfast.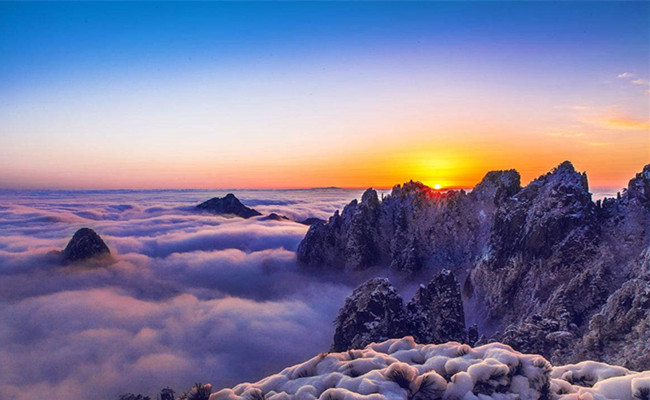 Continue on your wonderful sightseeing on the Yellow Mountain to see the famous Dawn Pavilion, Stone Monkey Watching the Sea on the Lion Peak (1690m). Then walk along the wood path to the cable station to take a cable car to exit the mountain. Your driver is ready at the mountain foot to transfer you back to Huangshan City for lunch.
After lunch, go for a relaxing stroll on the 900-year-old Tunxi Ancient Street to appreciate authentic old Huizhou-style architectures. Next comes an interesting visit to Hu Kaiwen Ink-stick Factory to find out how ancient Chinese people produce ink sticks (major item used to write and paint in ancient time).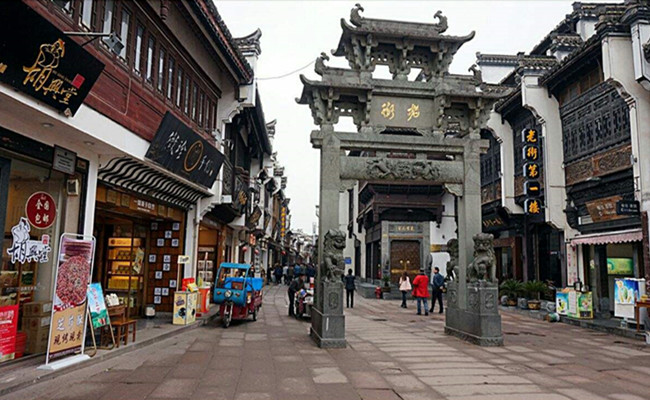 Tour ends. Your tour guide will escort you to catch your flight/train to next destination.
Price Per Person in US Dollars