Welcome to hangzhouprivatetour.com, we are the source in Hangzhou and we are the official ticketing agent of Night Of West Lake Show. Buy tickets online, Unbeatable Price! Easy to Pay! Easy to get the ticket!
General Introduction
Performance named Night of West Lake is another famous night indoor show in Hangzhou. It is as equally famous as Impression West Lake and The Romance of the Song Dynasty. It is inspired by history unique to the local area. In the 60-minute long performance, over a hundred performers showcase Chinese martial arts, gymnastic feats, folk music and folk opera and dance. The eclectic mix of performance and music helps represent Hangzhou in its full glory as a historic city of the Song Dynasty, as well as a city of love, tea culture, silk trade, and Buddhism. The performance includes five acts: "Heroism of Yue Fei"; "Majestic Scenery at Qian Pond"; "Butterfly Lovers"; "Beautiful Qian Pond"; and "Buddhist Center of the East". In the past three years "Night of West Lake" has been presented for 2500 performances, attracting 0.8 million audiences from home and abroad every year. With our excellent actors and actress, advanced equipment and attractive stories, we will show you a fascinating banquet of West Lake. There are five scenes as described below :
The First Scene -Soldiers Training Performance by Wuyue Ruler
This scene is a recreation of solders training in the Wuyue State over one thousand years ago. The drum and horn are the two main instruments used in this scene. In ancient China the drum and horn were used in the army to call the solders to action, similar to the bugle used today. In this scene the soldiers rush to the stage and stand in line, then Qianwang, ruler of the Wuyue State, appears on stage and direct the training performance.
Dating back a thousand years, this scene is deeply rooted in the Wuyue culture. Hangzhou came to prominence in the Wuyue State Period when it served as the capital of the kingdom. Since then the city has gradually become one of the nation's most important economic, cultural and political centers.

The second Scene -The Prosperity of Southern Song Dynasty
Hangzhou reached its political and economic pinnacle in the Southern Song Dynasty. Marco Polo is believed to have visited China during this time. He was amazed to see cities with over a million people, bustling commerce, and busy river and canal traffic.
This scene recreates Southern Song prosperity. There are bustling Song-style streets, filled with businessmen from around the country, shops, stores and restaurants. Southern Song songs and dances are also performed in this scene.

The Third Scene -The Romance of Liangzhu
This performance is based on the tragedy of Liangzhu, a well-known story in China. The performers tell the story using body language, dancing, and acrobatics. Combined with excellent singing they present the story quite effectively, bringing tears to many eyes.
The Fourth Scene -Artistic Qiantang
Ancient court music is performed in this scene. The music was created for the enjoyment of the Chinese emperors. They are very melodious and will remind you of bygone years. Pretty girls in elegant silk dresses will dance gracefully to the melody. Hangzhou is famous for its silk production and beautiful women. Another feature of this scene is the tea harvest dance
The Fifth Scene -Get Together at the West Lake
This scene includes drumming, dances, modern shows and cartoon performances. Regardless of whom you are or where you are from, come to West Lake and enjoy its many breath-taking sceneries.
Ticket Pricing

| | | | |
| --- | --- | --- | --- |
| Type of the Seats | Published Price | Our Discount Price | Child Price |
| Normal Seat | USD 35 | USD 26 | USD 23 |
| Vip Seat(5 rows in front of the auditorium) | USD 44 | USD 32 | USD 29 |

Romance of Song Dynasty Images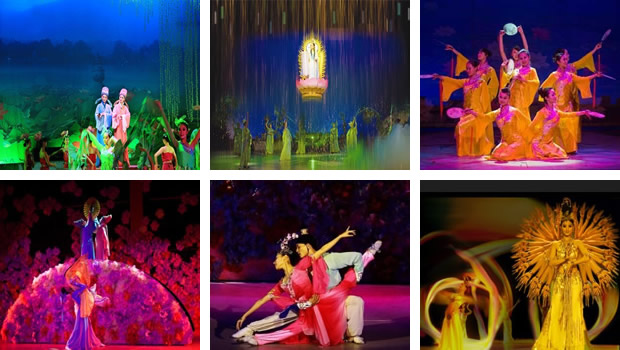 Romance of Song Dynasty Images
Child Policy:
◆ "Child Price", as shown in the above table for child over 1 meter and under 1.3 meters, seat is available.
◆ No charge for children under 1 meter in height, provided that the child does not occupy a seat. If the child occupies a seat, the price is 75% of the adult ticket price .
◆ Full fare must be paid for children over 1.3 meters tall.
◆ Child policy is depending on child's height not on child's age.
How to Book the Show Ticket * Book Normal Seats First Show
1. Send us Inquiry E-mail for booking
2. Pay by PayPal/Western Union...
3. Get the "Booking Confirmation" email
4. Get the ticket at the entrance of the show place or delivery to the address you provide
How to Book the Show Ticket?
Pay by PayPal
PayPal provides a way to send money to anyone in the world who has an email address. But, first you have to register your details (including Credit Card details) with PayPal. As part of this process you decide on a password so that you are the only one who can access your PayPal account. For more details, plz refer to www.paypal.com
However the 4% transfer fee charged by PayPal will be added. That is, you have to pay: Quotation Amount + 4% serveice fee
Our PayPal Account is: Chinaprivatetours@gmail.com
Pay by Western Union
Western Union http://www.westernunion.com
Advantage:Cost only several minutes and much faster than to do so with banks in several days.
You can find a local agent near you from Western Union to deal the transfer.
Our Western Union Account is:
City/Counry: Hangzhou, People's Republic of China
Receiver Name: Gong Xiuting
First Name: Xiuting
Last Name: Gong
KEY:The switched sequence for First Name and Last Name makes Western Union payment fail.
Please send the Western Union Payment Control Number to us via email or fax after the payment, and inform us of the sender's full name and city/country, thank you.
Pay upon Delivery and Get the Ticket (in Hangzhou)
If all options do not suit you, pay upon delivery in Hangzhou should be your last choice! We will send one person bring you the ticket and wait you at the entrance of the show place. It's free for delivery!
Cancellation Policy!!!
1. Cancellation due to irresistible cause like Bad Weather, Natural Disaster Coverage, facility is closed due to unforeseen circumstances, and Political Reasons.
If the show is cancelled due to bad weather conditions, power failure, major show facility breakdown, strikes, civial unrest, hurricanes, fires, earthquakes, governmental urgent bookings etc. and you had paid for prior to the event, you will receive a full refund. Hangzhouprivatetour.com cannot accept any liabilities caused by bad weather, power failure, show facility breakdown, or those political reasons. We will do our very best to contact you beforehand and as soon as we are made aware of any such cancellation.
2. Change & Cancellation Caused by Customer

1) . 6 hours prior to the show: No cancellation fee if you change or cancel the booking. However, the refund to your PayPal account will deduct the transaction fee and our service fee.
2) . Within 6 hours before the show: No refund, since the theatre will charge us 100% of the ticket cost.