As one of China's most dynamic cities and known as a pearl in the Yangtze River Delta, Hangzhou is a shopping paradise for tourist from around the world. Hangzhou is well known for producing excellent silks, including satins. However, shopping in Hangzhou nowadays no longer limited to local specialties such as hangzhou silk, Dragon well tea, and lotus root starch, many modern offerings are abundant in various shops, stores, supermarkets, and plazas that crowd the commercial center.
Hangzhou Specialties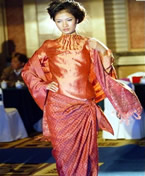 Hangzhou Silk
Along with Suzhou, Hangzhou silk is the best in the world and has been since the Tang and Song Dynasty, a period of more than 1,000 years. Compared with Suzhou's embroidery, Hangzhou is famous for its excellent silk and satins. Until now the silk products has been developed into several kinds include silk, satin, damask and brocades, the most beautiful ones of which are tapestry satin, georgette, soft silk fabric in satin weave, velvet, spun silk pongee, and elephant crepe. Its lifelike character and elegant picture attracts most of the tourists.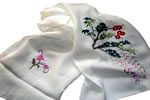 Hangzhou Embroidery
Hangzhou EmbroideryHangzhou Embroideries originated from Han Dynasty (BC 202 – AD 202) were divided into royal court embroideries and folk embroiders. The "Royal Court Embroidery" is specialized for making luxuriant fineries for royalty members, and "folk embroidery" is to embroider officer costumes, bedcovers, folding screens and other ornaments for the folk. The blooming Hangzhou silk industry facilitates the development of Hangzhou embroidery. For shoppers, you can find embroidery kerchiefs, screens, bedcovers, handbags and more.
Recommended Places to Buy Silk Products
1. Hangzhou Chinese Silk City ???????
Address: No.217, Xinhua Road (???217?)
Tel: 0571-8510 0192 / 8517 2821
2. Hangzhou Siruibao Silk Shopping Center ???????????
Address: No.2, Baochu Road (???2?)
Tel: 0571-8521 6223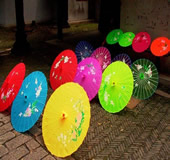 Hangzhou Silk Umbrella
Umbrella has always been a symbol of romance in Hangzhou. The umbrella is the combination both handworks and Chinese art: the images on the surface are basically West Lake scenery, landscape, flower, bird and ladies of old times, etc. As red as the dawn, green as spring water, or the blue as the clear sky, these silk umbrellas can be made in a rainbow of colors and designs. It has been a must Hangzhou characterized souvenirs for the tourists.
Recommended Place to Buy Xihu Silk Umbrella: Hefang Street in Shangcheng District (??????)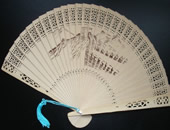 Wang Xing Ji Fans
Hangzhou is as well a city famous for making fans, and it had gained from of old the reputation of "Excellent Fans of Hangzhou". Wang Xing Ji since 1875 is the only comprehensive fan enterprise. Wang Xing Ji Fans, Hangzhou Silk and Hongzhou Longjing Tea have been regarded as "Three Treasures in Hangzhou". Wang Xing Ji Fans have brought artistic charm, enjoying a unique, national flavor. Varied selections of fans (full of Chinese culture) are available like folding fans, feather fans, shaped fans, rattan fans, wheat straw fans, bone folding fans, paper folding fans, bamboo fans, palm-leaf fans, portable fans, silk fans, hanging fans and so on.
Recommended Place to Buy Wangxingji Fan
Address: No.203-205, Hefang Street, Shangcheng District (??????203-205?)
Tel: 0571-8783 0144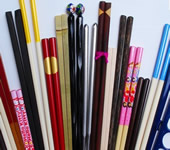 Tianzhu Chopsticks
Chopsticks originated in ancient China are used as the traditional eating utensils of China. Tianzhu Chopsticks have been fashionable all over southern part of China once upon a time, but they have almost been vanished in Hangzhou people's life. Tianzhu Chopsticks were originated from Tianzhu Temple of Tianzhu Mountain in Hangzhou. Tianzhu chopsticks are different from other bamboo chopsticks mostly because of the materials. Tianzhu chopsticks are made of Xiao Ku Zhu (a kind of special bamboo, which is suitable for making chopsticks) and Tianzhu chopsticks are the only natural ones without oil painting. Tian Zhu chopsticks have widely styles according to different lengths, thicknesses, patterns and materials of untapered ends. It is very lucky there is still Tianzhu chopstick factory in Hangzhou, which is the only one now.
Recommended Place to Buy Tianzhu Chopsticks: Hefang Street in Shangcheng District (??????)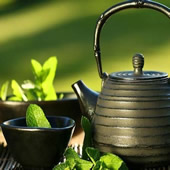 Longjing Tea(Dragon Well Tea)
Longjing Tea attained the name for it grows in the Longjing Mountain area of Hangzhou, southwest of the West Lake. The flat and smooth tea leaves (resembling pine needles ) brew a tea with light to dark green color, a fragrant scent and a refreshing taste. Longjing Tea can be bought throughout Hangzhou, but the best place to buy Longjing Tea is the Longjing area of Hangzhou
Places to Buying Longjing Tea
1. Hangzhou West Lake Longjing Tea Company Ltd
Address: No.602, Qifeng Road, Hangzhou (?????602?)
2. Hangzhou Shifeng Tea Company Ltd
Address: No.228, Yanan Road, Hangzhou (?????228?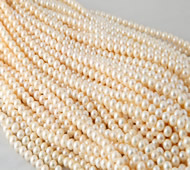 Zhuji Pearls Market (China Pearls and Jewellery City) is one of the biggest markets for fresh water pearls worldwide.
Location: Shan Xia Hu town, Zhuji City, Zhejiang Province
Opening hour: 09:00 – 17:00, 7×365, except a 15-day-close down during Spring Festival.
Market Scale: 1.2 million square meters, 2380 showroom.
Products Range: Loose pearls of all types, all sizes, and all colors, for wholesale and retail. Mainly fresh water pearls. Pearl crafts of vary types etc.
Shopping Areas in Hangzhou
(I) Hangzhou Markets
Hangzhou Silk City
Location: It is located at No.253 Xinhua Road (at the intersection of Fengqi Road, Tiyuchang Road, and Xinhua Road) Bus No.11 and 28 available to arrive there..
It is the best place for purchasing silk and the biggest silk wholesale and retail market in China with more than 600 silk enterprises dealing in a wide variety of pure silk fabrics, garments, handicraft articles, scarves, and ties. The shoppers there not only do business on the mainland, but also export their silk products to Europe, America, Australia, Hong Kong, Macau, and Taiwan. The market is distinguished as offering standardized management, reliable quality, and reasonable prices.
Meijiawu Village in Hangzhou
Location: in West Lake District
Enjoying a famous long history, Hangzhou Longjing Tea (Dragon Well Tea) is famous for its unique green color, fragrant aroma, sweet taste, and flat appearance, also regarded as a health elixir. If you are interested in tea culture and history, hereis the ideal spot where you can watch a tea ceremony, and select tea under professional guidance.
Qinghefang Street
This is a very touristy place, but still actually one of the favourite spots in Hangzhou.
The Hefang old street is lined with small shops, pharmacies, restaurants and teahouses, and food stalls housed in traditional style buildings. Walking along this street, you can imagine a what it must have been like in centuries past, and in the west end (by Zhonghe Zhong Lu, or Middle Zhonghe Rd), you find the food market. To the east end, towards the lake, you will also find Wushan night market, which sells similar trinkets in small stalls.
What to buy: Any touristy trinkets you like; jade jewellery, pearls, silk, tea, paintings, wood carvingssweets, and toys, almost anything! Good for souvenirs and small gifts.

Yan An Road
Location: Bordering Wulin Square.
A three-thousand-meter-long road, it is said to be the Number One Street in Hangzhou and the city's commercial center. Along the road are included the grand buildings of the Zhejiang Provincial Great Hall of the People, Hangzhou Culture Center, Victory Theatre, International Mansion, Hangzhou Department Store, Hangzhou Grand Hotel, and Haifeng Western Restaurant.
Wulin Square in Hangzhou
Location: In the north end of Yanan Road
It is a new center of culture and commerce where towers and skyscrapers are springing up, including Hangzhou Telecom Building, Zhejiang Provincial Exhibition Hall, Hangzhou Shopping Center, Hangzhou Theatre, and Zhejiang Provincial Science and Technology Museum.
Hangzhou Wulin Road Shopping Center
Location: Wulin Road
It is a shopping paradise in the downtown area and one of the fashionable centers featuring hundreds of shops and departments selling ladies' wear in various brands and styles.
Hangzhou Sijiqing Clothing Market
Location: Hanghai Road of Hangzhou.
This is the place where many clothes retailers from high street shops come and get their stocks topped up. The amount of clothes on this market is just unbelievable, which probably derives from the fact that textiles is huge business in Zhejiang province. If it's being produced, you can find it here. Being the retailers' shopping paradise, prices are lower there than on the high street, but shops close early, between 15 and 17 every day, so get going early!
This market mainly caters for the Chinese fashion shops, so people not into Chinese fashion, may have a harder time finding clothes to their taste here. There is a limited number of shops selling fake brand clothes, maybe more suited for the Western fashion sense. Also, sizes are, as in many shops around China, suited for Chinese, so tall or big persons may have to look quite hard to get clothes their size.
What to buy: Here you can buy anything that cathes your fancy. They have mostly women's clothes, but also men's and children's wear are to be had here. You will also find accessories and bags.
Towards the northern end of the road you will find shops catering for people who are interested in making their own clothes. They have everything; from fabric to buttons.
(II) Supermarkets in Hangzhou

Metro Supermarket
No. 355 East Genshan Road
Carrefour Supermarket
No.135 Yanan Road
Jia You Supermarket
No. 86 Qingchun Road
No. 333 Fuchun Road
No. 58 East Qingchun Road
Wanjiafu Supermarket
No.38 Qingchun Road
No.64 Wangjiang Road
No.38 Xintang Road
No.2 Shuangling Road
(III) Shopping Malls in Hangzhou
Intime (Yintai) Department Store
No. 530, Yanan Road
Hangzhou Department Store Mansion
No. 260, yanan Road
MIXC
No.701, Fuchun Road, Jianggan District
Hangzhou Tower Shopping Center
No. 1, Wulin Square
Yuanhua Plaza
Near to Hubin Yi (First) Park
Shopping Areas Nearby Hangzhou
Yiwu International Trade City Shopping Mall
Zhuji Pearls Market (China Pearls and Jewellery City) is one of the biggest markets for fresh water pearls worldwide.