Day 1
Place&Transport: Hangzhou
Today's Activities: Twenty-Three Lanes at Imperial Street,Dajing Lane,Xiaohe Straight Street,Qiaoxi Historic Block,Baijingfang Lane
Accommondation: N/A
Meal: N/A
Every city has ancient lanes, which are the routes to history, culture and an abundance of scenery. In Hangzhou, these historic lanes are usually clad with white-walls and black-tiled buildings with wooden windows, attics, courtyards and wells. To explore history and folklore, hidden lanes in old residential blocks offer a much better portrait of a city's past. Early in 2000, the Hangzhou government sensed the importance of such old lanes. It began a series of projects to protect key sites and dozens have been completed. China Hangzhou Tour wanders along some lanes boasting old buildings and lingers over the stories that occurred long ago.

Our Hangzhou tour guide will pick you up at your hotel lobby or the Hangzhou Train station with a sign" Hangzhou Private Tour" and starts the day trip, you can pick some of the below old lanes to make a day trip. Our guide will give you the recommendations as well.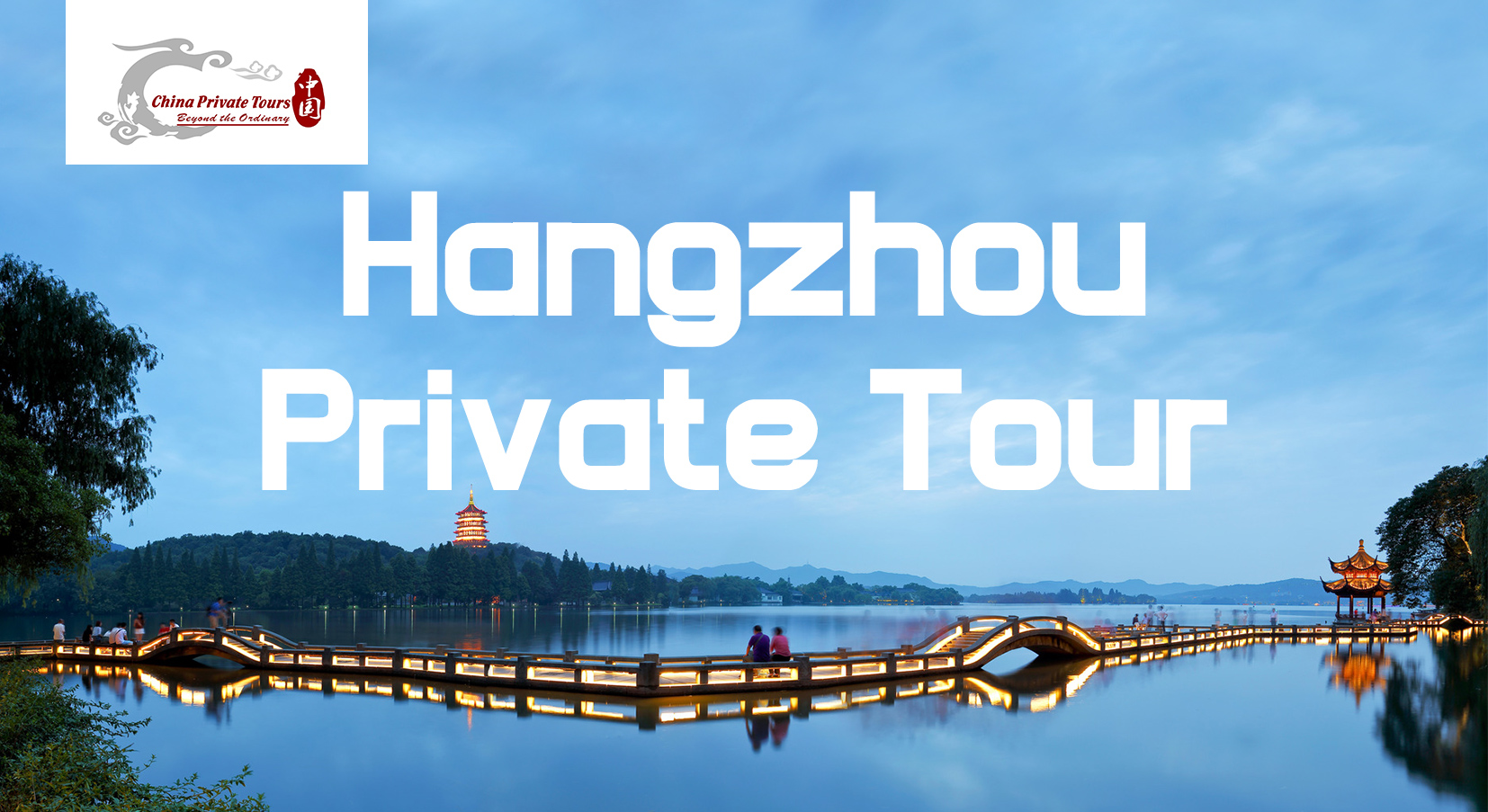 Twenty-Three Lanes at Imperial Street
Walk past the bustling Drum Tower deep into the lane, and what unrolls before you are scenes depicting the daily life of the old Hangzhou people. Here, residents wash and air their quilts by hand or do their hair in an old-fashioned way …

This area is centered around the ruins of the Southern Song Imperial Ancestral Temple. The 23 lanes snake around west of Zhongshan Road S. and east of Wushan and Ziyang hills.
Most of the homes here were built of wood and went back to either the late Qing Dynasty (1644-1911) or the early Republic of China (1911-1949). A restoration project has brought them back to their original appearance.
The neighborhood offers a glimpse of how locals live. Be sure to explore the ruins of Three Councils and Six Ministries of the Southern Song Dynasty (1127-1279), the Imperial Ancestral Temple and Ziyang Academy.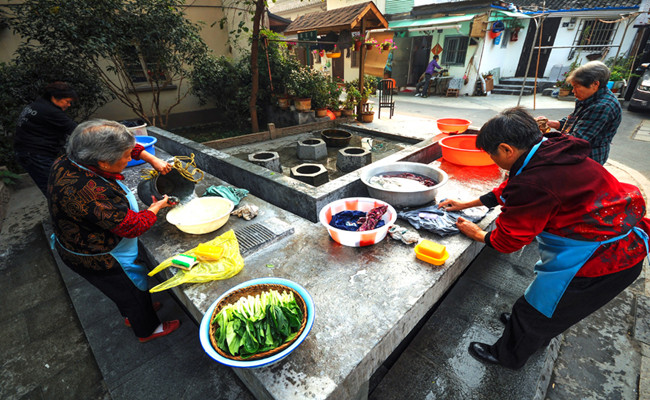 Washing clothes and vegetables by the old well
Dajing Lane
Dajing literally means large well in Chinese. It is said that once upon a time a fish spirit who caused frequent floods in the city was imprisoned in a large well in the lane by Bodhisattva. To prevent the spirit from escaping, locals erected a house above the well.
Historical documents date the lane to the Wuyue Kingdom (AD 907-978). The 200-meter-long lane connects bustling Hefang Street with the Drum Tower and is usually not as crowded as neighboring streets.
The area is home to Zhu Yangxin Plaster Pharmacy, founded more than 400 years ago, the 101-year-old Baoda Ginseng Pharmacy and the renowned Qing Yu Tang Pharmacy. All three sell traditional Chinese medicine. In 2008, the lane's old buildings were restored and all new buildings were made in the traditional style to ensure a harmonious look.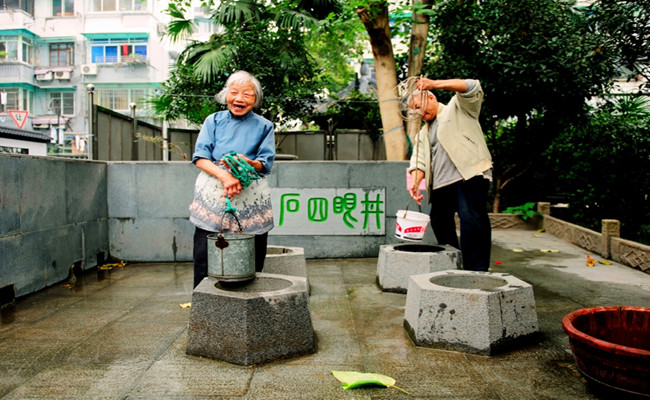 Lifting water from wells
Xiaohe Straight Street
When the Beijing-Hangzhou Grand Canal reaches the south side of Gongchen Bridge, it breaks into a one-hundred-meter-long tributary. Layers of white-walled and black-titled residential houses are built along the tributary and that's how the famous Xiaohe Straight Street came into being. Starting from the Southern Song Dynasty, the place has been the distribution center of cargos from Southern and Northern China.
As a typical waterside residential area, Xiaohe Straight Street is full of commercial port culture, which is also represented in the "one river and two streets, and buildings facing the street, with the first-floor as shops and the second as the living space".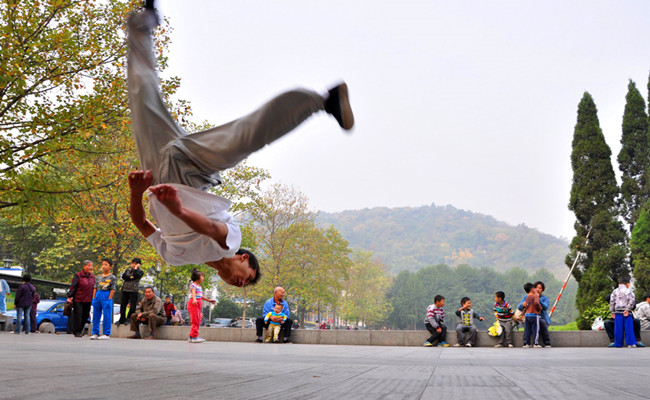 Practicing Martial Art

The street is very quiet. Walking along the two-to-three-meter-wide street, free of bustling crowds and traffic, people are shut off from urban life and, instead, are accompanied by the old lifestyle of the Hangzhou people. In addition, the street is quite old-fashioned with many quaint restaurants and bars featuring red lanterns and old Chinese shop signs.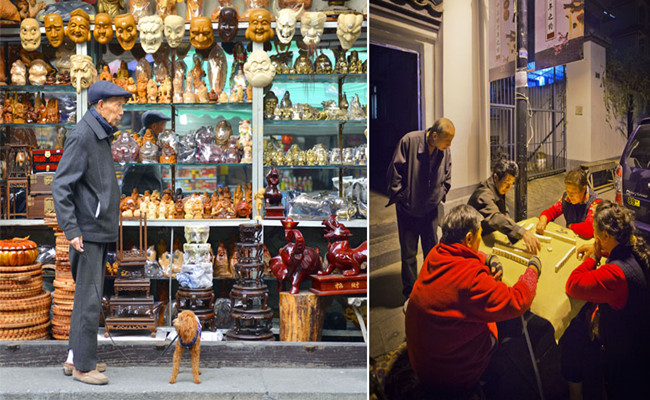 Walking a dog & Playing Mahjong in Streetlight
Qiaoxi Historic Block
Qiaoxi Historic Block was once home to the poorest of Hangzhou people, who made a living by trading and working on the nearby boats, forming the most preserved canal-side ancient block since the Qing Dynasty. Featuring white walls, black tiles, narrow and deep lanes and bridges spanning the Grand Canal, Qiaoxi Historic Block is the only place in Hangzhou's old downtown that best reflects the historical landscape of the Hangzhou Section of the Grand Canal.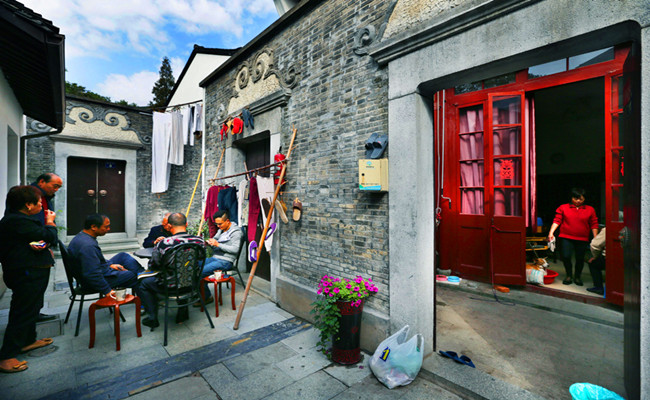 A sunny day afternoon
Baijingfang Lane
Being a narrow strip in downtown, this lane is considered a folk street known for its nice mix of residential and commercial constructions.
Its name Baijingfang literally means "a block of 100 wells." At one time it did boast 99 wells, which were built by Qian Liu, an emperor during the Wuyue Kingdom when Hangzhou was capital of the regime.
All but three of the wells have been sealed with cement to make way for various construction projects over the years. Today the lane features restaurants ranging from Chinese fast-food and barbecue items to mutton and seafood.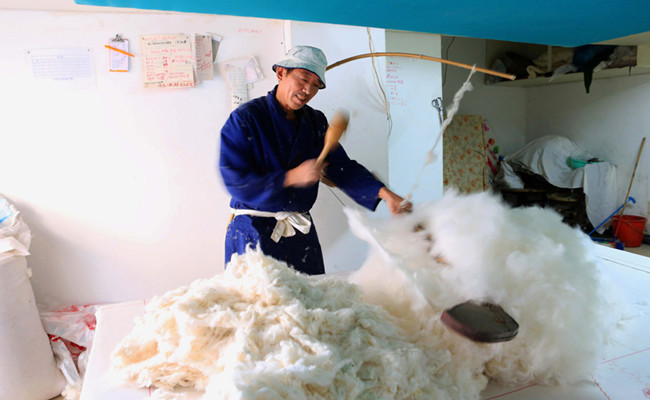 Fluffing Cotton
After the day trip, you will be driven back to your hotel in Hangzhou or the Hangzhou Train Station and your trip ends.
How Our Teams Serve you at China Private Tour
1-on-1 Travel Consultant
Our travel consultants have been working in local tourism for years, they are professional, experienced and responsible sharing our wealth of knowledge to plan your trip. They will formulate customized tour plan based on your travel interests, time, and budget as well as providing professional suggestions. Beside, they will keep in contact with you during your entire tour in China, continually checking if everything is going well as planned.
Excellent Local Guides
All of our tour guides are certificated and experienced. They are local experts with detailed knowledge about attractions, history, culture but also prepared to talk frankly about whatever topic interests you. They know the best places to visit, can give you advice on restaurants that serve great local food, the best places to shop, or theaters for the best shows in town. They'll show you more about the history, culture, customs and authentic local life.
Private Car and Driver
We ensure that all of the vehicles that we use are air-conditioned, non-smoking, clean and well-maintained.(Not over 4 years). Our drivers are are local, polite, friendly and helpful with over 10-year drive experience. All kinds of vehicle are offered, and yours depends on the size of your group. Usually, we offer sedan cars, SUVs, business vans (MPV) and different types of buses, all with extra space for your luggage.
Meals & Dining
If the meals are included in the itinerary. We will take you to the best local restaurants and help you order dishes according to your preference on spot to guarantee that the food is freash not pre-cooked. Some meals excluded in your itinerary as you like, your private guide will be still delighted to give you some suggestions and take you to the local featured restaurants every week based on the online reviews of customers. We have a large selection of different restaurants which cater to the specifications of our customers, and are available to provide various options, such as vegetarian, Muslim, Chinese, Western, Jewish, and Indian restaurants.
Price Per Person in US Dollars