Day 1
Place&Transport: Hangzhou
Today's Activities: Maojiabu Village,Sweet Osmanthus Rain at Manjuelong Village,Hangzhou Botanical Garden,Zhaohui ginkgo,Xixi National Wetland Park
Accommondation: N/A
Meal: N/A
Autumn, a season brandishing gold, orange and reddish hues, is for much of the world one of the most beautiful seasons to follow a sweltering hot summer. This is certainly the case for Hangzhou. Hangzhou at this time of year is not only rich in color but also offers pleasant weather and the best seasonal time to explore a number of scenic spots residing in Hangzhou. Take this special designed Hangzhou Day Trip to see the most beautful time of Hangzhou.

Our local hangzhou tour guide will pick you up at your hotel lobby in Hangzhou or the Hangzhou train station with a welcome sign" Hangzhou Private Tour", then starts the Hangzhou day trip as below:

First, walk around Maojiabu village. Maojiabu is situated to the west of the West Lake and used to be the chosen path for pilgrims to reach Lingyin Temple. Despite its attachment to the West Lake Scenic Area this place is, in fact, away from all the hustle and bustle of urban life and offers its visitors a view of the serene version of the lake. As the starting point of Pilgrim's Path, today the scenic area can be appreciated by all for its Buddhism culture, folk culture and tea culture. Residences in the village are white-walled and gray-tiled as well as neat and orderly arranged, making village life for residents both quiet and leisurely. For the unique environment, the place is home to themed inns and restaurants all serving a number of farm-flavored dishes.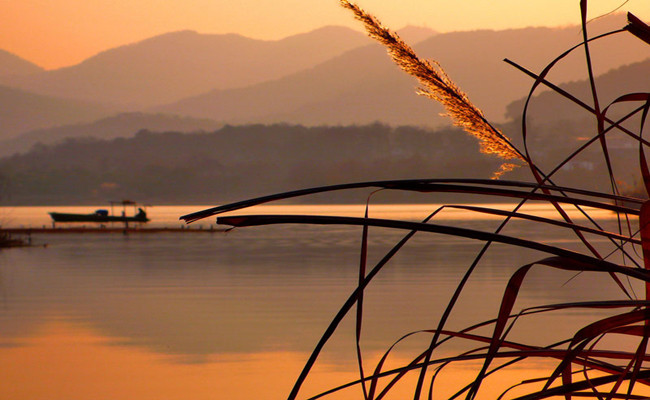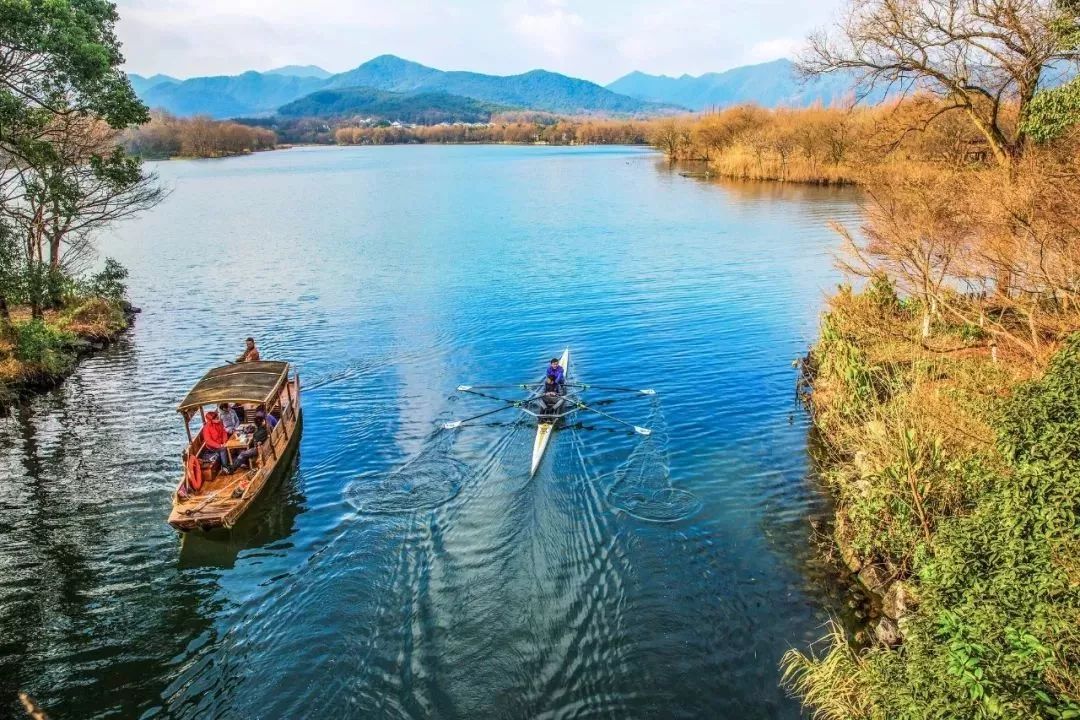 Next, visit the Sweet Osmanthus Rain at Manjuelong Village. Sweet Osmanthus Rain at Manjuelong Village is appreciated as one of the 'Top Ten Views of the West Lake' and inside the village over 7000 osmanthus trees are planted with the oldest one being over 200 years old and the largest one carrying flowers that weigh 50 kilograms.
It is at this time of year that sweet osmanthus, the city flower of Hangzhou, can be seen blooming all over town and whenever autumn comes the air is filled with an intoxicating fragrance and with the wind, osmanthus flowers drop from the trees and fall just like rain, hence its name 'Sweet Osmanthus Rain'. To idle away a day by gathering under an osmanthus tree, chatting and sipping a cup of osmanthus tea is what some may describe as seasonally sensational.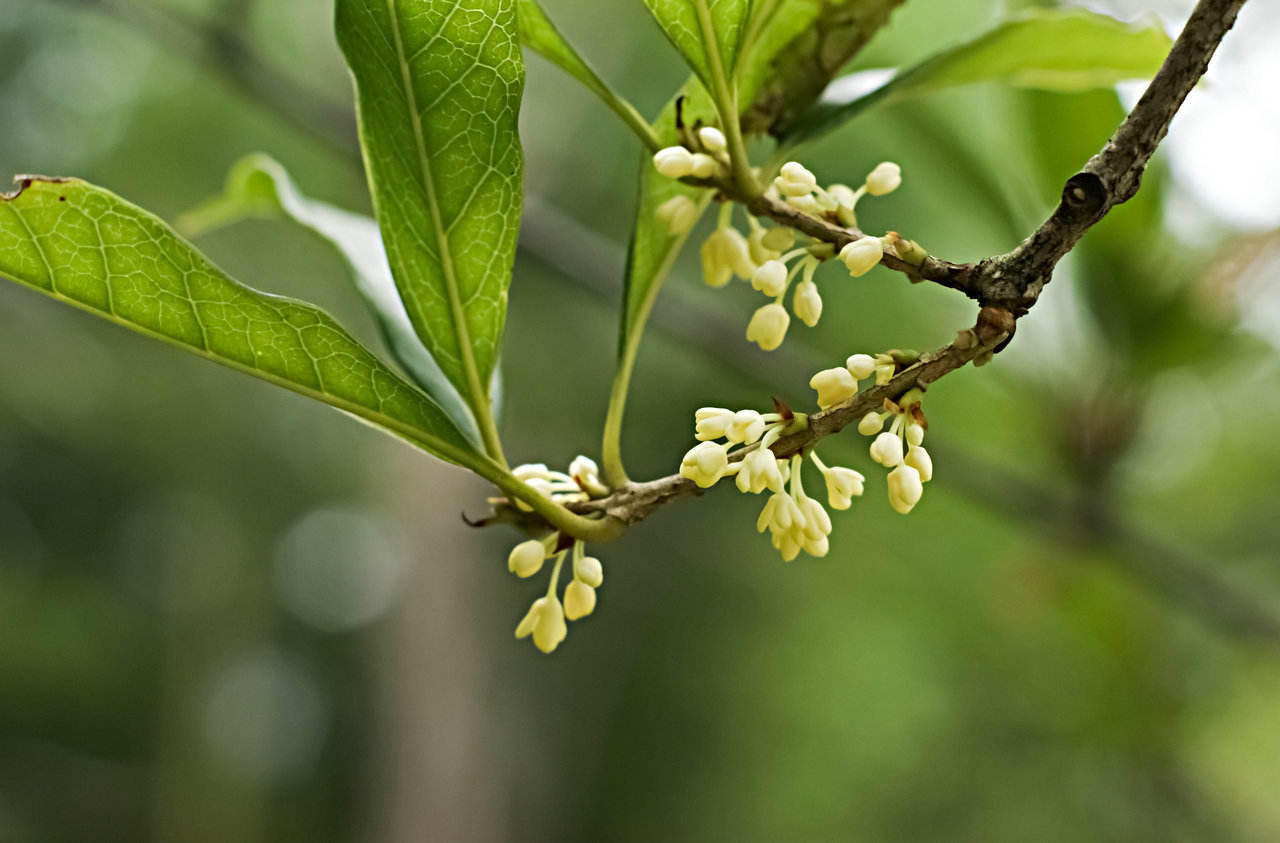 Later, move to Hangzhou Botanical Garden. Located at the foot of Yuquan, Hangzhou Botanical Garden has over 3,000 plants and every autumn there is a chrysanthemum exhibition displaying various species of chrysanthemum.

After lunch, drive to Zhaohui. The tall yellow ginkgo blends well into Autumn Hangzhou and there are many places to view this golden creation, among them Zhaohui, located downtown is the most accessible.

The last stop is Xixi National Wetland Park. Xixi National Wetland Park has long been known for its rustic views and well-preserved wetlands. In autumn the park is dominated by 'autumn snow' which is formed by white reed catkins flying around in the wind and Autumn Snow Temple, a solitary islet which is only accessible by boat, is the best place to view this seasonal spectacular.

After the tour, our tour guide and driver will drive you back to your hotel in Hangzhou or the hangzhou train station and your trip ends.

What to eat in hangzhou in Autumn:

Osmanthus cake (???)
Over time, a series of osmanthus treats were created by locals and osmanthus cake is definitely the most popular. It's simple to prepare as it's made with glutinous rice, sugar and dried osmanthus flowers.
Since the flowers only bloom for a short period in the autumn, osmanthus cakes are only available for a couple of weeks each year at roadside food stalls or in upscale restaurants.
The cakes have also long been associated with good luck due to an ancient legend. The story goes that a lush osmanthus tree on the moon could never be felled, even by immortals. A scholar named Yang Sheng'an flew to the moon and successfully picked a branch, which brought him good luck and he finished first on the imperial exam.
A vendor who passed Yang's house discovered his secret. He quickly created the osmanthus cake and used the scholar's story to market the snack. Soon the cakes became popular across the country. Thereafter, people would eat osmanthus cake for good luck before taking an exam.
Chestnuts fried with sugar (????)
In traditional Chinese medicine, chestnuts are considered the "king of dried fruit" since they contain many nutrients. They are also called "kidney nuts" because they nourish kidneys and strengthen the body.
Chestnut fried with sugar is one of the most popular seasonal snacks among locals. During the cooking process, people have to continuously stir-fry chestnuts with sugar and small round black stones, which are used to transmit heat to the chestnuts.
Chestnut vendors usually stir-fry on site, using a shovel to mix the chestnuts and stones in a huge wok.
After mixing, the chestnuts are coated with a layer of sugar.
Chestnuts are high in calories and starch, thus physicians recommend eating 10 or less per day.
Mooncake stuffed with pork and pickled vegetable (??????)
While people around China eat sweet mooncakes around the Mid-Autumn Festival, Hangzhou natives line up for an oven-fresh, flaky and salty variety of the traditional treat that is made of minced pork and pickled mustard stem, or zhacai.
The best time to eat it is fresh from the oven with the mellow scent of fresh meat and pastry wafting through the air. The pork goes well with the crunchy and spicy zhacai. Since both ingredients are not watery, the pastry stays flaky for hours.
According to historical documents, this mooncake recipe originated in Suzhou, Jiangsu Province. At one point demand for the sweet Cantonese mooncakes was so strong that this pork and pickled vegetable version was hard to find.
But its present-day revival in Hangzhou can be attributed to several local pastry companies. September Life, Zhiweiguan and Caizhizhai, began to revive the salty mooncakes a few years ago. This variety quickly found favor with those tired of overly sweet mooncakes.
This savory mooncake recipe is considered a grassroots snack compared with the sweet variety, since the latter are always sealed in exquisite plastic boxes and often sell for hundreds of yuan. Pork and pickled vegetable mooncakes are rolled in paper and cost about 3 yuan (49 US cents) each.
Mooncake makers have been selling the seasonal treats since the beginning of the month.
Other Recommended Seasonal Hangzhou Tours:

Recommended Hangzhou Day Trip in Summer (Jun.- Aug.)
Recommended Hangzhou Day Trip in Spring (March - May)
Recommended Hangzhou Day Trip in Winter (Dec. - Feb.)
How Our Teams Serve you at China Private Tour
1-on-1 Travel Consultant
Our travel consultants have been working in local tourism for years, they are professional, experienced and responsible sharing our wealth of knowledge to plan your trip. They will formulate customized tour plan based on your travel interests, time, and budget as well as providing professional suggestions. Beside, they will keep in contact with you during your entire tour in China, continually checking if everything is going well as planned.
Excellent Local Guides
All of our tour guides are certificated and experienced. They are local experts with detailed knowledge about attractions, history, culture but also prepared to talk frankly about whatever topic interests you. They know the best places to visit, can give you advice on restaurants that serve great local food, the best places to shop, or theaters for the best shows in town. They'll show you more about the history, culture, customs and authentic local life.
Private Car and Driver
We ensure that all of the vehicles that we use are air-conditioned, non-smoking, clean and well-maintained.(Not over 4 years). Our drivers are are local, polite, friendly and helpful with over 10-year drive experience. All kinds of vehicle are offered, and yours depends on the size of your group. Usually, we offer sedan cars, SUVs, business vans (MPV) and different types of buses, all with extra space for your luggage.
Meals & Dining
If the meals are included in the itinerary. We will take you to the best local restaurants and help you order dishes according to your preference on spot to guarantee that the food is freash not pre-cooked. Some meals excluded in your itinerary as you like, your private guide will be still delighted to give you some suggestions and take you to the local featured restaurants every week based on the online reviews of customers. We have a large selection of different restaurants which cater to the specifications of our customers, and are available to provide various options, such as vegetarian, Muslim, Chinese, Western, Jewish, and Indian restaurants.
Price Per Person in US Dollars