Tour Itinerary
Place&Transport: Hangzhou
Today's Activities: The hangzhou Westlake(including Boat Ride On westlake)), Fish Viewing at the Flower Pond, China National Tea Museum, Meijiawu Tea Village(Hangzhou Dragon Well Tea), Longjing Imperial Tea Garden(18 Imperial Tea Bushes)
Accommondation: N/A
Meal: N/A
Meet your private guide upon pickup at the Hangzhou railway station or your hotel lobby in Hangzhou city, you'll find a wecome signage "Hangzhou Private Tour". Set out on a full day of sightseeing in the comfort of an air-conditioned private vehicle, and talk with your guide about any particular interests you have so the commentary and itinerary can be customized.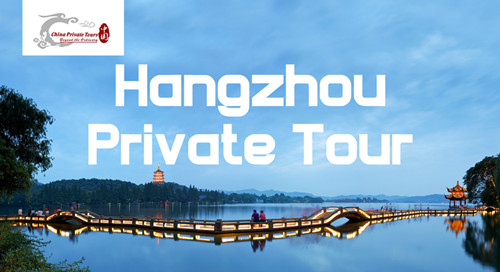 Our pick up sign" Hangzhou Private Tour"
Start with a 35-minute boat ride on tranquil West Lake, a UNESCO World Heritage site and perhaps Hangzhou's most famous attraction. Relax amid enchanting scenery as your guide points out historic pagodas, Chinese-style arched bridges, tree-lined walkways, green islands and lush gardens.
Later, move to the Fish Viewing at the Flower Pond(Huagang Park) , This spot is located at the southern end of Su Causeway. A clean stream flows from Huajia Hill to join West Lake here, and many flowers grow where the fresh water flows in, so it called "Flowery Harbor". This area now has been made into a 22 hectare (54 acre) park with many varieties of trees and flowers, featuring a peony garden and a goldfish pond which is the famous site for viewing fish.
The next stop is China National Tea Museum: China National Tea Museum is the only national museum with the tea theme as a subject. It locates in Shuangfeng, Longjing Road - the hometown of the Dragon Well Tea - Hangzhou. It is open to public in 1991. It occupies 3.7 hectares and 8,000 square meters construction area. It is a modern museum which includes a lot of parts, such as culture revelation, science publicity, science research, academic communication, tea tasting, leisure, etc. The National Tea Museum is the exhibition center of Chinese tea culture; it is the professional place to collect tea cultural relics and tea materials. It is an important base to go on with tea research and tea culture activities. The most important one is that China National Tea Museum is the cradle to spread the Chinese tea art and culture to the world. The area is serene and relaxing. It is surrounded by groves of tea trees and the area is beautifully manicured. And there is a stream with small bridges running in front of the museum. The museum itself is a comprehensive one and has descriptions in English and Chinese.
Enjoy your Lunch at the restaurant popular with the local people to stay away from the tourists' meals.( In china, do not go to the tourists's restaurants when you are on a tour. You shold go to the right place to have the meals, then you are in real china ). We give you the meal options as below:
1) Lunch at Local Tea Farmer's Tea House to know the real life of the local people: And we also can organize tea farmers teach you how to prepare, cook local delicaies if you want to. You can learn how to cook: Beger's Chicken, Westlake carp in vinegar source (Do not be scared, no bones!!! Aha), Lotus root, bamboo shoot...and other many tasty vegetables )
2) At the local restaurants which are popular with local people, such as Grandma's Kitchen, Green Tea Restaurants...And also fancy ones as well, 28 Hubin Road(Top 50 Best in Asia, Jinsha Restaurant in Four Seasons Hotel. We are the local, we are the sources. We know many excellent restaurants even not listed on Lonely Planet and some other travel guides.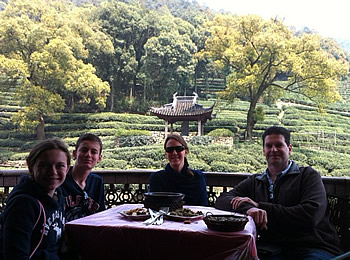 Lunch at the local Tea Farmer's House to try the local delicacies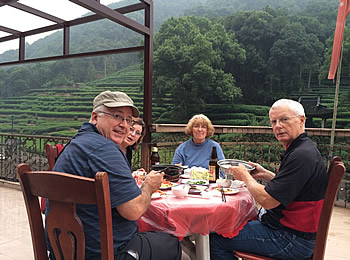 Lunch at the local Tea Farmer's House to try the local delicacies
Meijiawu Tea Plantation: Meijiawu has long been well known for its Longjing (Dragon Well) Tea tradition. It is a good place to understand the brilliant past and equally bright future of tea in China. Taking tea dates back to several centuries before the birth of Jesus! In the Han Dynasty (206 BC-220), people considered tea to a medicine for curing ailments. But drinking tea as a social function or leisure or cultural purposes date back to the Tang Dynasty (618-907). Drinking tea in China was quite popular around 760 AD. Meijiawu Village in particular is famous for its history of offering exquisite tea. This beautiful village will make you to feel the pleasure of a perfect cup of tea, our guide will show you how to pick the tea leaves, how to fry the tea leaves and how to drink the tea.
At last, move to the Longjing Imperial Tea Garden(18 Imperial Tea Bushes):Longjing tea was granted the status of Gong Cha, or Imperial tea, in Qing Dynasty by Chinese emperor Kangxi. According to the legend, Kangxi's grandson Qianlong visited West Lake during one of his famous holidays. He went to the Hu Gong Temple under the Lion Peak Mountain (Shi Feng Shan) and was presented with a cup of Longjing tea. In front of the Hu Gong Temple were 18 tea bushes. Emperor Qianlong was so impressed by the Longjing tea produced here that he conferred these 18 tea bushes special imperial status. The trees are still living and the tea they produce is auctioned annually for more money per gram than gold.
Drive back to your hotel or the Hangzhou Train Station and your tour ends.
Optional Activities
We provide off the beaten track Hangzhou activities as below to enhance your tour experience. You can choose some of them to customize the above tour. Or if time permits, you can add one or two of them in the above itinerary (Only additional entrance fee required. And some are free charge of entrance fee).

Blind Date Culture at Wangsong Campus Free Charge
Feeling the local dating culture at Wangsong Academy where the locals take part in the blind date fair "Chinese Matchmarking Day".Here attracted over thousands of young singles and their parents. ( Available on each Saturday morning)

Hangzhou Wholesale Food & Tea Market Free Charge
Lose yourself in a world of tea at one of Hangzhou's renowned tea markets where you will uncover a number of desired tea-sets and utensils and taste some of China's most renowned tea leaves and snacks. Steeped in history, flavour and beauty this market not only houses all grades of tea but is also home to some of the best tea-inspired pieces around.

Tea Farmer's House Visiting Free Charge
Home to an abundance of local tea farmers, a visit to the farmer's house giving you the chance to interact with peasant tea farmers who spend their lives on tea. Let's talk with the tea farmers, ask questions about tea in your mind and check their tea making tools and storehouse...The hospitable peasants are famous for the welcome they offer guests from all over the world.
Authentic Local Markets Shopping Experience Free Charge
You may really want to buy something or just expect to hang out shopping area or experience bargain fun like a local. This tour option will be your perfect choice! You will go to see the local shopping mall, local retail market or the whole-sale market, feel what means bustling.
How Our Teams Serve you at China Private Tour
1-on-1 Travel Consultant
Our travel consultants have been working in local tourism for years, they are professional, experienced and responsible sharing our wealth of knowledge to plan your trip. They will formulate customized tour plan based on your travel interests, time, and budget as well as providing professional suggestions. Beside, they will keep in contact with you during your entire tour in China, continually checking if everything is going well as planned.
Excellent Local Guides
All of our tour guides are certificated and experienced. They are local experts with detailed knowledge about attractions, history, culture but also prepared to talk frankly about whatever topic interests you. They know the best places to visit, can give you advice on restaurants that serve great local food, the best places to shop, or theaters for the best shows in town. They'll show you more about the history, culture, customs and authentic local life.
Private Car and Driver
We ensure that all of the vehicles that we use are air-conditioned, non-smoking, clean and well-maintained.(Not over 4 years). Our drivers are are local, polite, friendly and helpful with over 10-year drive experience. All kinds of vehicle are offered, and yours depends on the size of your group. Usually, we offer sedan cars, SUVs, business vans (MPV) and different types of buses, all with extra space for your luggage.
Meals & Dining
If the meals are included in the itinerary. We will take you to the best local restaurants and help you order dishes according to your preference on spot to guarantee that the food is freash not pre-cooked. Some meals excluded in your itinerary as you like, your private guide will be still delighted to give you some suggestions and take you to the local featured restaurants every week based on the online reviews of customers. We have a large selection of different restaurants which cater to the specifications of our customers, and are available to provide various options, such as vegetarian, Muslim, Chinese, Western, Jewish, and Indian restaurants.
Price Per Person in US Dollars