New Version of Impression West Lake Steps into the Spotlight
Post Date: 2018/03/15 15:32
Share to: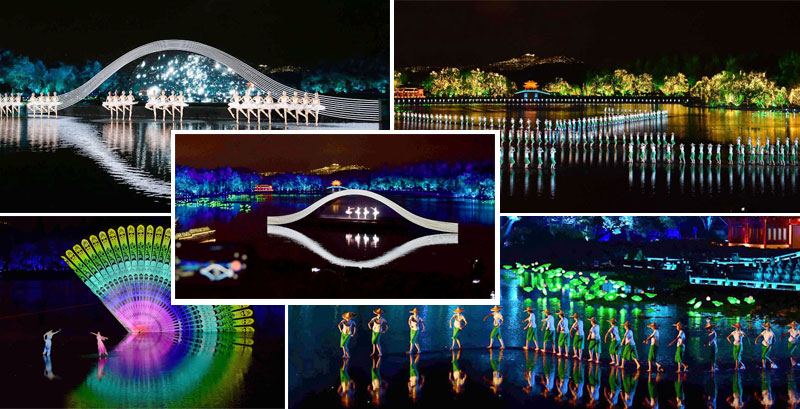 Last year on the real waters of the West Lake, and in the evening gala of Hangzhou G20 Summit, the performance "Enduring Memories of Hangzhou" amazed the world. It was a shame that after such a short period of performing in last October and November, the show paused. But now news is out that starting from May, the updated version of original Impression West Lake, "Enduring Memories of Hangzhou" will once again show its lakeside charm in becoming one of the most splendid performances on water.
New Version Impression West Lake

70% of Elements in the Hangzhou G20 Summit Version are preserved
The new version of Impression West Lake, "Enduring Memories of Hangzhou" will keep at least 70% of the original elements of the G20 Summit version, such as the fabulous giant fan and Swan Lake, and incorporated into this will be a series of visually-rich creative elements thus making it even more enjoyable.
The team is still led by Zhang Yimou, a well-known director both in China and abroad. Adaption and improvements have also been made to ensure the show blends better with the West Lake and to guarantee its performance in all weather conditions.
Excellent Actors Selected Nationwide
Compared with the old version "Impression West Lake", the updated version "Enduring Memories of Hangzhou" has higher demands on its actors.
Previously, the shortest distance between an audience and an actor was 60 meters, but now it will be 20 meters so the demands on actors' appearance, figure and posture are even higher. Before, there were no live instrumental or vocal performances but now with the updated version you will see and hear professionals perform the piano, violin, Pipa, Guqin, opera and soprano.
Currently, the performance has recruited over 250 professional dancers who have been selected from art schools in Shijiazhuang, Henan, Shandong and Hunan. With regards to instrumental and vocals the updated show will be working with three professional art troupes, which are Zhejiang Song and Dance Theater (the top-notch art troupe in Zhejiang), Huanglong Yueju Opera Troupe and You Best Art Troupe.
All these efforts will bring only lasting impressions on what is already an impressive West Lake show.