China National Silk Museum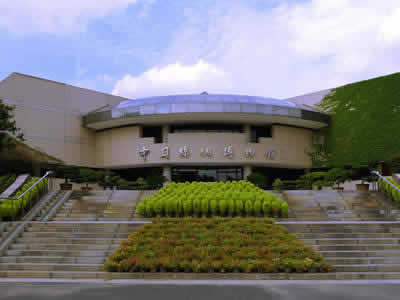 Overview
The China National Silk Museum (CNSM), near the West Lake in Hangzhou, is one of the first national-level museums in China and the largest silk museum in the world, covering an area of 50,000 square meters and a building area of 8,000 square meters. It opened in February 26th, 1992, and was extensively refurbished in 2015-2016. As the largest specialized museum on textiles in China, the main goal of CNSM is to research and conserve Chinese textile relics. In 2010 it became the home of the Chinese Center for Textile Identification and Conservation (founded 2000).
The Museum has several permanent galleries, including "The Story of Chinese Silk", "Sericulture and Silk Craftsmanship in China", a "Textile Conservation Gallery" and the "Xinyou Archive Center".

The China National Silk Museum is a research museum, and has a number of visiting professors and scholars, including Professor Claudio Zanier, Birgitte Samsøe Crawfurd, Suzanne Louise Campion Crawford, Nidaullah Sehrai, Fazal Dad Kaker, and Sanjay Garg.


Function & Architecture
The Preface Hall introduces the 5000-year-long history of Chinese silk culture. China is the earliest country that engaged in sericulture, filature and making clothes with silk. This hall provides strong evidence for this fact and shows the history of the Silk Road through which silk was spread abroad. The first thing that greets the visitor in the hall is a large model of a Song-dynasty loom. Around its base is reproduced a Song-dynasty painting that depicts mulberry raising and silk weaving. The original of this painting is more than five meters long and was done by a court artist for the emperor. Through linked-painting technique, it systematically portrays the entire process of making silk, from planting mulberries and raising silkworms to unraveling the silk from cocoons and weaving cloth.

The Silk Culture Hall exhibits a large number of ancient silk artifacts, as well as models and photographs. Articles from the neolithic period include certain items from more than 4,700 years and even a dyed piece of silk woven fabric from more than 5,600 years ago. Woven silk pieces excavated from the Jiangling Mashan Chu Tomb in Hubei Province show the high level of weaving technology during the Warring States period.
By the Han period, the development of Chinese silk weaving had reached its first peak. The fabric excavated from the #1 Tomb at Mawangdui that is exhibited here is extraordinary. It lay underground for more than 2,000 years and yet is still as lustrous and beautiful today as it was when it was buried.

During the Tang dynasty, silk weaving entered a period of innovation due to extensive east-west cultural exchange. The pieces excavated from a group of tombs at Astana in Turfan, Xinjiang, exhibit the artistic style of those times. Printing-on-silk technology was highly developed during the Tang period. All of the printing technology methods that we have today were already in existence at the time of the Tang dynasty and some of these are exhibited here.

Woven silk fabrics in the Song and Yuan dynasties include numerous weaving techniques that are both complex and very beautiful. Weaving with gold came to be one of the more refined techniques and some pieces are displayed that were excavated from a site in Inner Mongolia. Silk brocades were used in the Song and Yuan periods but were most vibrant in the Ming and Qing dynasties. Exhibited here are a number of brocade items that were worn by emperors, empresses, and senior officials.
The Silkworms and Mulberry Hall exhibits the entire process of cultivating silkworms. On display are materials about some live mulberry trees in China that are over one thousand years old. The life cycle of a silkworm is shown, and specimens from around the country are on display. One can watch the birth and growth of the little worm, the way it spits out the silk and creates its own cocoon and the way that cocoon is then unwound to create silk threads. The Silk Production Hall gives the history of the tools of the trade. The Weaving Hall displays all kinds of traditional looms and allows visitors to actually sit at a loom and try for themselves. The Dying Hall has specimens of many kinds of plants and minerals that were used in traditional dyes. Nearby is also a small botanical garden that raises some of the plants used for these dyes. In addition to displaying the processes of dying, printing and embroidery, demonstrations are given by masters on the spot of the various techniques.

Admission: Free
Hours: 8:30am-4:30pm daily
How to get there:
Buses 12, 809, and tourist bus 3 all stop close to the museum, which is at 73-1 Yuhuangshan Lu, just to the south of West Lake.
More News about the China National Silk Museum!
1,"A World of Looms: Weaving Technology and Textile Arts in China and Beyond
Tour The China National Silk Museum with Hangzhou Private Tour
We design private and tailor-made Hangzhou Tours customized to your style of travel at affordable local prices. We will provide a private & spacious car and a local professional tour guide with over 5 years guiding experience only work for you or your group. Transport, ticket, and dining (We find the most authentic dishes popular with locals) all we will arrange for you according your requirements. Please check our most popular Hangzhou Tours including The China National Silk Museum as below:

Hangzhou Museum & Culture Day Tour
Are the above sample tour programs not suitable for you? We have more Hangzhou Tours. Our tours can be tailor-made based on your requirements and budget to create unique Hangzhou experiences that allow you to interact with the local people and culture. We are Hangzhou travel experts who know what your guidebook and foreign agencies don't. Our enthusiastic tour expert will promptly reply you in details within 24 hours.