Qinghefang Street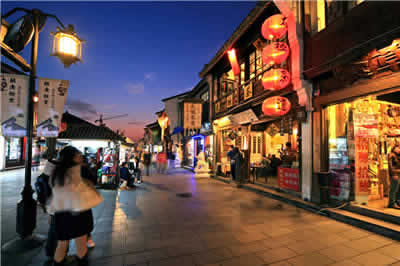 Qinghefang Street
Overview
Located at the southern end of Yan'an Road and the northern foot of Wu Shan Hill in Hang Zhou, A few hundred meters from the West Lake, you can find the Qinghefang Ancient Street in a 13-hectare area. It is the last classical-style area in downtown Hangzhou, with its own distinct cultural features, including Chinese medicine, tea, local snacks, antiques, folk customs and cultural relics.
Background
Qinghefang Ancient Street (qīng hé fāng gǔ jiē 清河坊古街) is one of the oldest streets and is the only well persevered antique historic street in Hangzhou City (háng zhōu shì 杭州市). It derived from the Southern Song Dynasty (nán sòng 南宋) and became prosperous in the Qing Dynasty (qīng cháo 清朝).
The buildings in the street were mostly constructed during the Ming (míng cháo 明朝) and Qing dynasties. After Hangzhou had been chosen as the capital of Southern Song Dynasty, Qinghefang witness many luxurious residence and prosperous restaurants, teahouse and stores. The street collects the business culture, construction culture and folk art culture, famous people, old alleys, ancient houses and renowned store accumulating rich historical and cultural heritage. It is the epitome of Hanghzou. The street is located close to Wu Hill (wú shān 吴山) and the West Lake (xī hú 西湖).
Many famous century-old shops gather in this ancient street, such as Wang Xing Ji Fan Store (wáng xīng jì shàn zhuāng 王星记扇庄), Zhang Xiao Quan Scissors (zhāng xiǎo quán jiǎn dāo 张小泉剪刀), Wanlong Ham Stack (wàn lóng huǒ tuǐ zhàn 万隆火腿栈), Hu Qing Yu Hall (hú qìng yú táng 胡庆余堂), Bao He Hall (bǎo hé táng 保和堂), Zhuang Yuan House (zhuàng yuán guǎn 状元馆), Wang Run Xing (wáng rùn xìng 王润兴), Yi Yuan Jin Dian (yì yuán jīn diàn 义源金店), Jing Yang Guan (jǐng yáng guān 景阳观), Sheep Soup Restaurant (yáng tāng fàn diàn 羊汤饭店) etc.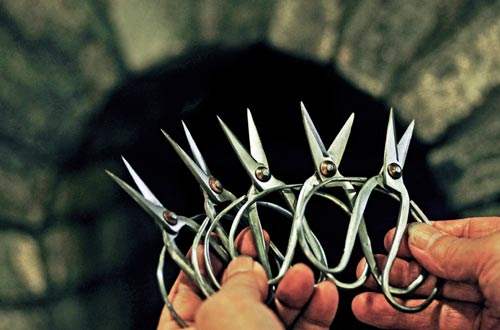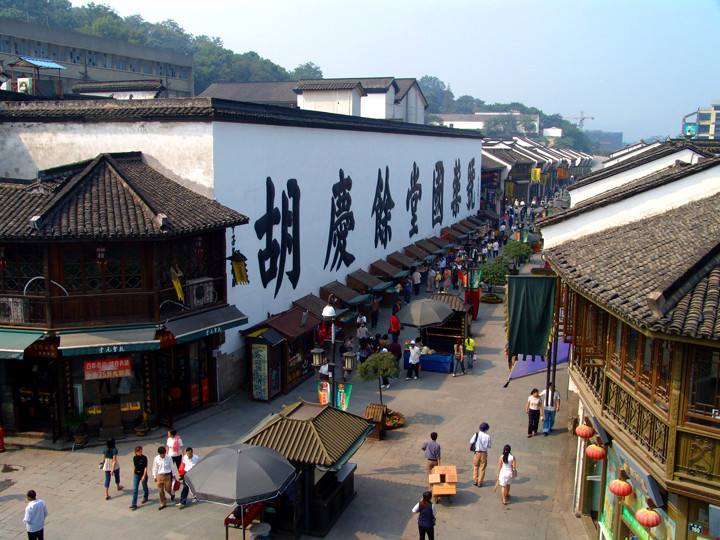 According to the description of Marco Polo, Hangzhou was the richest city in the world when he visited 800 years ago. At present, Hangzhou is regarded as China's richest small city. If you visit Hangzhou, Qinghefang Ancient Street is a must-see, which is a tourist-oriented shopping and dining street.

It is no doubt that Hanzhou is an old city, and the modern street sits where there were once rich Southern Song Empire residences. Besides, teahouses here are frequented by the politically powerful and wealthy in the city. Because of history, during the end of the Southern Song Dynasty and Yuan Empire eras, Hangzhou was one of the biggest and perhaps the richest city in the world. In fact, Hanzhou is now once again probably the richest city in China according to per-capita wealth. Taking its long history into account, the Hanzhou Museum of History is worth visiting. After visited the West Lake, you can come to Qinghefang Street to buy something for your friends and the family.

Tourists are the targets of these shops, and visitors can choose curios, paintings, souvenirs, crafts products, and works of art to buy. If you want to try the cuisine of Hangzhou and Zhejiang Province, there are also restaurants available here. There is not only just Hangzhou style food. In fact, you can also find spicy Sichuan-style restaurants and northern-style restaurants. Additionally from Chinese food, there are also restaurants featuring foreign food for the tourists. There are some teahouses and shops with long histories, where you can feel the deep historical and cultural environment. There is a Chinese medicine shop there called Bao He with a very long history that you can have a look at. You might want to experiment with taking Chinese remedies. Many actually work. Medicine is mystery for foreigners always, and you can describe what ails you to the shopkeepers in the medicine shops. Of course, traditional Chinese medicines are mainly herbal remedies, which have different functions.

Highlight
During the last years of Song Dynasty, Hangzhou was a refuge when they fled the Jin Empire who conquered much area north of the Yangtze River. At first, they made it as their capital, and for a while, the city flourished and developed. Owing to its position of capital, Hangzhou became a center for technical innovation and scientific research. During the Song Dyansty, the technicians at that time made world-leading advances in several fields including chemicals and mechanical engineering. Numerous of residences and teahouses for the rich were built on the place where Qinghefang Ancient Street is now. Thus, it is still flourishing nowadays.
Fortunately, after Mongols finally conquered the rest of the Song Empire, the city became opulently rich under the Mongol rule of the Yuan Empire. They inherited the extensive imperial architecture and Song urban planning, and the Mongols encouraged foreign trade in the city. As a result, it becomes a center for foreign trade in the Yuan Empire. Compared with before, the city prospered even more. During this period, Marco Polo had visited China and described the city as the richest, most beautiful, finest, and noblest city in the world. As a consequence, Merchant ships traveled from the rest of Asia to dock in the harbor. There were a lot of foreign merchants living there after visited Hangzhou.
Hangzhou was suffered from disasters after the end of the Qing Empire (1864-1912). There was warfare that razed whole sections of the city, and hundreds of thousands of people left the city or died in the war. Hangzhou was selected as a Special Economic Zone open to foreign investment and foreign companies in the 1990s and there was very heavy foreign investment in the area. At last, Hangzhou had a lot of factories and business opened. Benefit from high-tech industries and tourism, has more than doubled the little city's GDP in the past 6 years. The truth is that Hangzhou is much smaller than many other cities in China, but it is China's third-largest market for luxury goods and trails only the super-huge cities of Beijing and Shanghai in GDP. It also became one of the most livable cities in China for its wealth, relatively clean environment, and large parklands. It is pleasant to visit even live.

Admission Fee: Free
Hours: 6:00am-22:00pm daily
How to get there:
What to buy:unique souvenirs such as bamboo flute, knitting sweaters, Chinese calligraphy tools.
Tour The Qinghefang Street with Hangzhou Private Tour
We design private and tailor-made Hangzhou Tours customized to your style of travel at affordable local prices. We will provide a private & spacious car and a local professional tour guide with over 5 years guiding experience only work for you or your group. Transport, ticket, and dining (We find the most authentic dishes popular with locals) all we will arrange for you according your requirements. Please check our most popular Hangzhou Tours including The Qinghefang Street as below:

Are the above sample tour programs not suitable for you? We have more Hangzhou Tours. Our tours can be tailor-made based on your requirements and budget to create unique Hangzhou experiences that allow you to interact with the local people and culture. We are Hangzhou travel experts who know what your guidebook and foreign agencies don't. Our enthusiastic tour expert will promptly reply you in details within 24 hours.