Su Causeway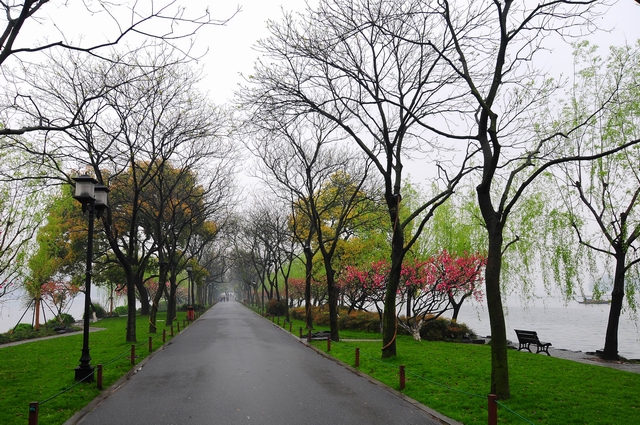 Su Causeway is one of three causeways around West Lake. It has a length of 2.8 kilometers.When talking about su causeway we have to mention Su Dongpo. In the fourth of Yuanyou during the Northern Song Dynasty(1089AD), and in his term of office as an official of Hangzhou, Su Dongpo noticed that West Lake was dry with overgrowth of weeds. In the following year, he presented a report to the imperial court to request the dredging of West Lake. He raised fund for the project by selling 100 Buddhist certificates issued by the government. As a result Su Dongpo employed over 200,000 labors to clear the lake and build the long north-south causeway from Xixia Hill to Nanping Hill with the removed weeds and mud. In order to cherish the memory of his achievements, the causeway was named Su Causeway.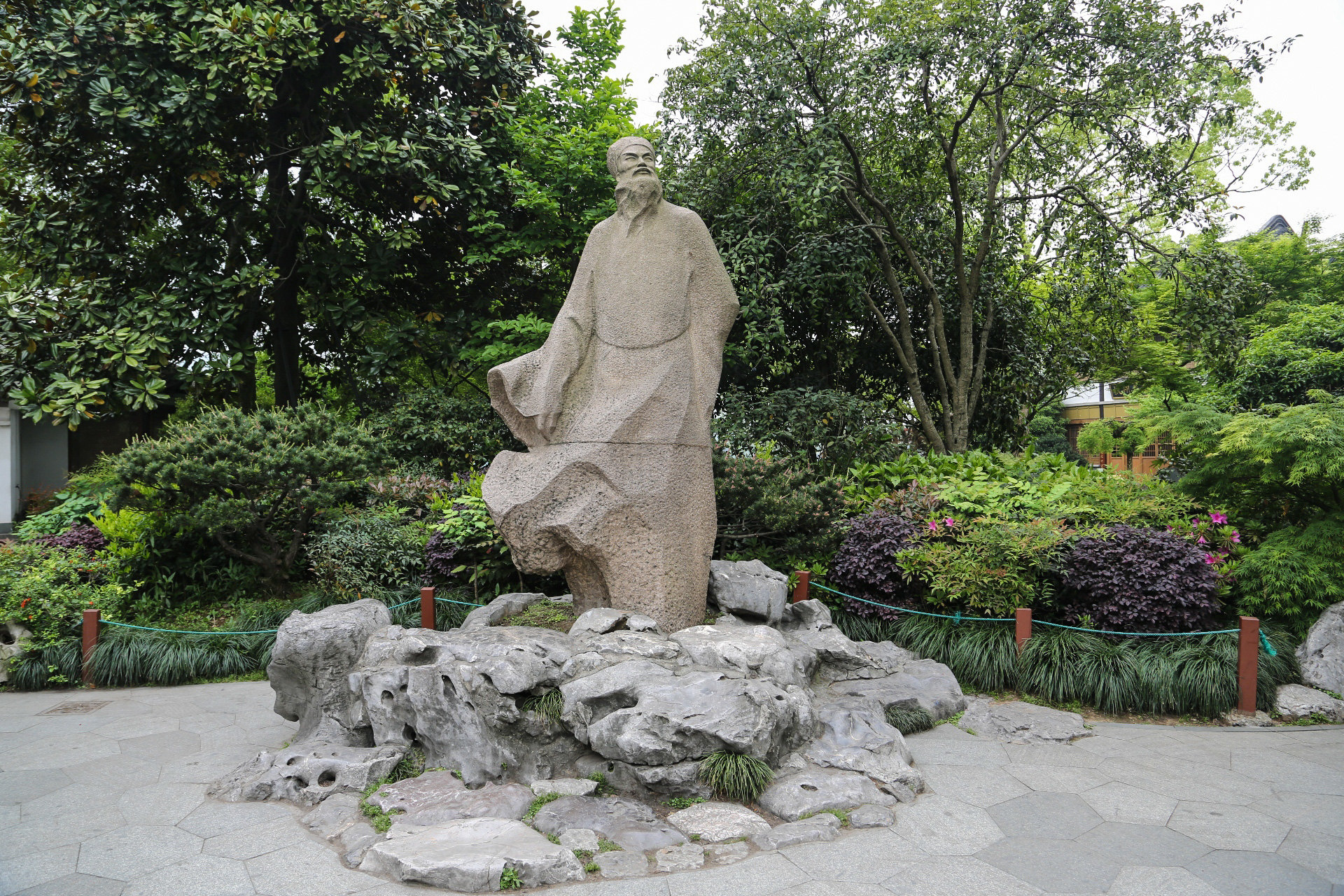 Su Dongpo, also named Su Shi or Su Zizhan, came from Meishan, Sichuan province. He was among the greatest poets of the Northern Song Dynasty. Bing a brilliant man of wide learning, he made great achievements in prose, poetry, calligraphy, painting and gastronomy. He was later revered as literary giant of his generation. He severed twice in Hangzhou: the first time was for three years as the vice governor from 1071-1074. The second occasion was between 1089-1091, when he served as the governor for two years. Consequently he was always referred to as the old mayor of Hangzhou.

People here worshiped him not only for his literary taltent, buts also for his devotion to his work and love for the people. The old mayor left us" a lake, a dike, a masterpiece of peom and a famous dish". The lake is of course West Lake, the dike is Sugong Causeway, also called Su Causeway; the masterpiece of poem is " Drinking by the sunny West Lake after a Rain", whose lines, " West Lake may be compared to the beauty Xizi at her best, it become her to be richly adored or painly dressed" are widely known. The famous dish is Dongpo Pork, which is fat but not greasy. In Hangzhou, there are not only Dongpo Pork and Scholar Road, but also Su Dongpo Memorial Hall in memory of him, which shows how much people of Hangzhou revere him.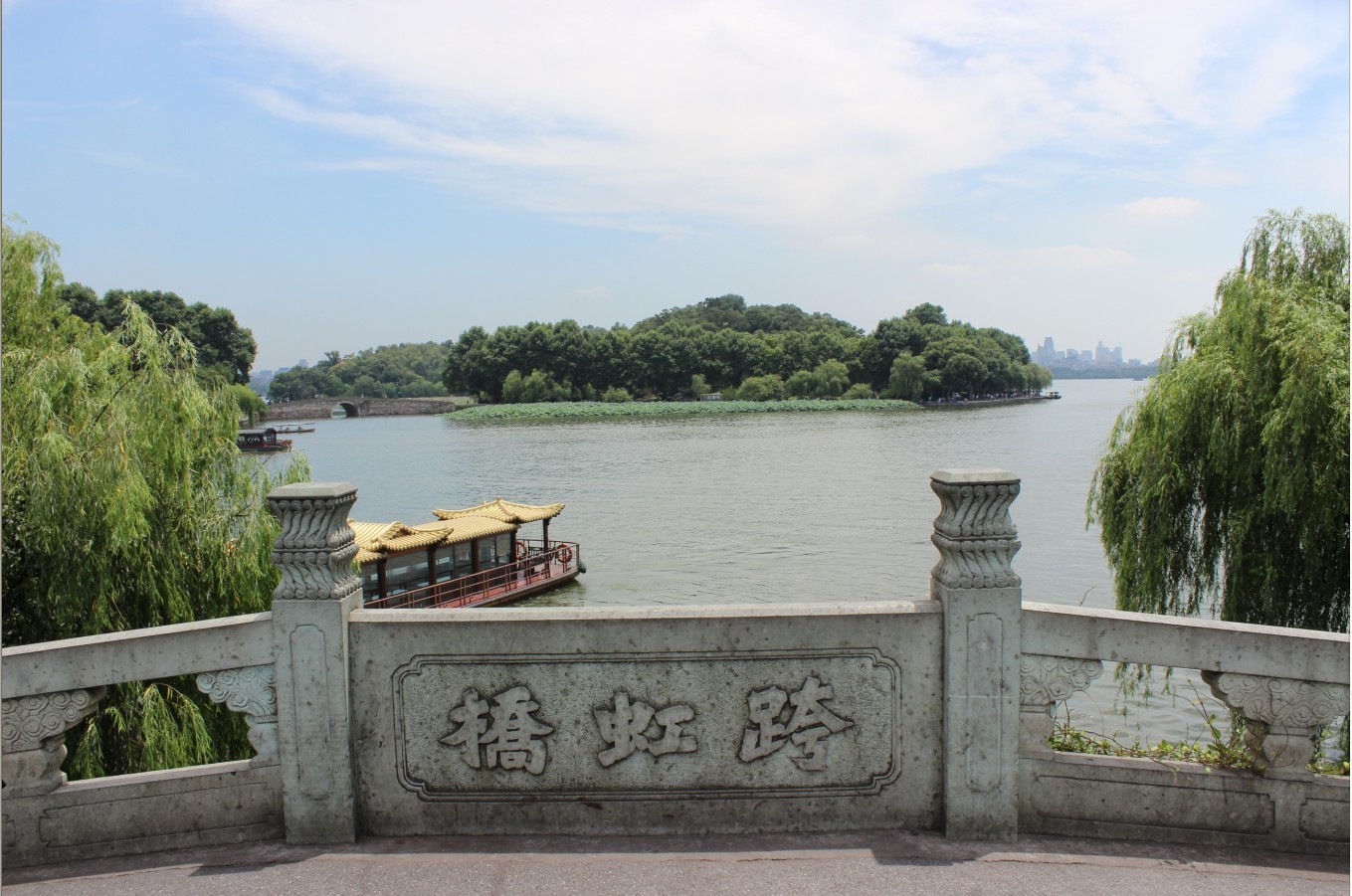 With its charming scenery and quiet environment, Su Causeway is commonly known as the " Lovers causeway". It is a good place for lovers take leisurely walks together. Six stone arch bridges were built on the causeway from the south to north. They are Yingbo Bridge, Suolan Bridge, Wangshan Bridge, Yadi Bridge, Dongpu Bridge and Kuahong Bridge. During the Southern Song Dynasty, pavilions, terraces, and open halls were built on the causeway, making it a lively place to visit. Flanking the causeway were a variey of flowers and trees, mainly willions and peaches. As a folk proverb puts it,"The best view at West Lake is the six bridges with willows and peaches planted at intervals". The scene wa known as " Willows in the Mist on the Six Bridges" among the one of the "Ten Views on Qian Tang" in Yuan Dynasty. The scenery on Su Causeway changes with seasons, especially in spring when the display is the most facinating.
Due to its unique geographical location, the willows here sprout earlier that elsewhere on West Lake . Thus it becomes the messenger of nature to tell people of the arrival of spring. When Emperor Kangxi was apprasing the " Ten Views on West Lake" during his inspection tour to Hangzhou, he selected a few painting of the Southern Song Dynasty. After changing a few words them, he listed the " Spring Dawn at Su Causeway" as the first of the ten. Walking on the causeway and standing on the bridges admist the wonderful scenery of the lake and hills has various way to delight the people who visit here。
Tour The Su Causeway with Hangzhou Private Tour
We design private and tailor-made Hangzhou Tours customized to your style of travel at affordable local prices. We will provide a private & spacious car and a local professional tour guide with over 5 years guiding experience only work for you or your group. Transport, ticket, and dining (We find the most authentic dishes popular with locals) all we will arrange for you according your requirements. Please check our most popular Hangzhou Tours including The Su Causeway as below: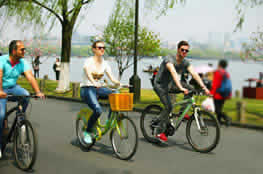 Hangzhou Bike & Cycling Day Tour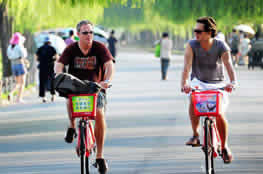 Hangzhou Bike Tour around West Lake
Are the above sample tour programs not suitable for you? We have more Hangzhou Tours. Our tours can be tailor-made based on your requirements and budget to create unique Hangzhou experiences that allow you to interact with the local people and culture. We are Hangzhou travel experts who know what your guidebook and foreign agencies don't. Our enthusiastic tour expert will promptly reply you in details within 24 hours.