Day 1
Place&Transport: Arrive in Shanghai
Today's Activities: Transfer from Airport to your hotel in Shanghai
Accommondation: Three, Four or Five Stars Hotel (Can be customized) in Shanghai
Meal: N/A
Welcome to Shanghai! Upon arrival in Shanghai, your guide will pick you up at the exit of Shanghai Pudong International Airport (based on your requirement) with a welcome signage "Shanghai Private Tour". You will be escorted to your hotel, the rest of the day is free for you to recover your jetlag.

Our Shanghai Pick up Sign" Shanghai Private Tour"
Day 2
Place&Transport: Shanghai
Today's Activities: Shanghai Museum, Nanjing Road, Lujiazui, Longtangs, Night Huangpu River Cruise (Optional)
Accommondation: Hotel in Shanghai
Meal: B,L
After breakfast, first drive to People's Square to visit Shanghai Museum. The museum has the selection of over 112,000 Chinese cultural relics from the Old Stone Age to modern times, which includes bronzeware, calligraphy, paintings, pottery, porcelain, jadeware, stone carvings, Jiaguwen imperial seals, ancient coins, silk embroidery, dyed fabrics, ivory sculptures, ethnic crafts etc.
Then walk to the Nanjing Pedestrian Road. It is regarded as the first commercial street in Shanghai. It was first built in 1851. Now Nanjing Road has turned into the number one site for shopping in the city.
After lunch, visit the new development zone in Pudong - Lujiazui, which is teemed with the futuristic, avant-garde buildings - Oriental Pearl Tower, Jin Mao Building, Bank of China Tower. Taking the elevator to the 88 storeys Observation Deck of Jinmao Tower to have a bird's eye view of Huangpu River.
Continue to visit the Longtangs in Jingan District. Longtangs in Shanghai are just like Hutongs in Beijing, the lanes lined with houses where people have more chances to communicate with each other. In the Longtangs, people meet together, are closely associated, thus bringing forth a strong sense of localism, safety and family-likeness.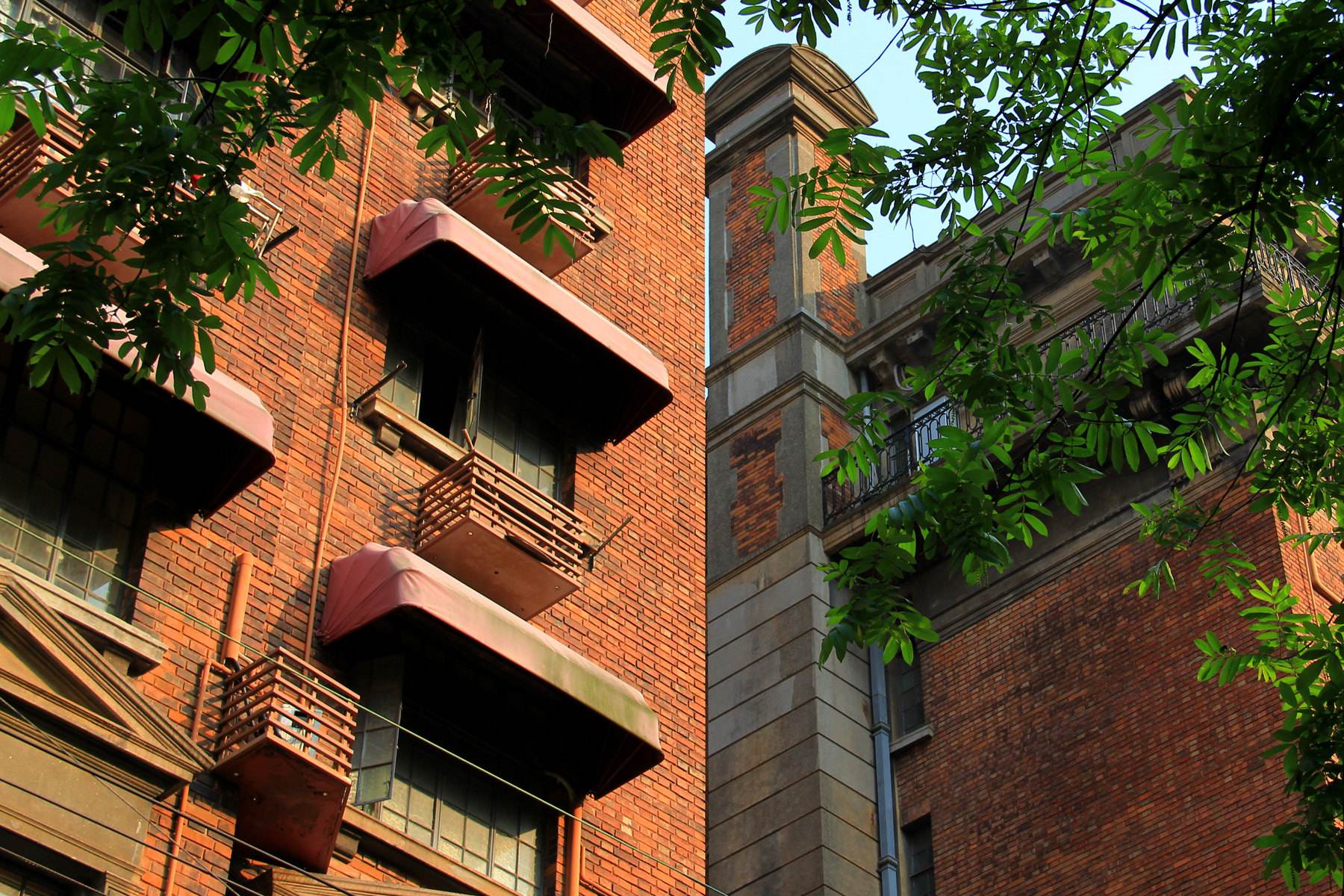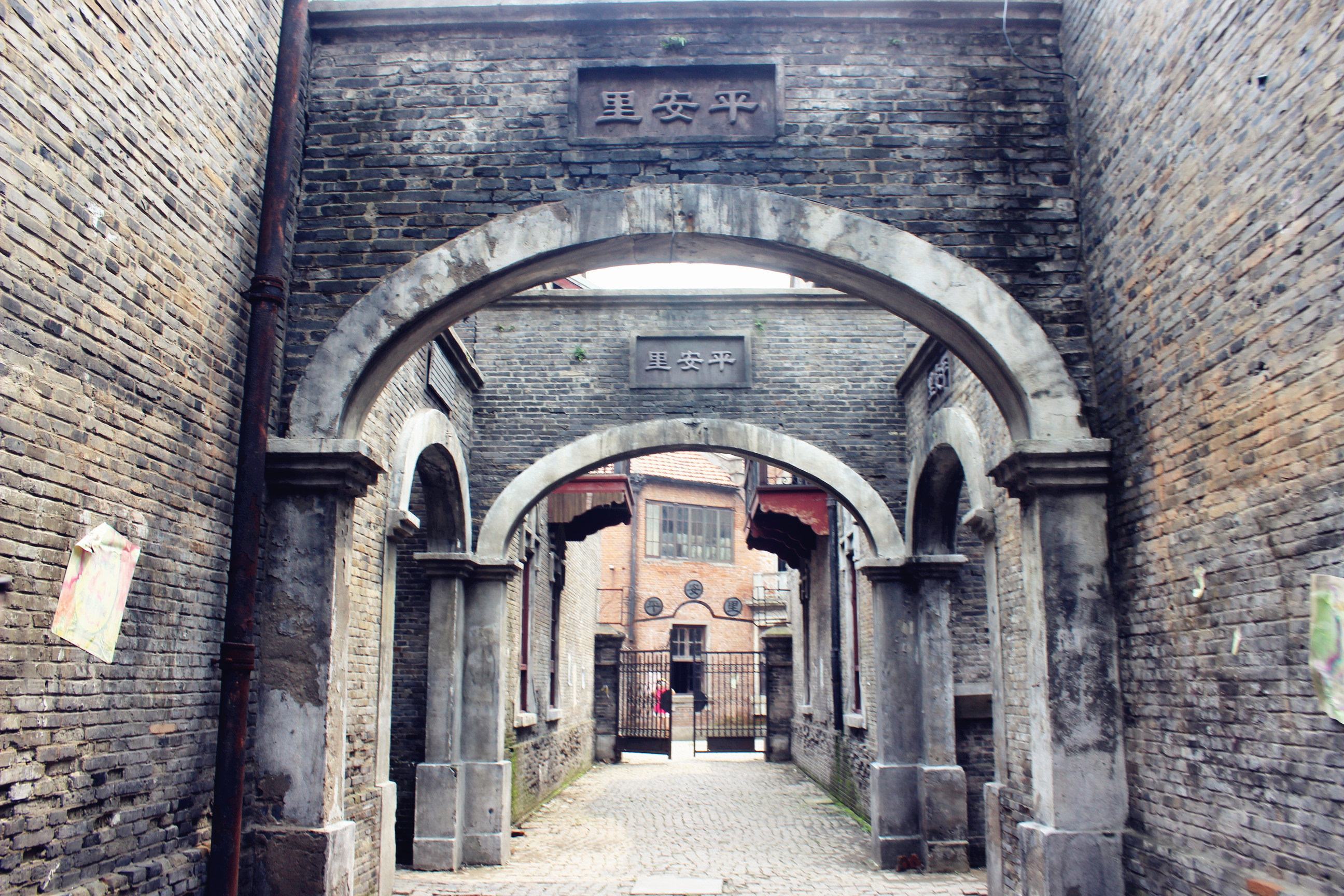 Optional: evening Brilliant Huangpu River Cruise: Embark on a cruise boat cruising on the Huangpu River passing the neon-lit Bund and Oriental Pearl TV Tower. Cruising on the Huangpu River is a must for first time visitors. People can enjoy the views on both sides of the river.
Afterwards, drive you back to your hotel.
Day 3
Place&Transport: Shanghai
Today's Activities: Yu Garden&Bazaar, Old French Concession, Tianzifang Street, Xintiandi Bar Street
Accommondation: Three, Four or Five Stars Hotel (Can be customized) in Shanghai
Meal: B,L
After breakfast, move on to Yuyuan Garden&Bazaar. Yuyuan is the most famous garden in Shanghai. It is located in the heart of Shanghai's Old City (Shanghai bazaar), one of the few existent old tourist places in Shanghai. Shanghai bazaar is teemed with a great number of small streets and lanes where vendors sell their products and food stuffs to the tourists and local people.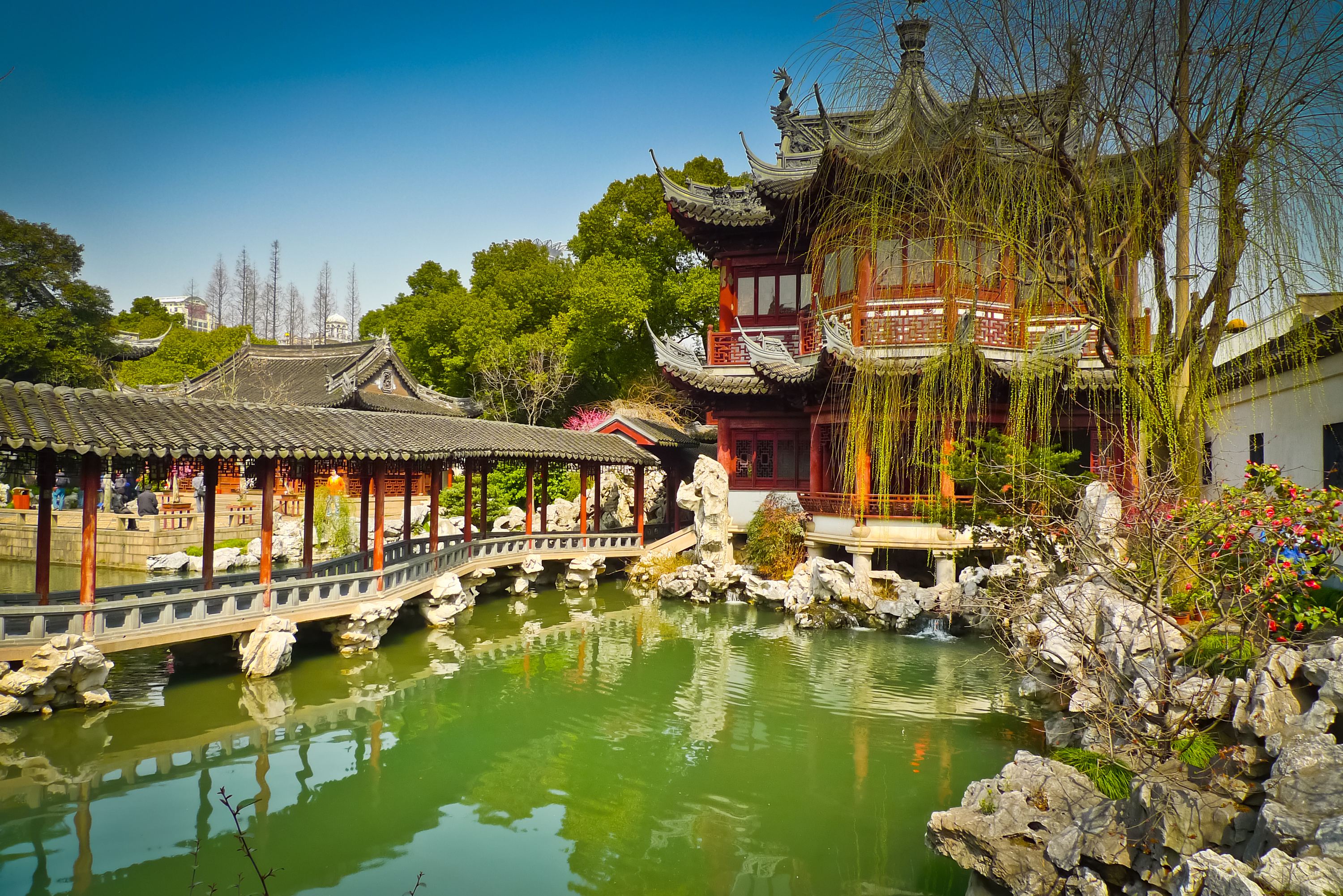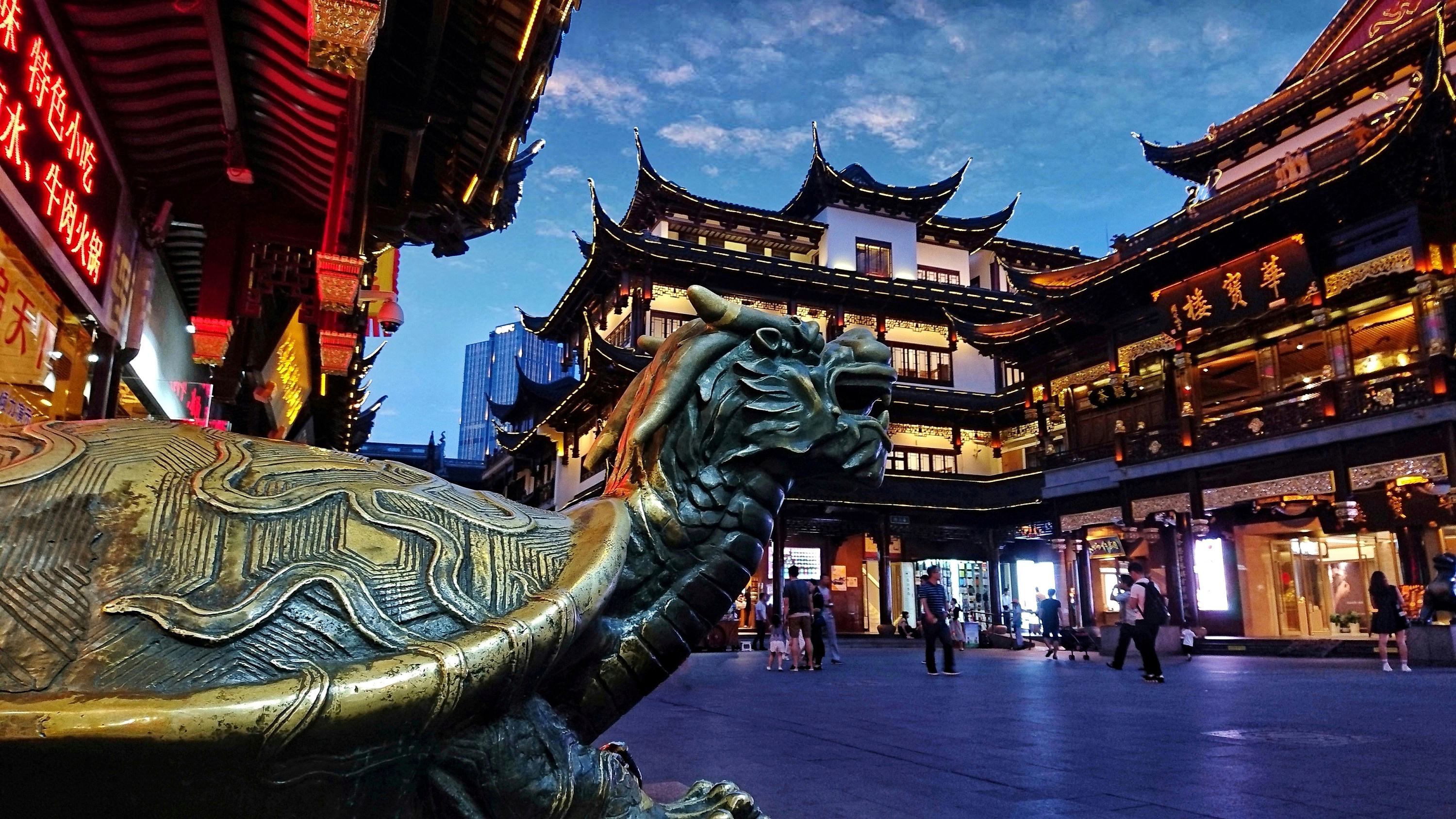 Next visit Old French Concession: A former foreign concession in Shanghai during the period of 1849 to 1946, including the area of Luwan and Xuhui District, dubbed as Shanghai's most charming district. This area is quiet, tree-lined and teeming with boutiques, bars and restaurants for Shanghai's hedonists. Visit of the Former Residences of Celebrities.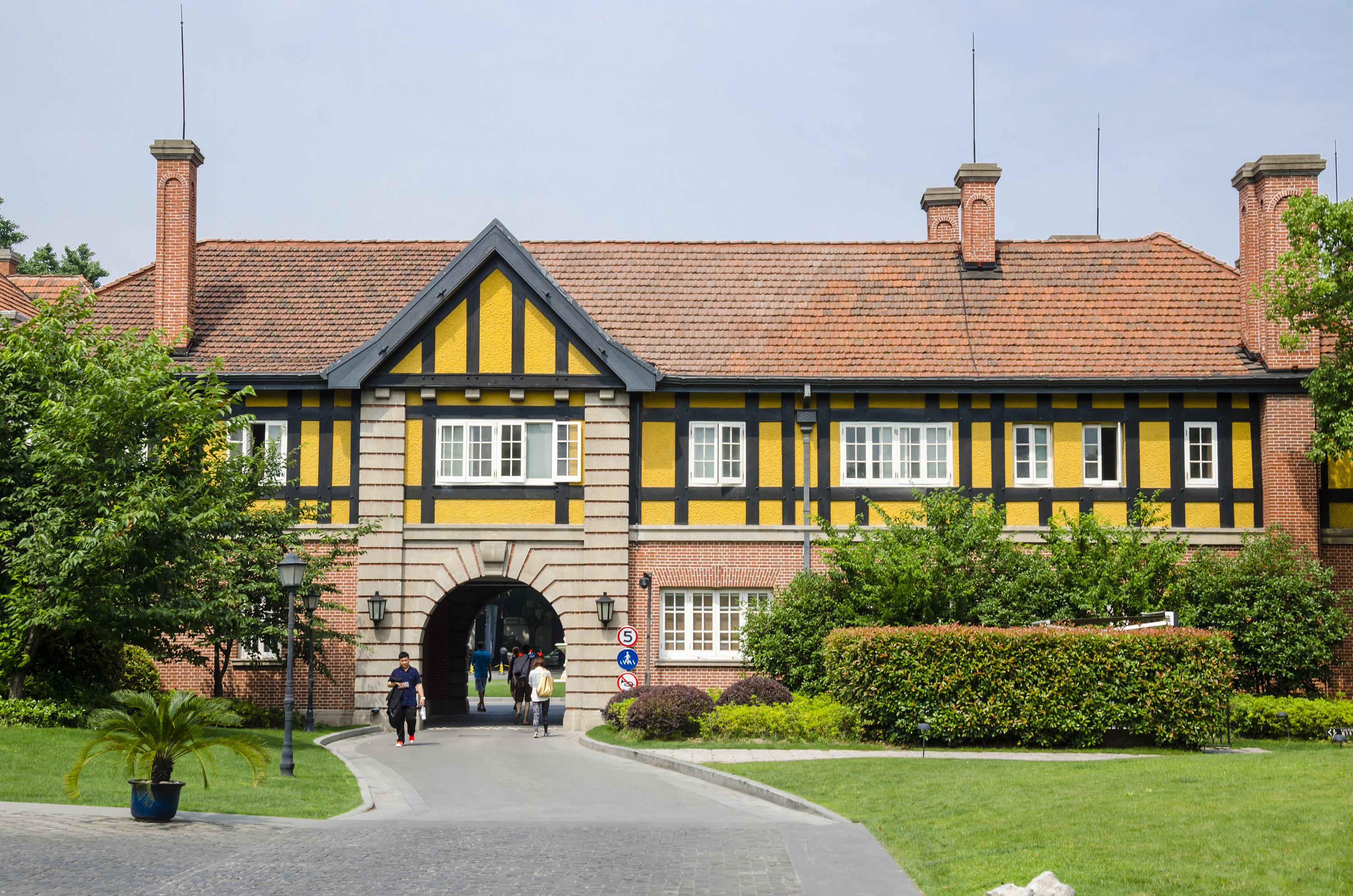 Continue your tour to Tianzifang Street: Tianzifang is an artsy area that has developed from a renovated residential area (old Shanghai shikumen buildings) in the French Concession area of Shanghai. Now it houses bars, cafes, crafts shops, design studios, galleries and boutiques. Many local residents still live in the narrow lanes. Just be mindful and respect their privacy.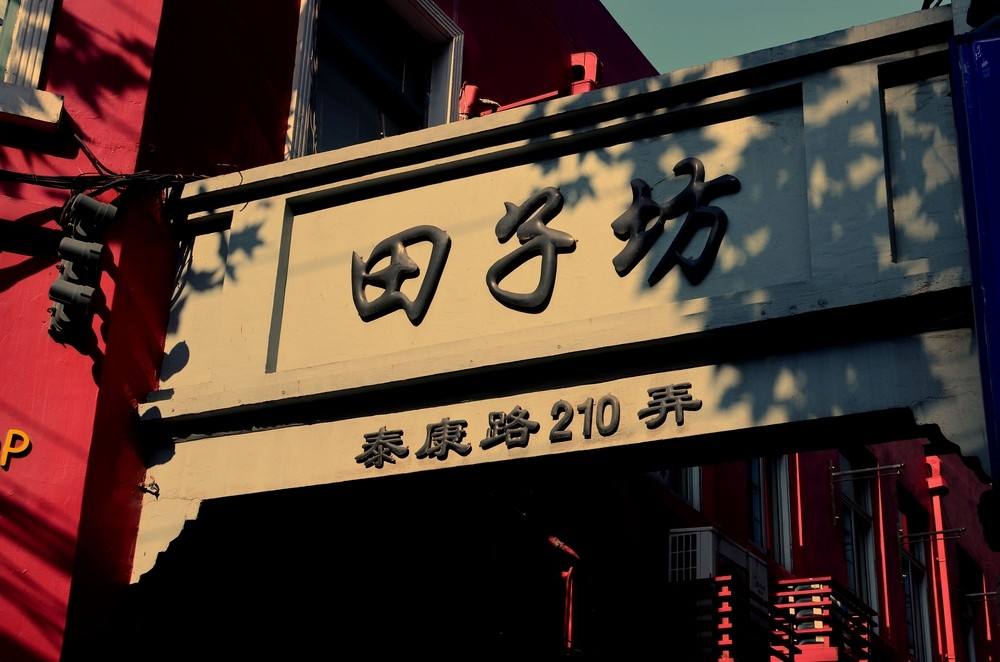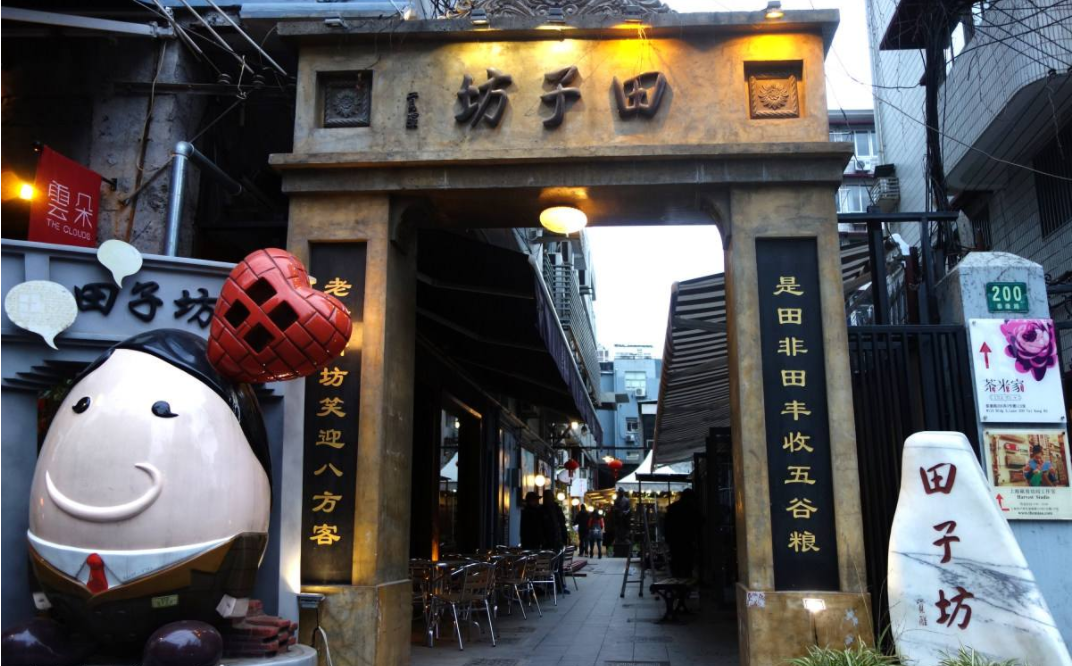 .
The last stop is Xintiandi Bar Street: You are arranged to immerse yourself into the dazzling nightlife in "Xintiandi". Shanghai Xintiandi is situated at Lane No.181 of Taicang Road Shanghai. It occupies an area of about 30,000 square meters. It was a former old Shikumen which has been given restoration. Now it serves as book stores, cafes and restaurants, and shopping malls.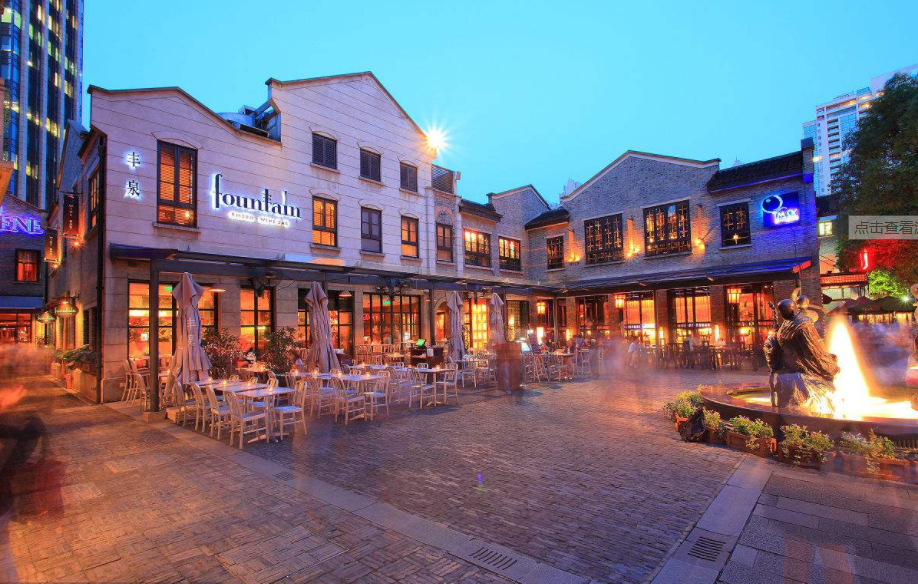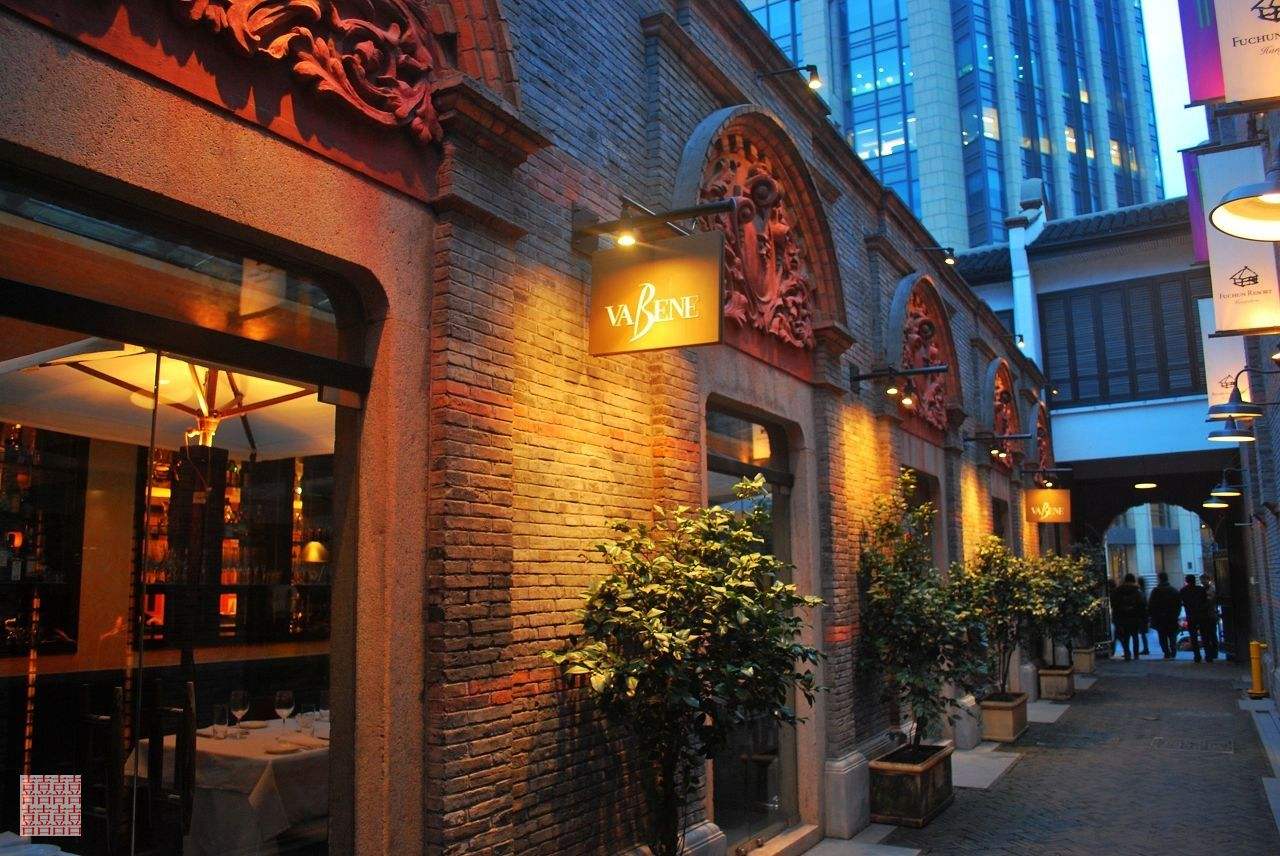 After that, you will be taken back to your hotel.
Day 4
Place&Transport: Shanghai - Suzhou - Shanghai
Today's Activities: The Master of Nets Garden, Hanshan Temple, Panmen Gate, Suzhou Silk Factory
Accommondation: Three, Four or Five Stars Hotel (Can be customized) in Shanghai
Meal: B,L
In the Morning: pick up from your hotel lobby and take you to train station for your train to Suzhou. Our local guide in Suzhou will meet you at the exit of the train station.
You will start the tour with the famous classical garden-The Master of Nets Garden. The Garden is the smallest of the Suzhou residential gardens, yet it is the most impressive because of its use of space which creates the illusion of an area that is much greater than its actual size. The garden is divided into three sections: a residential section, the central main garden and an inner garden. The garden is especially fancied by overseas visitors and is praised as the most ornate and intact private gardens in Suzhou. Some tourists even offer a huge amount of money to buy it.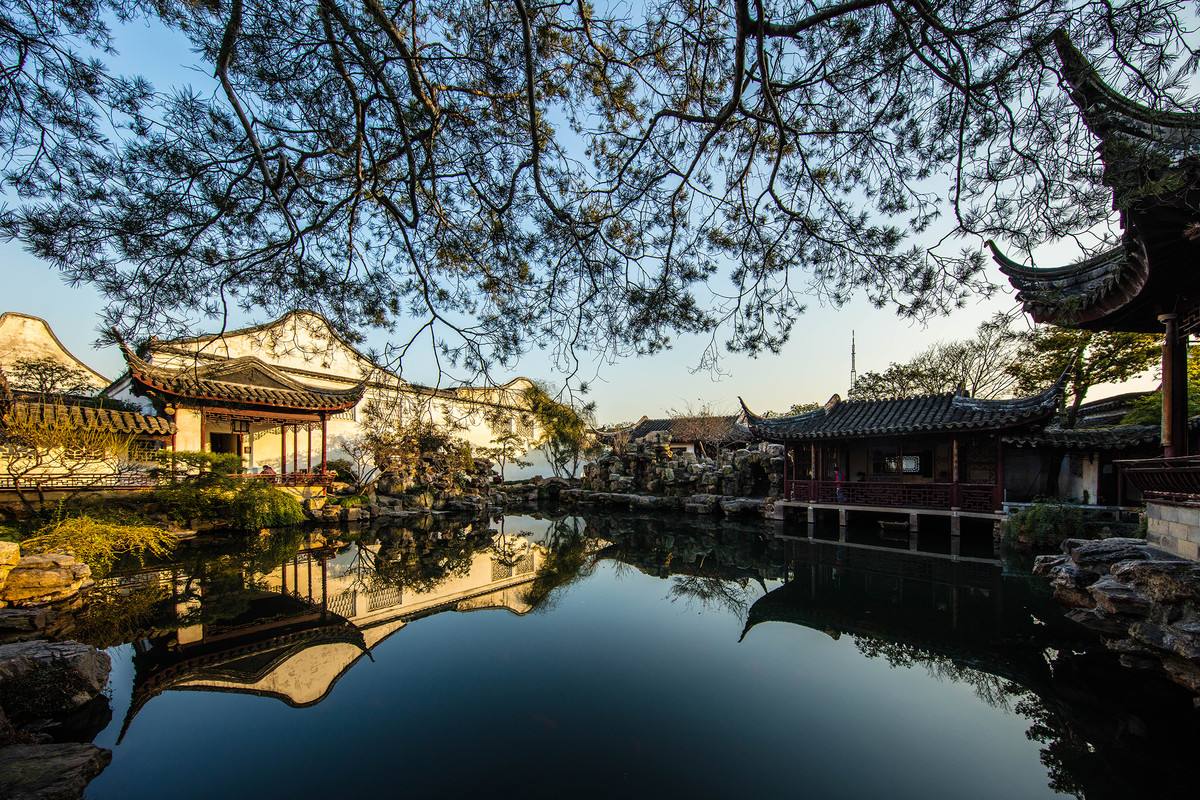 Afterwards, you will visit Hanshan temple (Cold Mountain Temple), is a Buddhist temple and monastery in Suzhou. Traditionally, Hanshan Temple is believed to have been founded during the Tianjian era (502–519) of the reign of Emperor Wu of Liang, in the Southern and Northern Dynasties period. More than thousand years ago, a poet had described the midnight bell rings of Cold Mountain Temple. The temple is famous for its bell rings at night. The temple can be traced back to 6th century, and it was destroyed and repaired for times in history. A sitting statue of Buddha is in the main hall of the Hanshan Temple. On each side of the statue there are nine gold-plated Arhat statues, each with a different facial expression. If you come to visit them, you will definitely be touched by their life-like designs.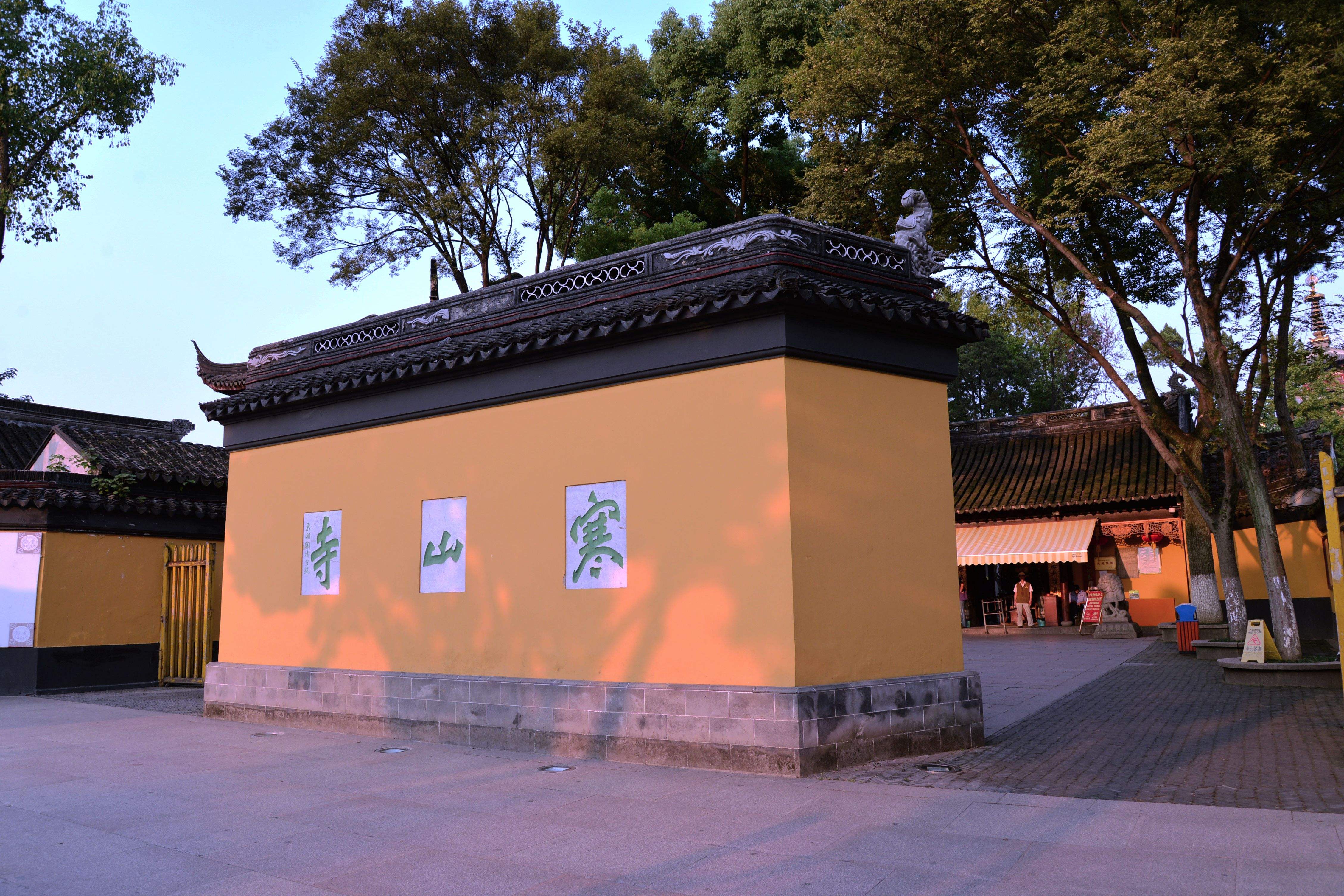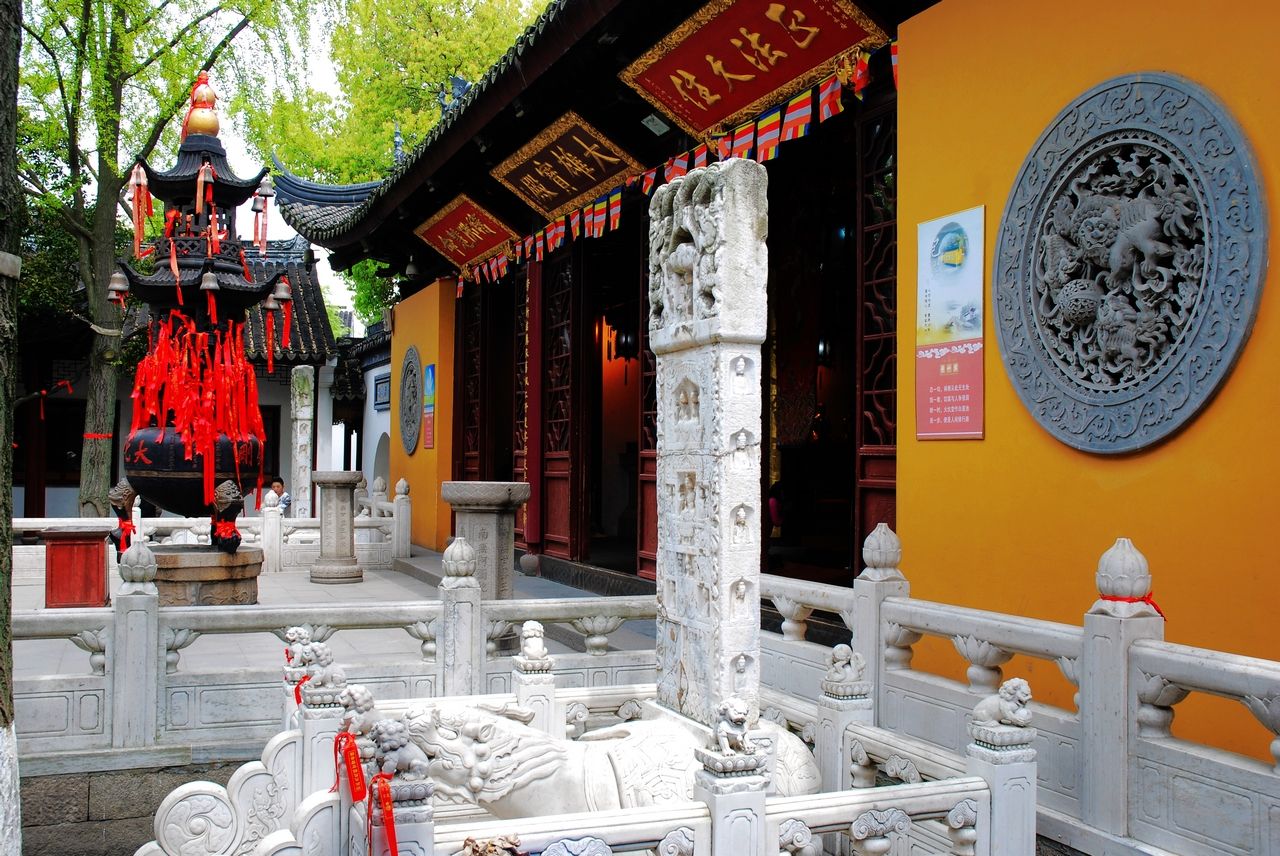 In the afternoon: After lunch, you will visit the Panmen Gate. Panmen Gate is part of the ancient city wall built in 514 BCE that surrounded and protected Suzhou. It is so famous for its complex of both land and water city gates that many times, people directly refer to it as the "Land and Water Gate". In order to attract more tourists, in recent years, the city of Suzhou has renovated the old wall and built many other attractions around the original gate in the Pan Gate Scenic Area.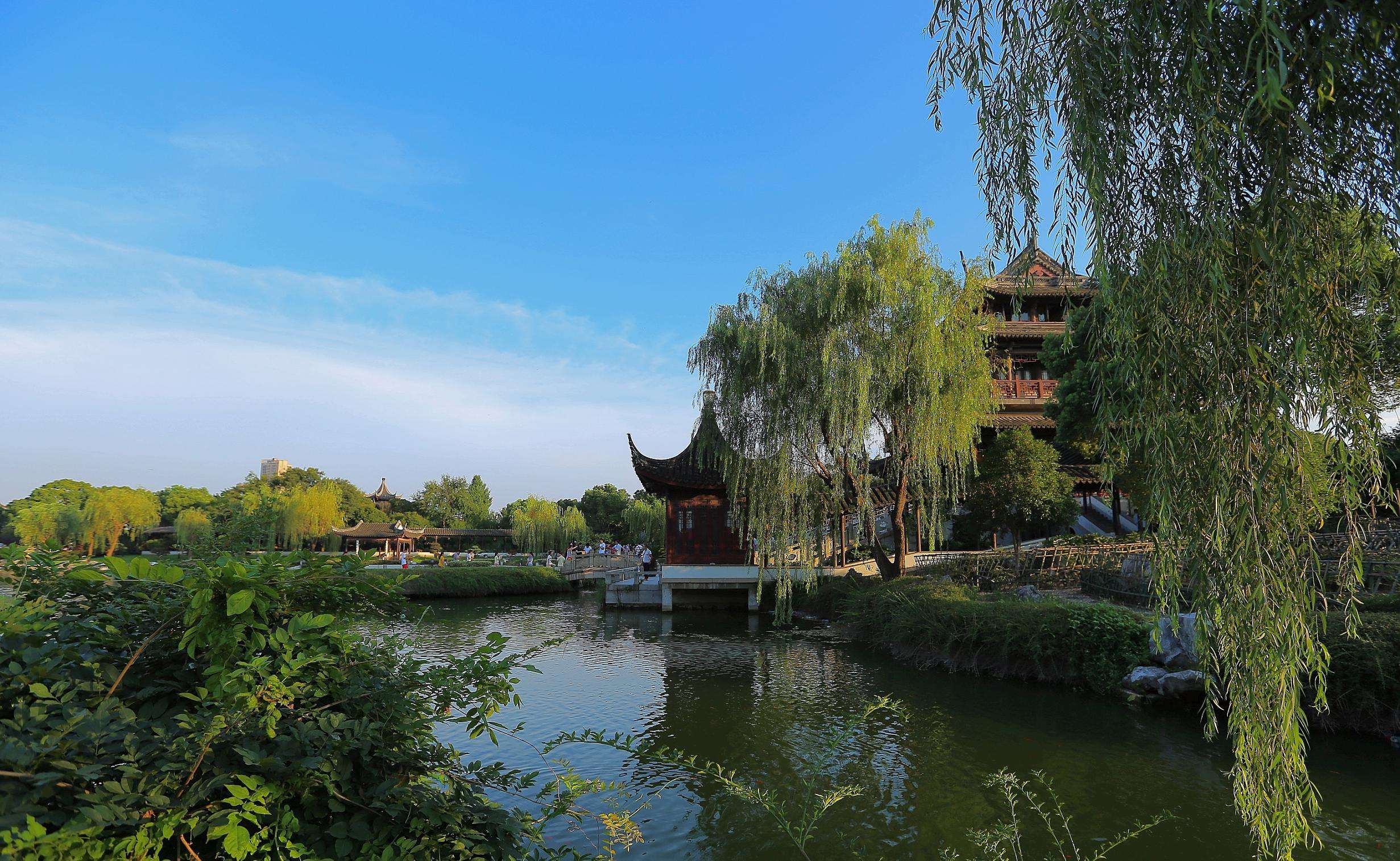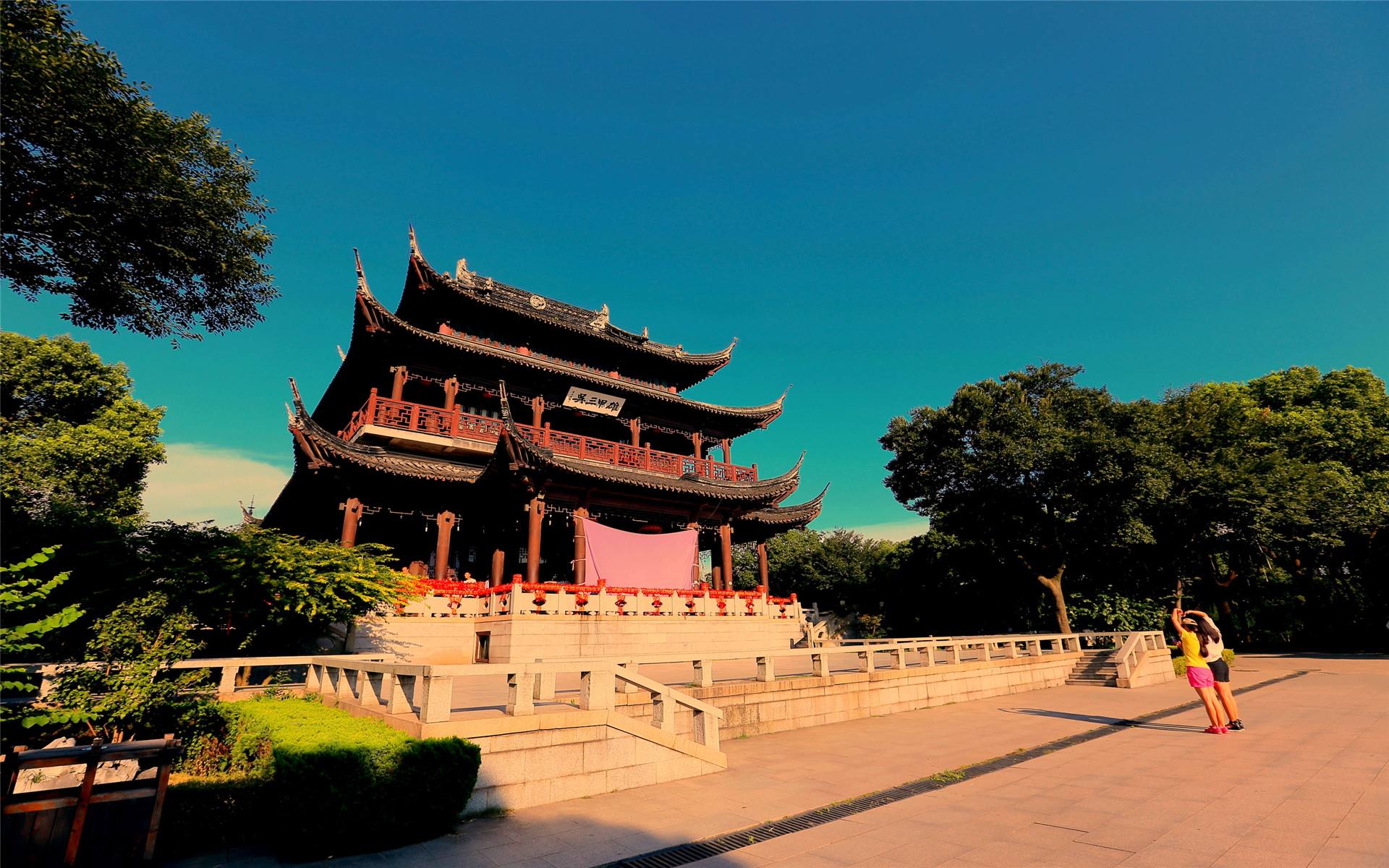 Then visit Suzhou Silk Factory. Suzhou is not only a garden city, but also a city with a long history of silk culture. In the Tang and Song Dynasties, Suzhou is the silk cente. The No.1 Silk Factory was built in Suzhou in 1926. It is divided into three parts: the exhibition hall which shows the history of Suzhou silk and some ancient collections; the working spot, where you can see how the silk is made and the product exhibition hall, exhibiting the main products of this factory, the silk wadding quilts. The factory gains a good reputation in the silk industry for its complete technical process of silkworm raising, cocoon sorting, cocoon boiling, and silk reeling, rewinding and packing. Suzhou first silk mill provides magic silk production and fashion show the whole process, so as to prove the Chinese silk glorious history. At the same time, it also describes the history of the development of Chinese silk response which further profound Chinese culture. In this factory you can not only see how the silk is processed from worm to the final product, but also learn some histories of silk.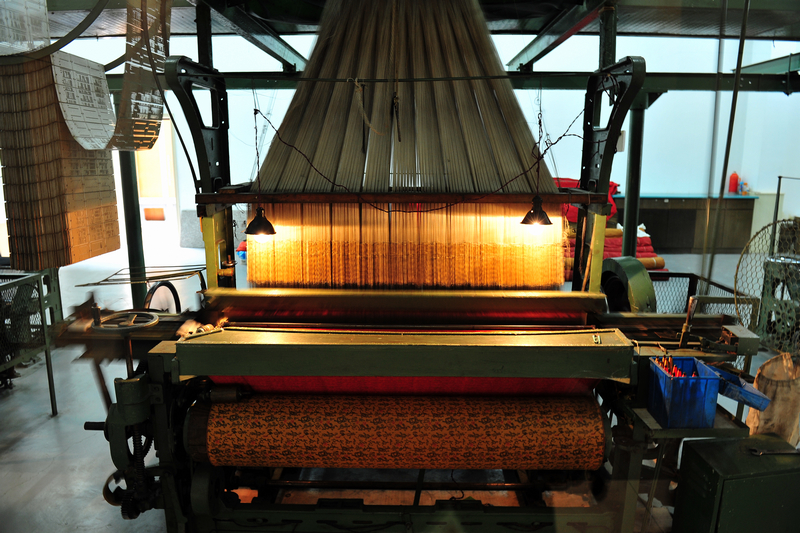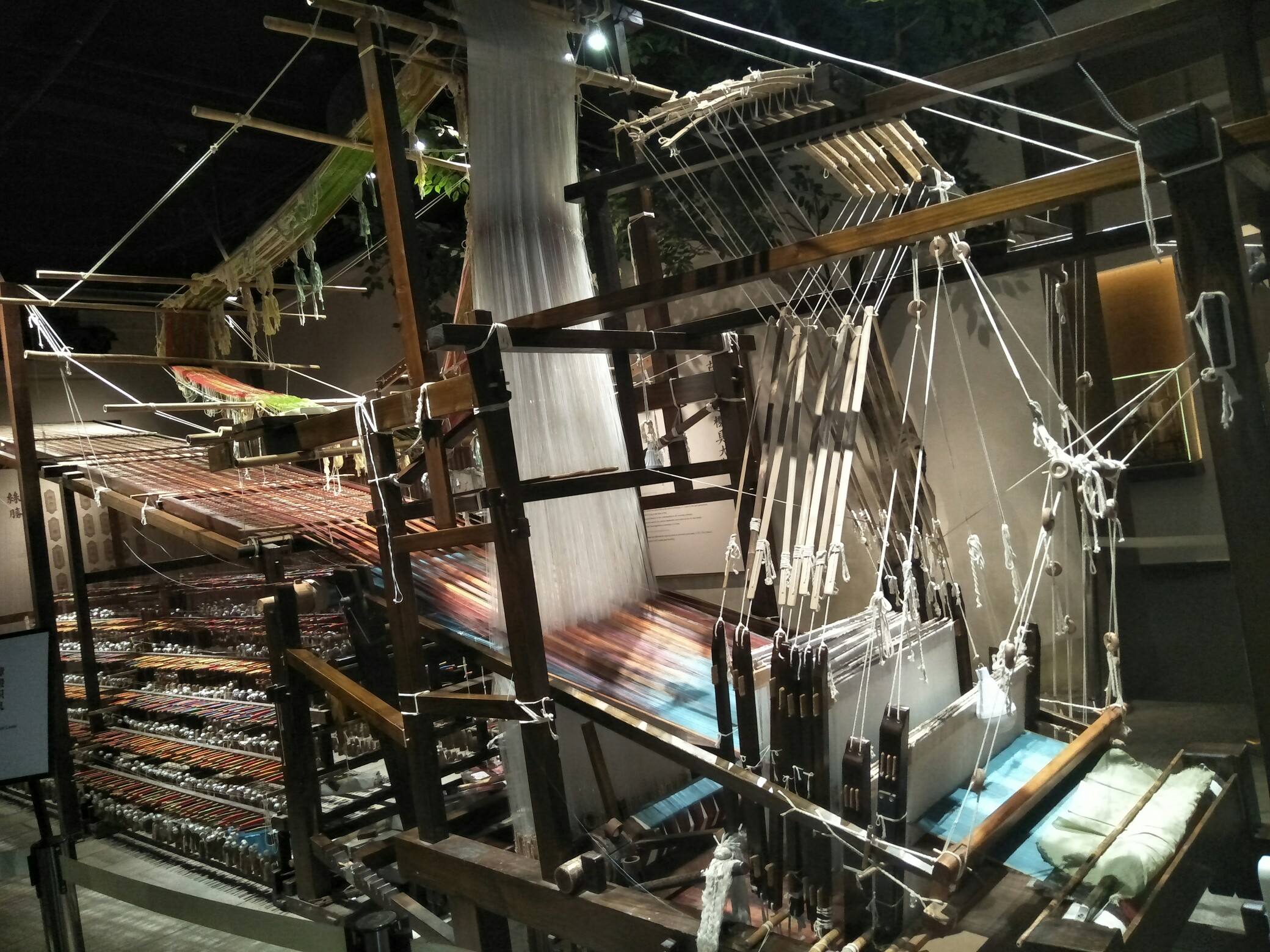 Afterwards, drive you back to your hotel in Suzhou.
Day 5
Place&Transport: Shanghai-Hangzhou
Today's Activities: Boat Cruise on West Lake, Viewing Fish at Flowery Pond, Guo's Villa, , Leifeng Pagoda, China National Tea Museum
Accommondation: Three, Four or Five Stars Hotel (Can be customized) in Hangzhou
Meal: B,L
After breakfast, pick up from your hotel lobby and drive to the Shanghai Train Station for your train to Hangzhou. After arrive in Hangzhou, firstly you will go to West Lake, it is a freshwater lake in Hangzhou, the capital of Zhejiang province in eastern China. There are numerous temples, pagodas, gardens, and artificial islands within the lake. West Lake has influenced poets and painters throughout Chinese history for its natural beauty and historic relics, and it has also been among the most important sources of inspiration for Chinese garden designers. Traditionally, there are ten best-known scenic spots on the West Lake, boat ride on West Lake to tour around the lake and you have a chance to see some of the top ten views of the lake, Viewing fish at the flower pond, this area now has been made into a 22 hectare (54 acre) park with many varieties of trees and flowers, featuring a peony garden which blooms in April and a goldfish pond which is the famous site for viewing fish.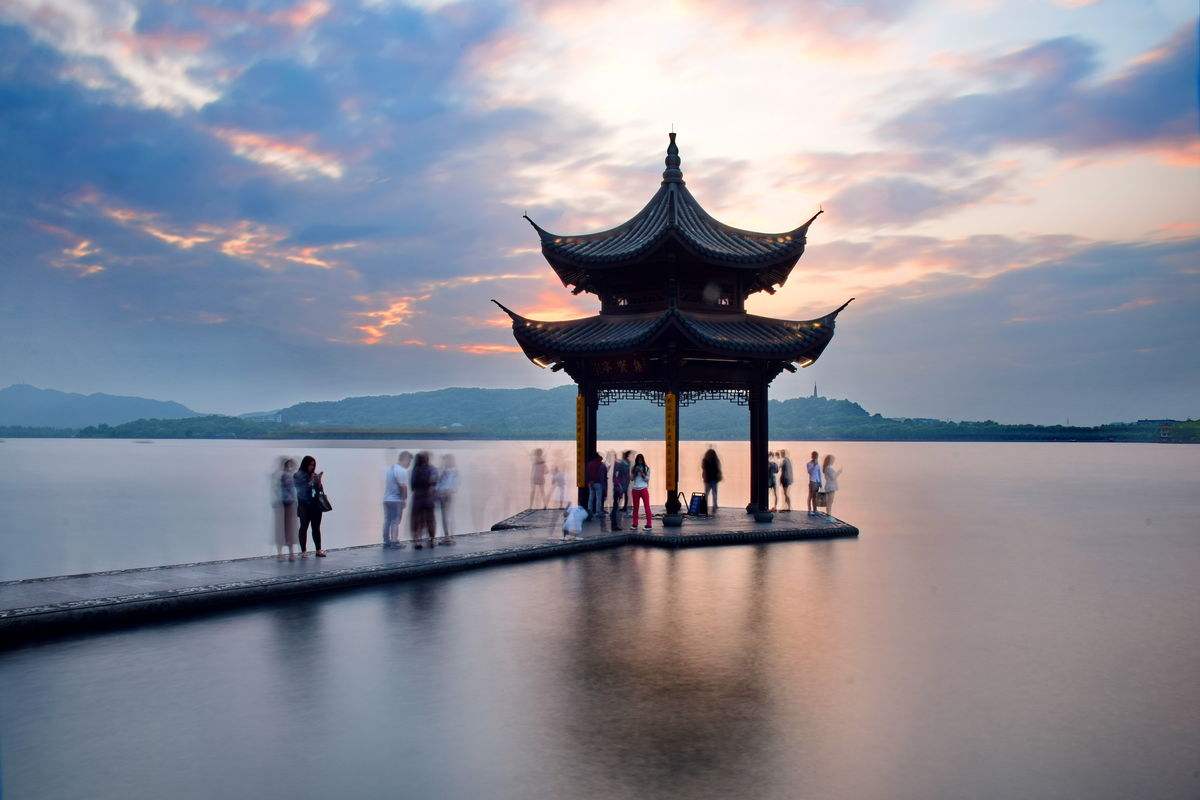 Next, visit Fish watching tour at the Flower Pond, this area now has been made into a 22 hectare (54 acre) park with many varieties of trees and flowers, featuring a peony garden which blooms in April and a goldfish pond which is the famous site for fish watching.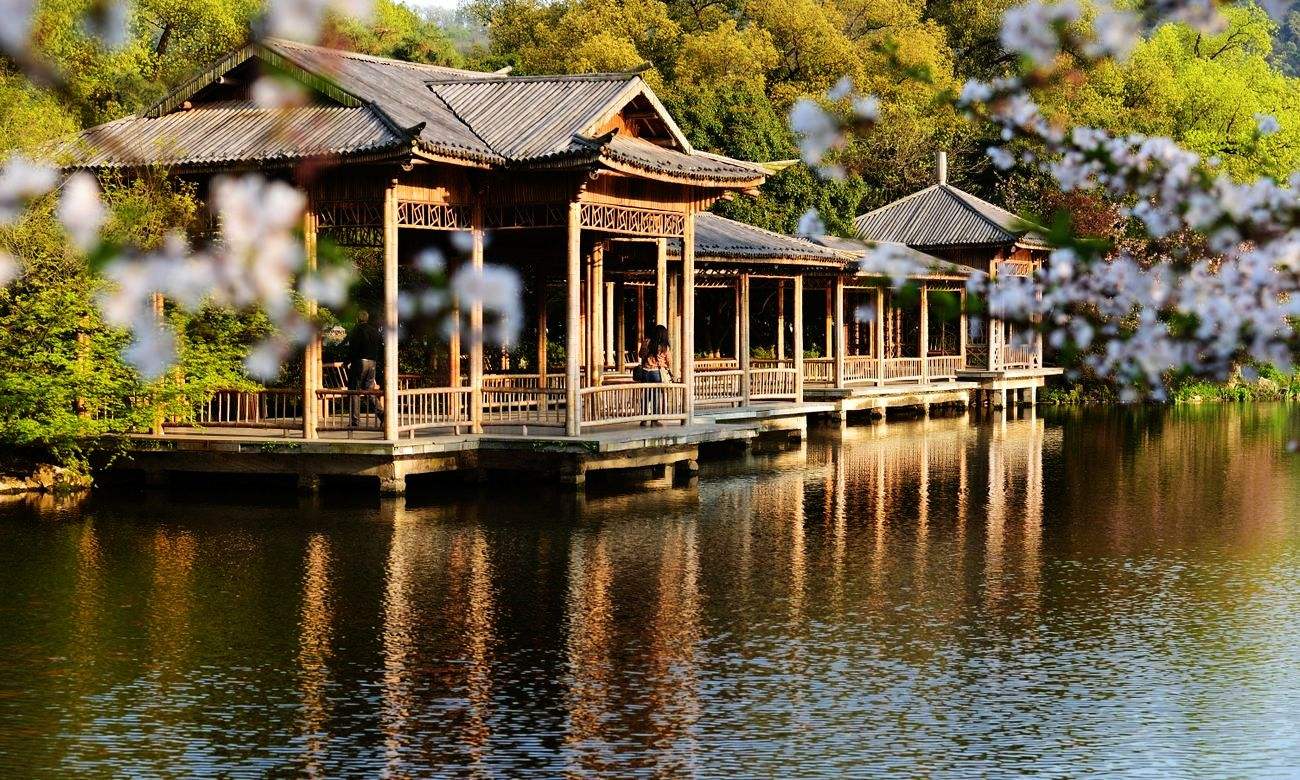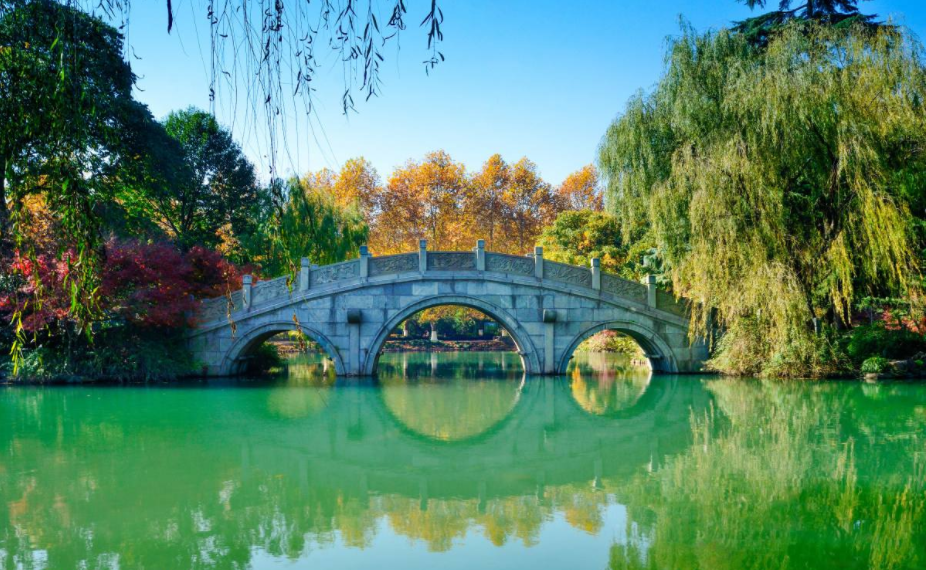 Then continue the tour to Guo's villa, also refer to Guo Classic Gaeden, is located in Hangzhou Xishan Road, Wolong bridge, adjacent to breeze-ruffled Lotuses Beside which is one of the top Ten Views of the West Lake .This beautiful classic garden was built in the 1851 by a rich merchant nearby the lake, the whole garden covers an area of nearly 10000 square meters and you will have a further understanding about the local people's life in this garden.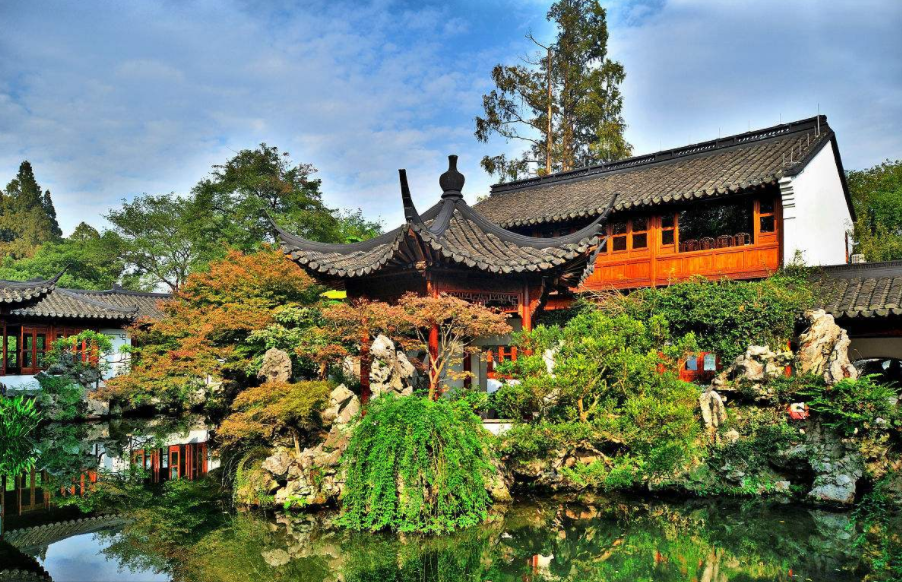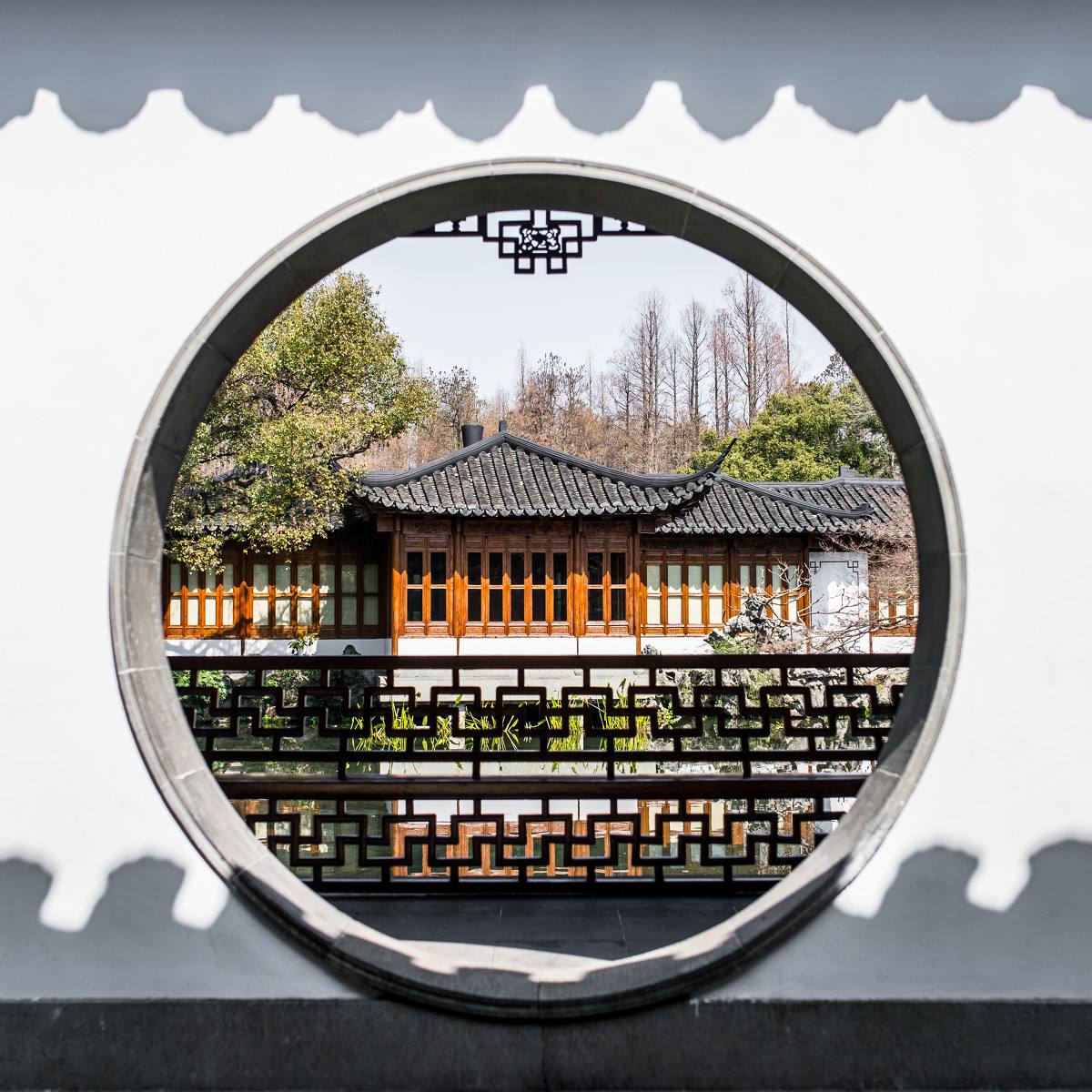 Then Leifeng pagoda, Leifeng Pagoda is located on the shores of the southeast side of the lake and originally built in the year 977, the view of the city skyline is one of the best from Leifeng Pagoda.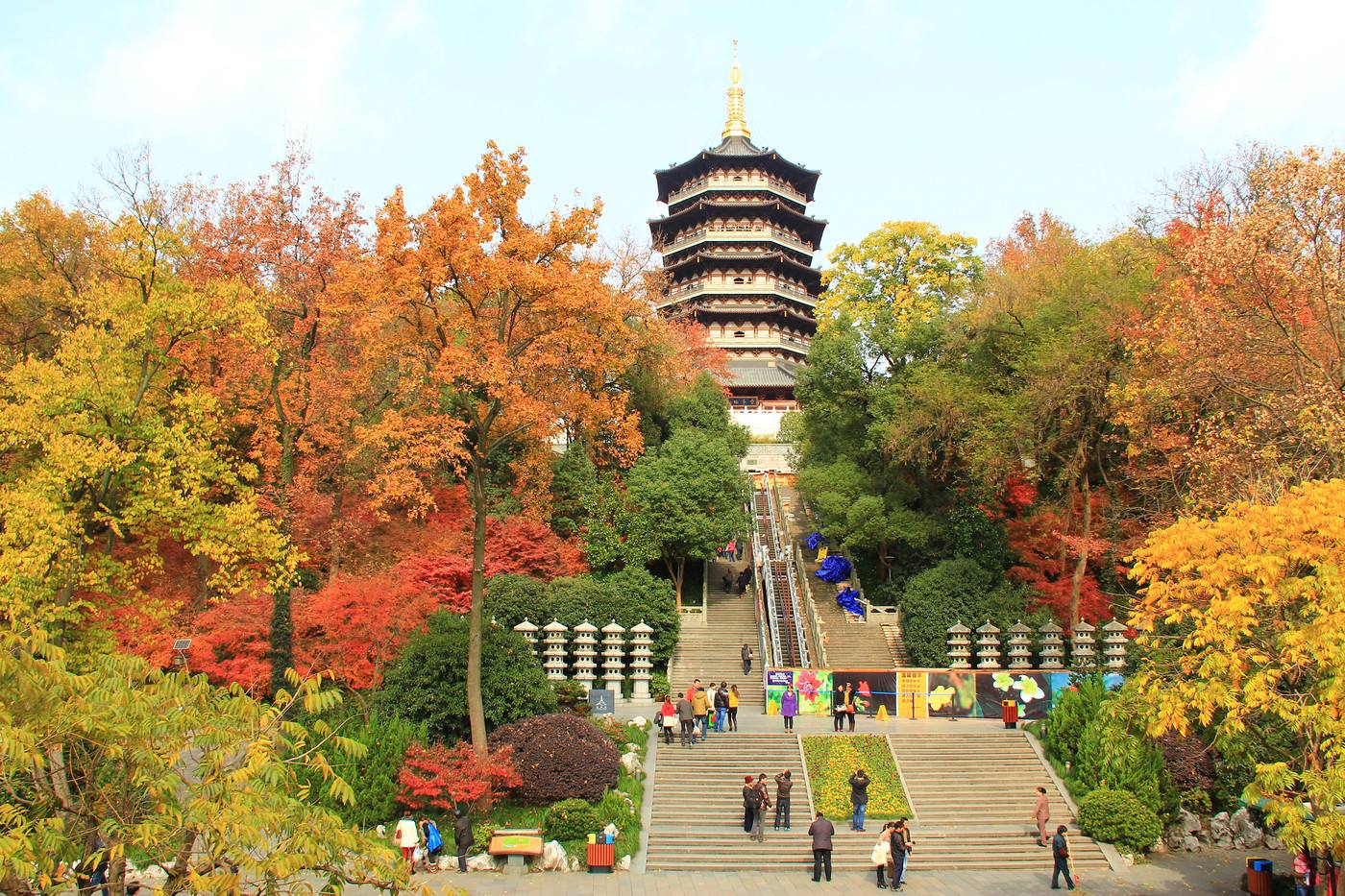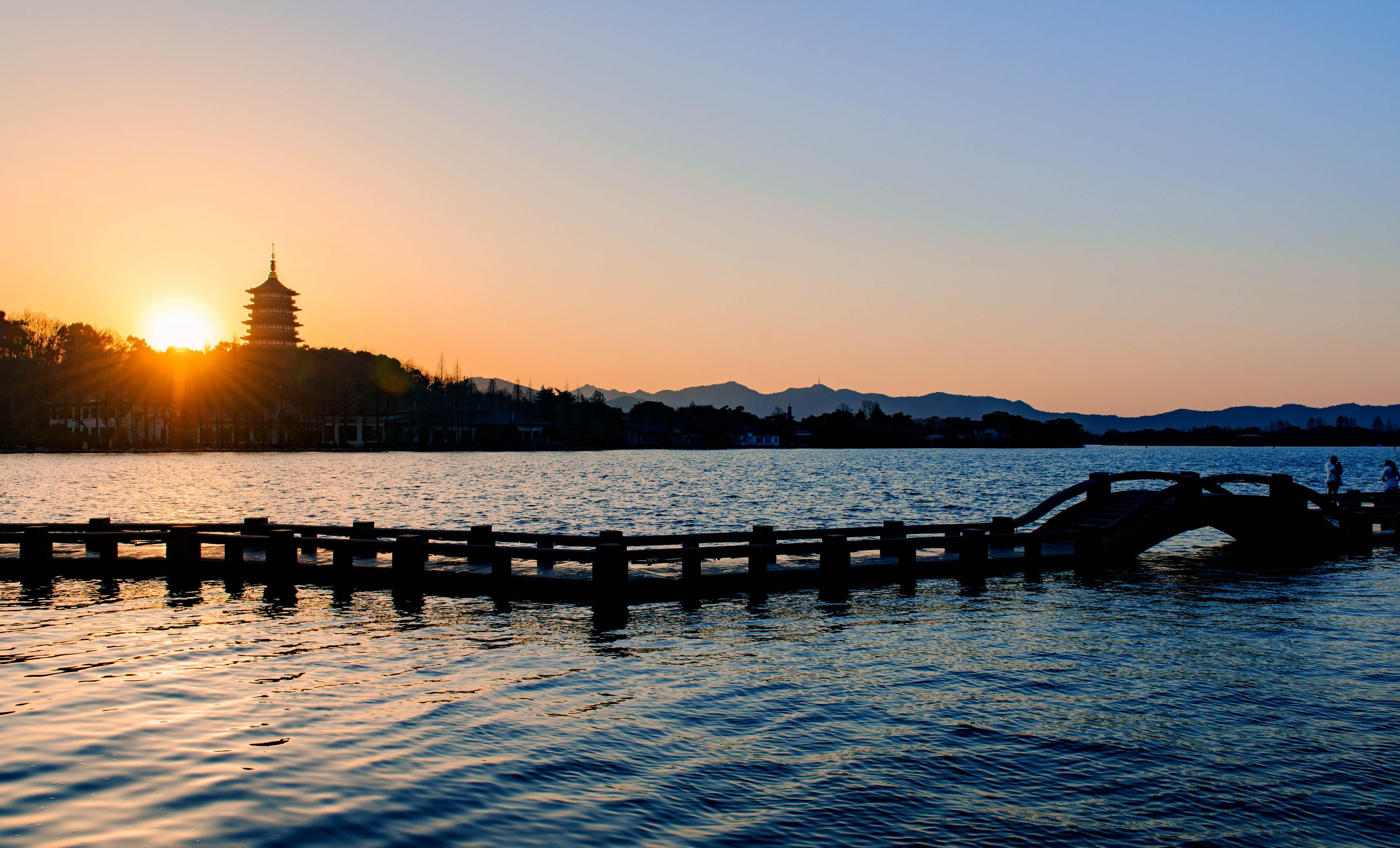 The last stop is China National Tea Museum, is the only one in the country with the tea theme. It has no external walls but is enclosed by vegetation giving the unique impression that the halls and the tea plants inside depend upon each other. Additionally, one hundred distinctive Chinese characters relating to tea are enchased in the road to add color to your trip.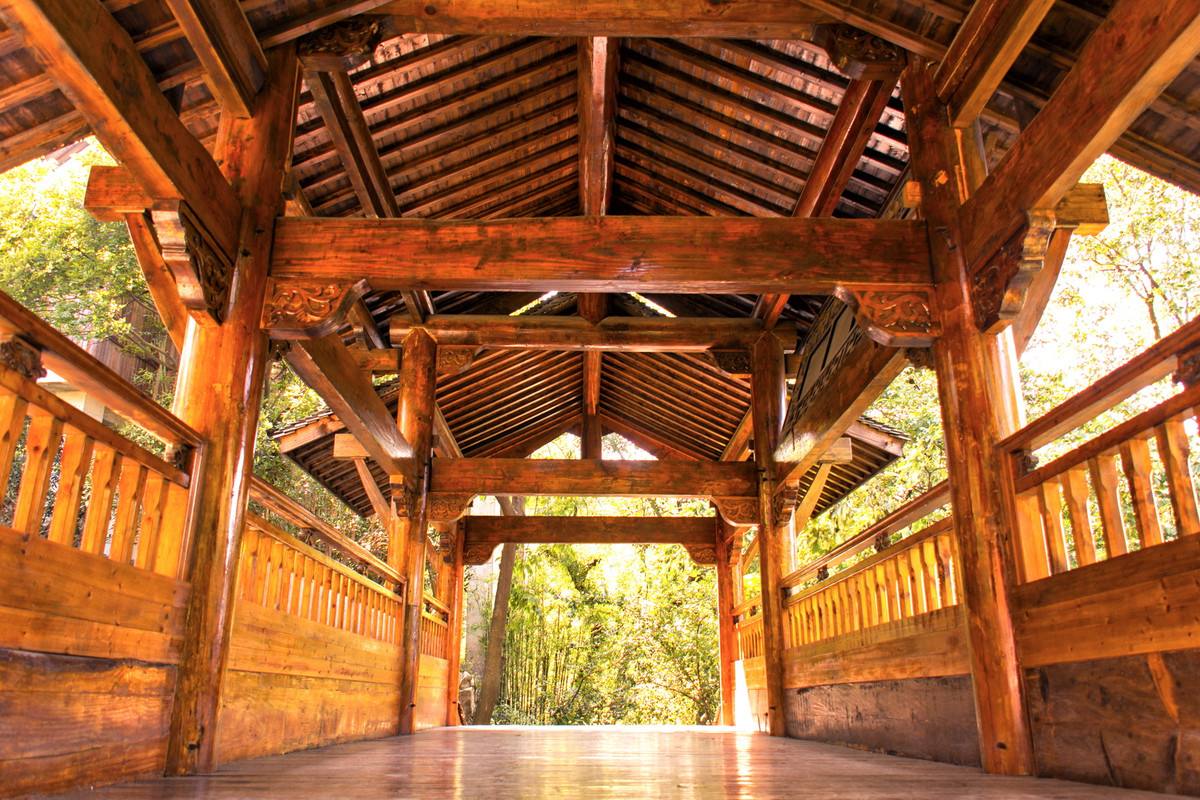 Drive you back to your hotel in Hangzhou.
Day 6
Place&Transport: Hangzhou
Today's Activities: Lingyin Temple, Longjing Green Tea plantation & village (Meijiawu), Bamboo Lined Path at Yunqi, Six Harmonies Pagoda, Qinghefang Old Street
Accommondation: Three, Four or Five Stars Hotel (Can be customized) in Hangzhou
Meal: B, L
In the morning, pick you up at your hotel lobby, our guide will take you to visit Lingyin temple, one of the top ten most famous ancient Buddhist monasteries in China, and contains numerous pagodas and Buddhist grottoes. It is really a tourist attraction that can offer you appealing places of historic interest, cultural relics as well as agreeable natural scenery with woods, flowers, springs, etc.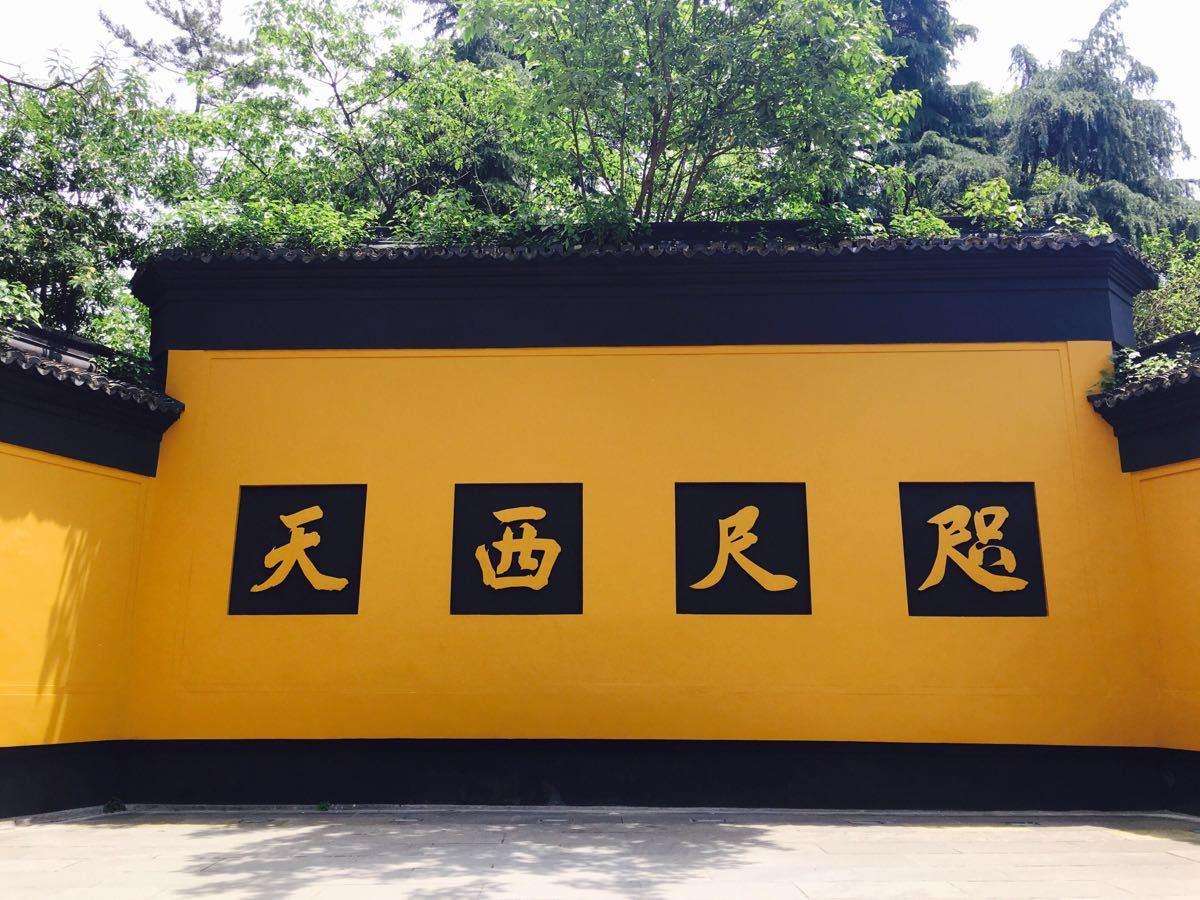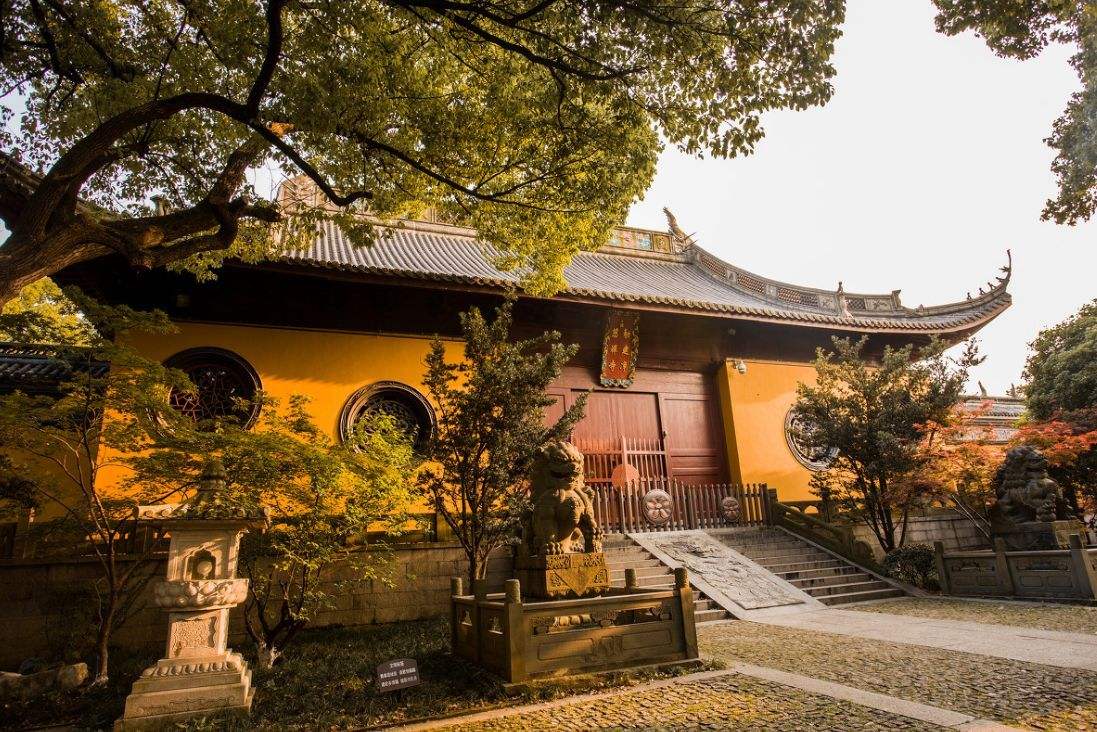 Next, visit Longjing Green Tea plantation & village (Meijiawu), it also called Dragon Well Tea Plantation & Village, which is the original place for the most famous green tea - Longjing in china with beautiful natural scenery. There are many tea houses in the village, and you will have a chance to test the local tea. Sit in Meijiawu village farmhouse, brew a cup of tea, chat with your family (or your friends), it will be enjoyable and relaxing.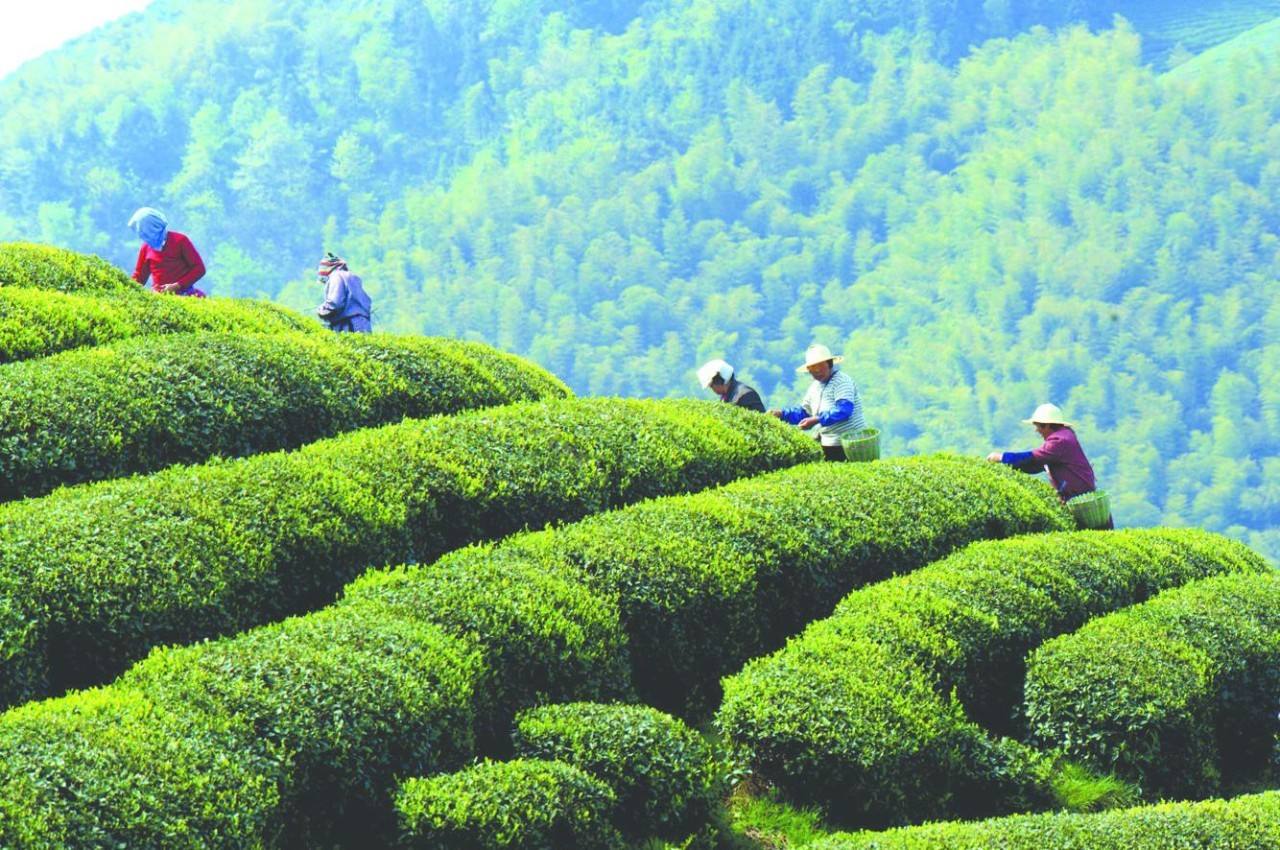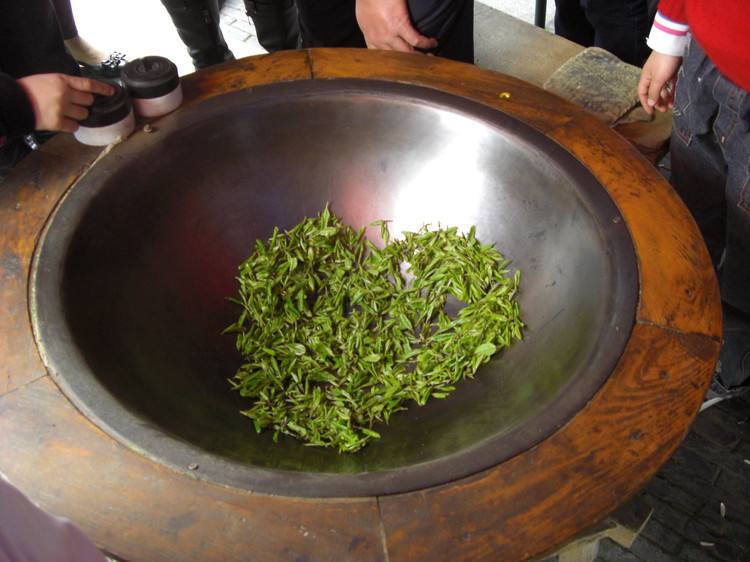 Then continue your tour to Bamboo lined path at Yunqi, which is one of the new top ten West Lake sceneries. It is an Ideal quiet place to get away from the crowds to enjoy a nice gentle stroll and seeing through the bamboo forest.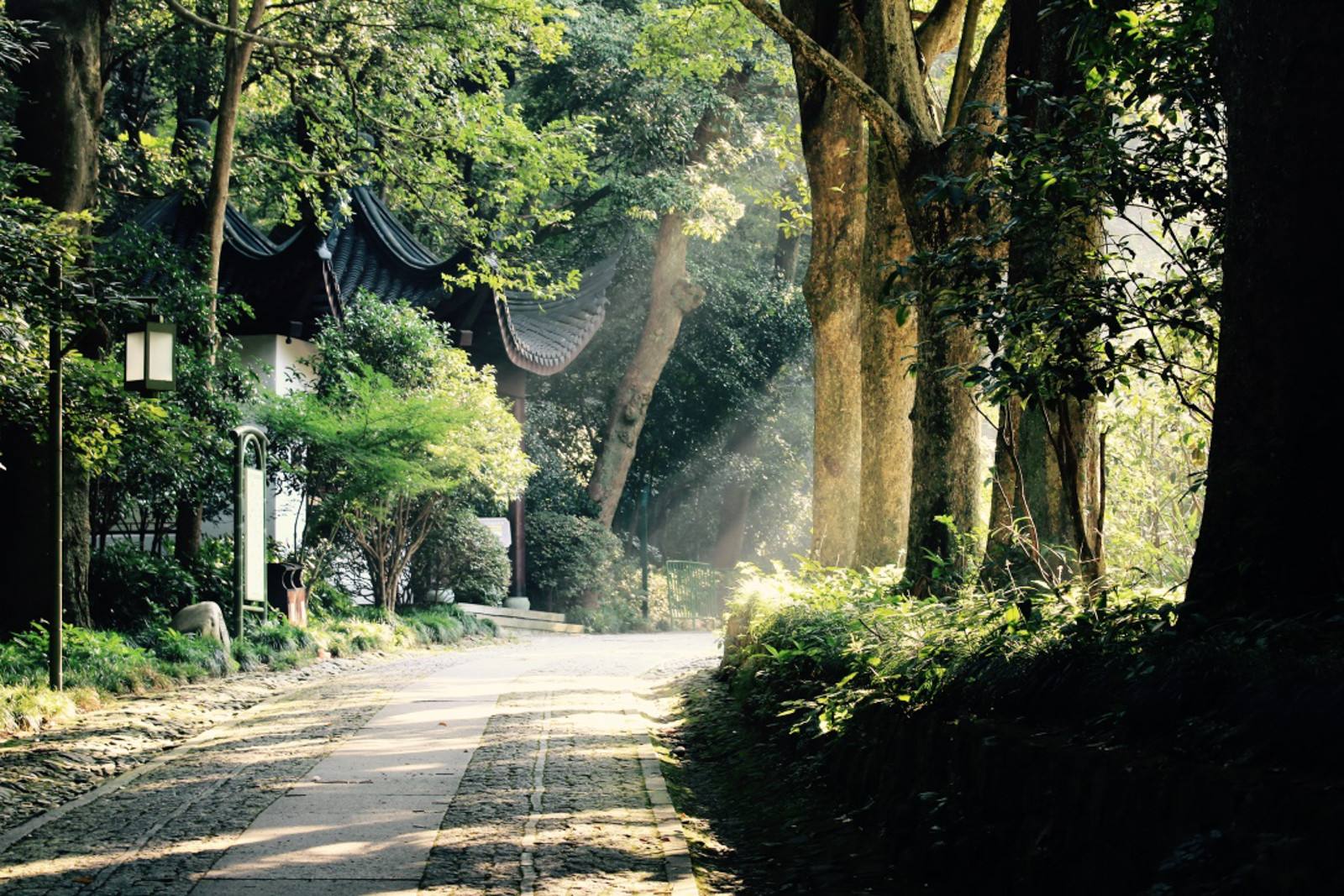 Next stop is Six Harmonies Pagoda, is a multi-story Chinese pagoda. Visitors can get a wide and beautiful view by boarding the pagoda. Looking out from the top of the pagoda, sightseers can see as far as the misty horizon, enjoying the unforgettable, breathtaking scenery. One can catch an overlook a view of Qiantang River, the pagoda presents a quiet image of age-old majesty.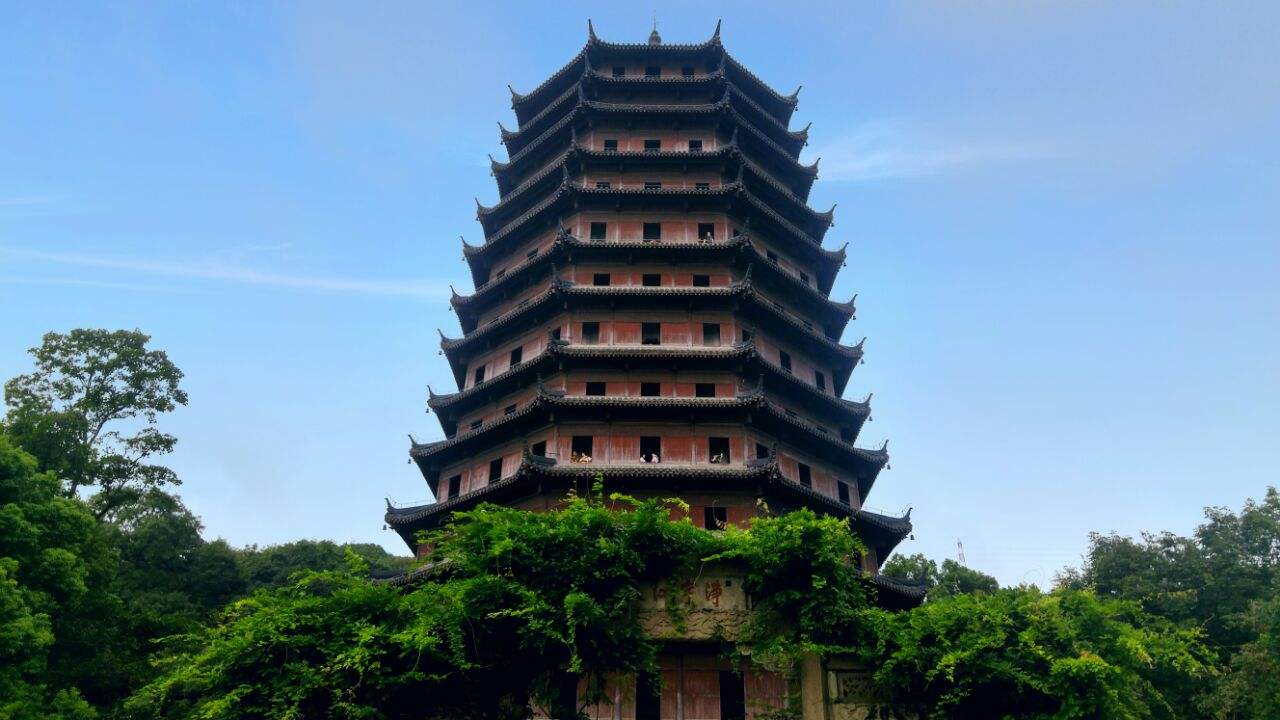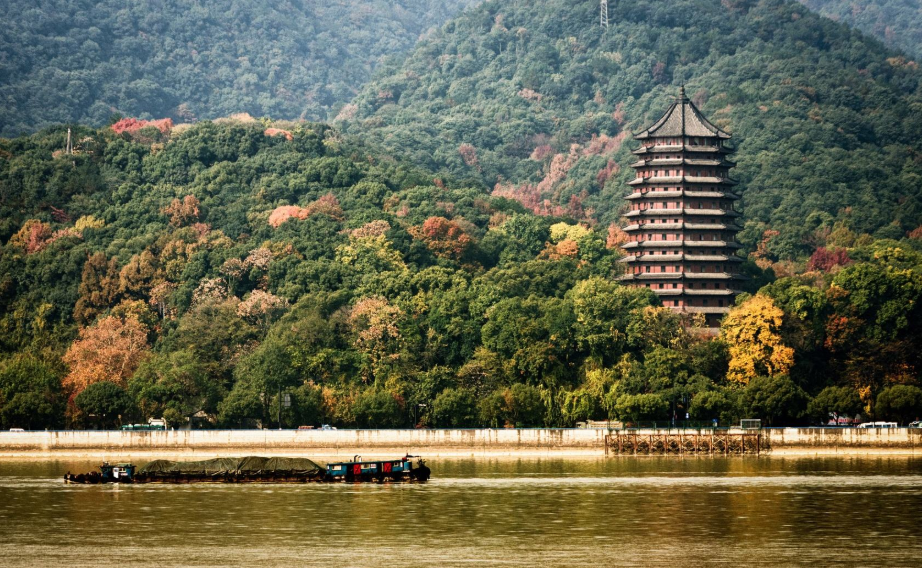 The last stop is Qinghefang Old Street, the street is the only historic street in Hangzhou city, is a good place to experience the life of Old Hangzhou, because it is the epitome of historic Hangzhou. It is a place for shopping, eating, and sightseeing. You can see the well-preserved old buildings, explore the interesting stores, and buy some souvenirs, there are also many traditional food stalls, such as green cypress package, stinky tofu, crisp cake, etc.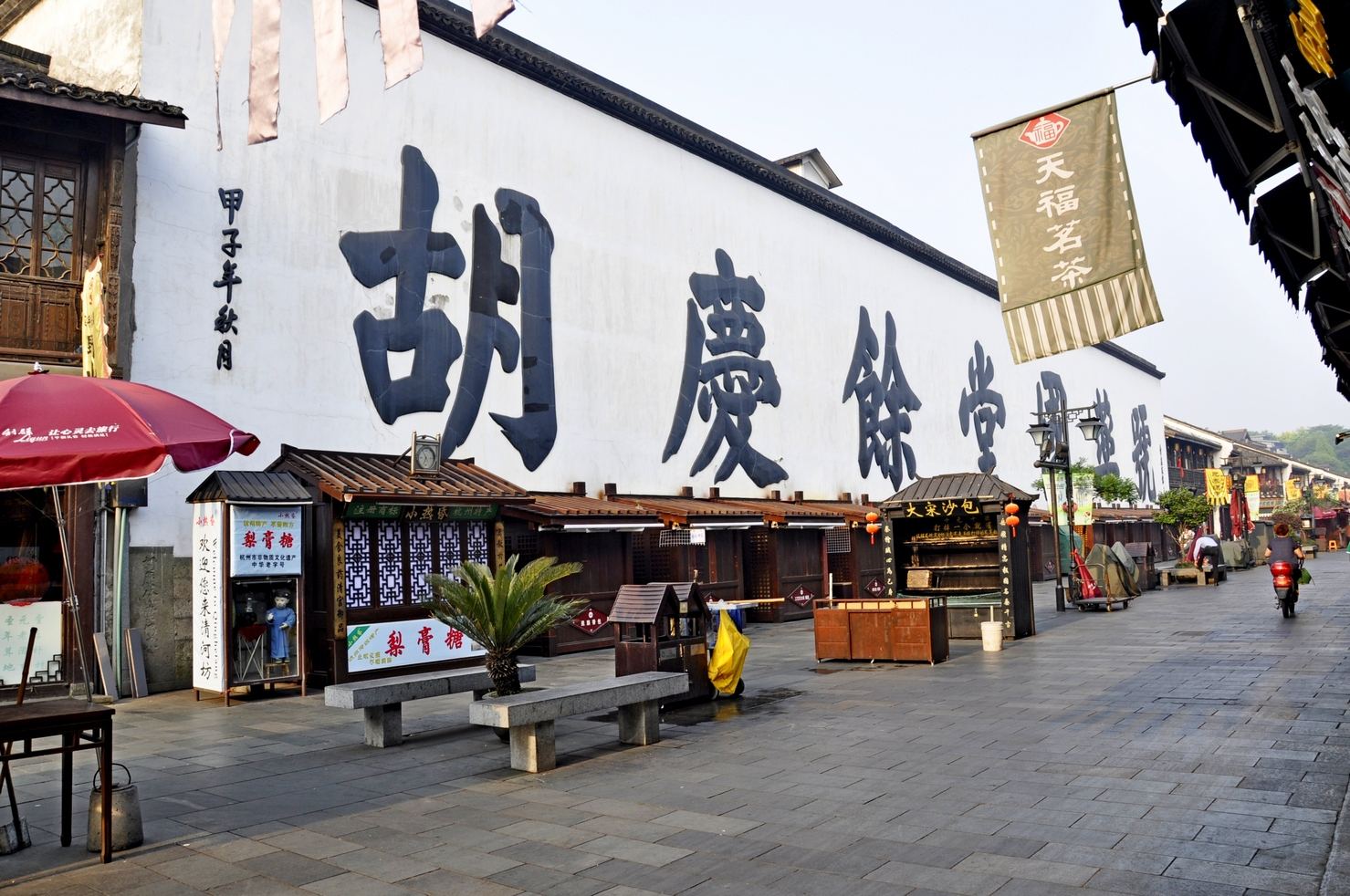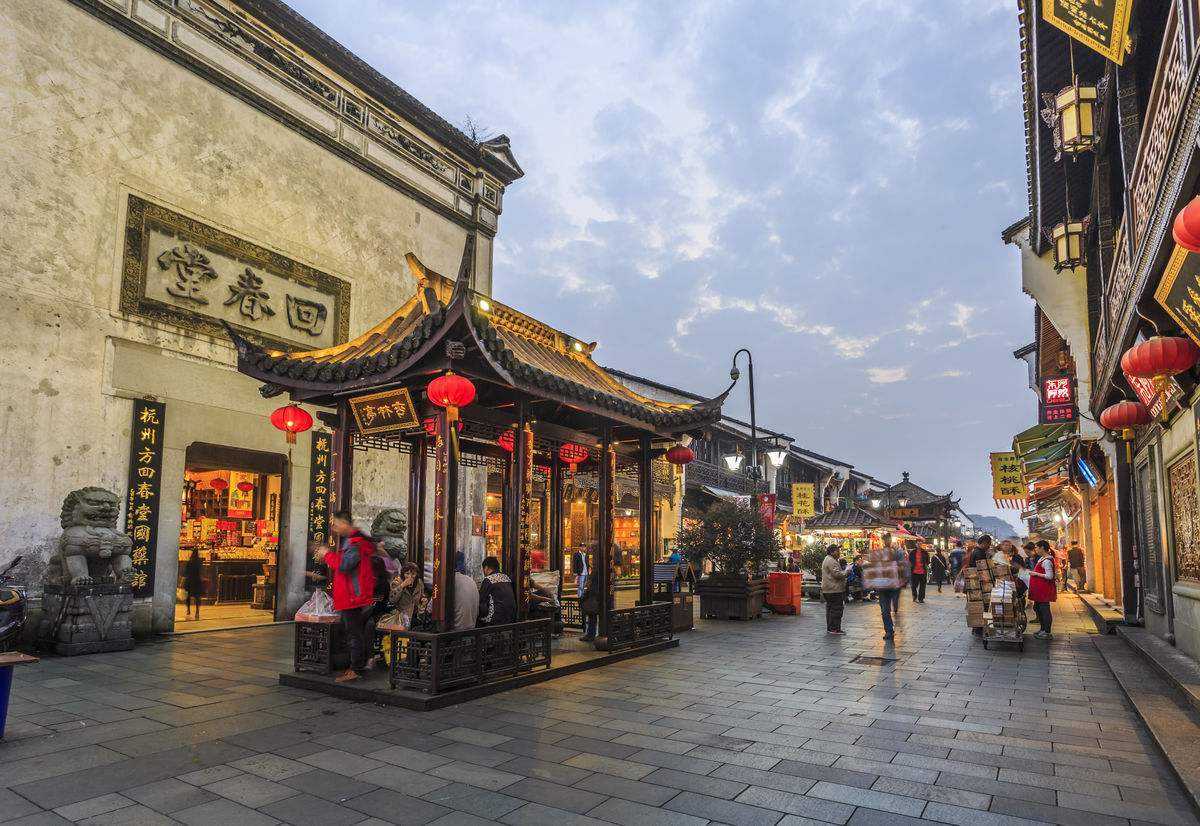 Drive back to your hotel.

Day 7
Place&Transport: Hangzhou to Huangshan by train
Today's Activities: Mt.Huangshan
Accommondation: Three, Four or Five Stars Hotel (Can be customized) on the top of Huangshan
Meal: B,L
Pick you up at your hotel lobby, drive you to Hangzhou Train Station for your train to Huangshan.
Upon your arrival, take the cable car to the top of the mountain. First visit Beginning-to-believe Peak, where you can find many ancient pine trees. The beginning-to-Believe Peak, 1668 meters above the sea level, is the fifteenth of the thirty-six minor peaks of Mount Huangshan. Its fancy name comes from this story. Many years ago someone wandered to this place on his way back from the Cloud Valley Temple and was immediately stunned by its unworldly landscape. He then improvised a couplet: "Inexplicable, unbelievable; admirable, no idea until arrival" The peak has many bizarre-shaped pines. As a saying goes, "One wont see the best of the Mount Huangshan pines until they come to the Begin-to-Believe Peak".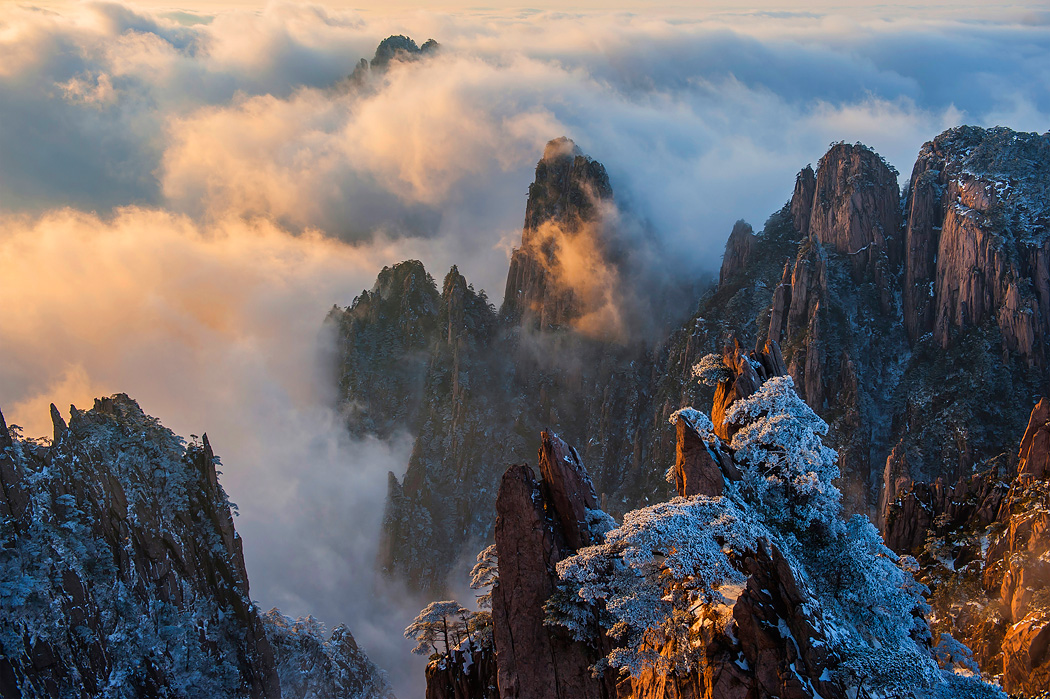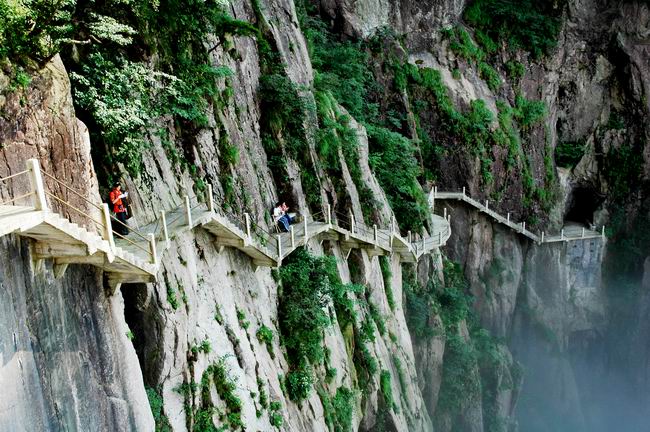 Followed by a tour to The Brush Pen Peak. After lunch, pay a visit to Bright Summit, the second highest on the mountain and see Flying-over Rock and Cloud-dispelling Pavilion.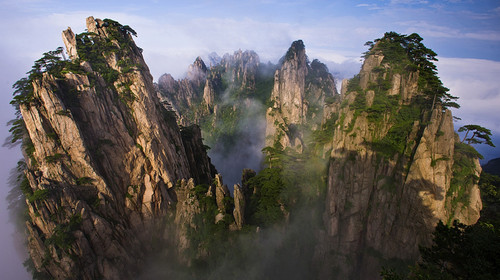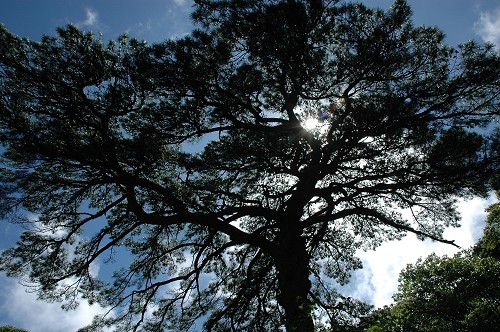 To the northwest of Brightness Summit lies the famous Rock from the sky, or the Peach of Immortality Rock when it is seen from the Unity Pine. This monolith, 12 meters high, 7.5 meters wide, 1.5-2.5 meters thick and 350 tons in weight, was erected hazardously on a flat-headed cliff, which is 12-15 meters long and 8-10 meters wide at the top. Only nature had the power to do this. So locals have passed down this story: When Nuwa(goddess who patched up the sky and created human beings) smelted the ores to patch up the sky, two were left behind. One turned into the jade that Jia Baoyu (leading character in the classic A Dream of Red Mansions) had in his mouth at birth; and the other became the Rock from the Sky. The opposite Twin Scissors and Twin Bamboo Shoots peaks consititute a marvelous lanscape.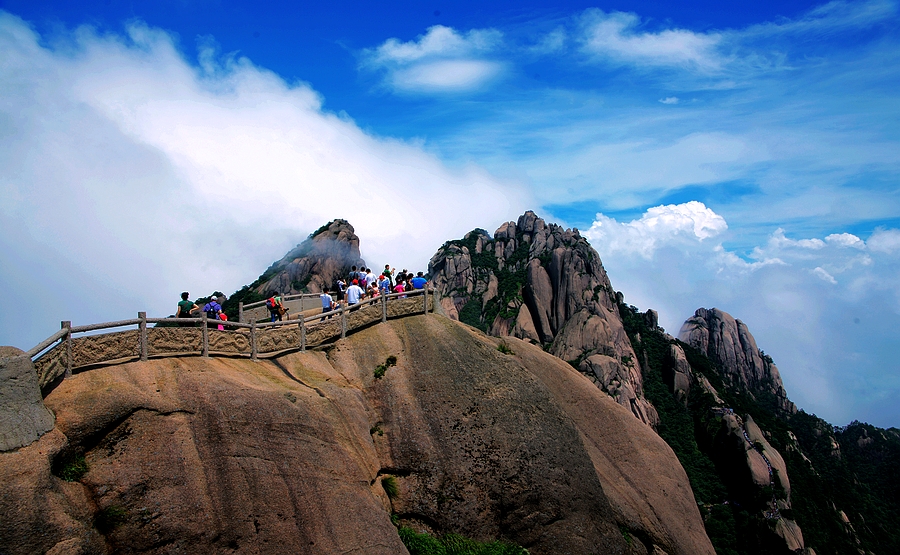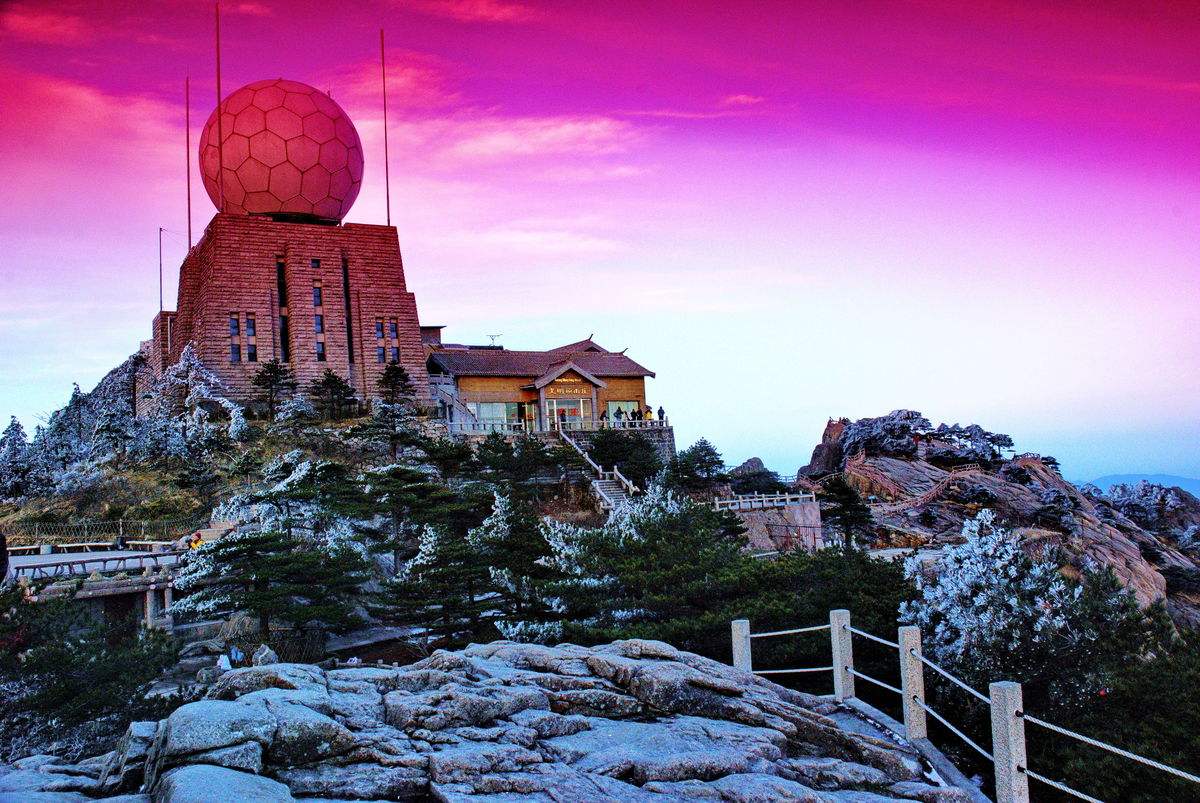 Take you back to your hotel on the top of the Mt. Huang.
Day 8
Place&Transport: Huangshan to Hangzhou or Shanghai By train
Today's Activities: Mt.Huangshan
Accommondation: N/A
Meal: B,L
After enjoy the sunrise, you will visit the Lion Peak. Lion Peak appears as a crouching lion, with its head facing west and tail facing. With its head rising toward Danxia Peak, the lion takes Qingliang Pavilion as its waist, Dawn Pavilion, its tail, and the site of Lion Forest Temple, its mouth. Lion Peak is surrounded by lofty pines, gurgling hot springs, and a verdant pine forest all year. Seen from the flower-scattering temple and Beihai Hotel, the Lion Peak reveals particularly lifelike.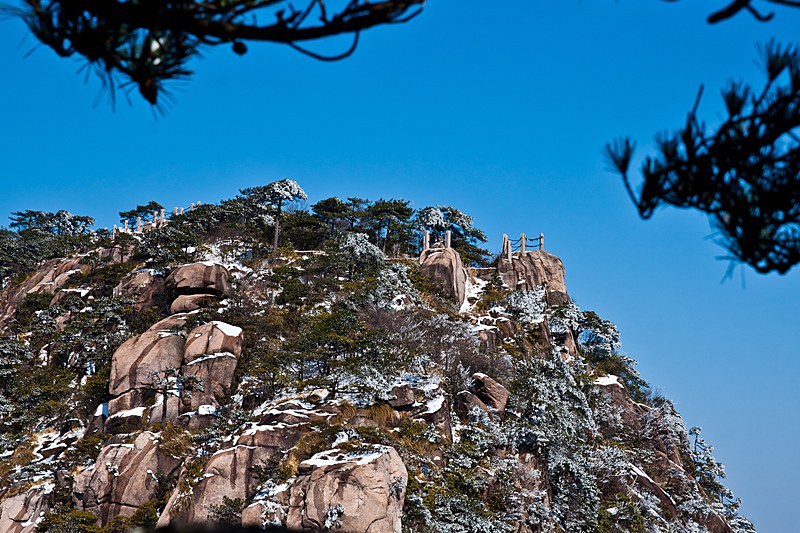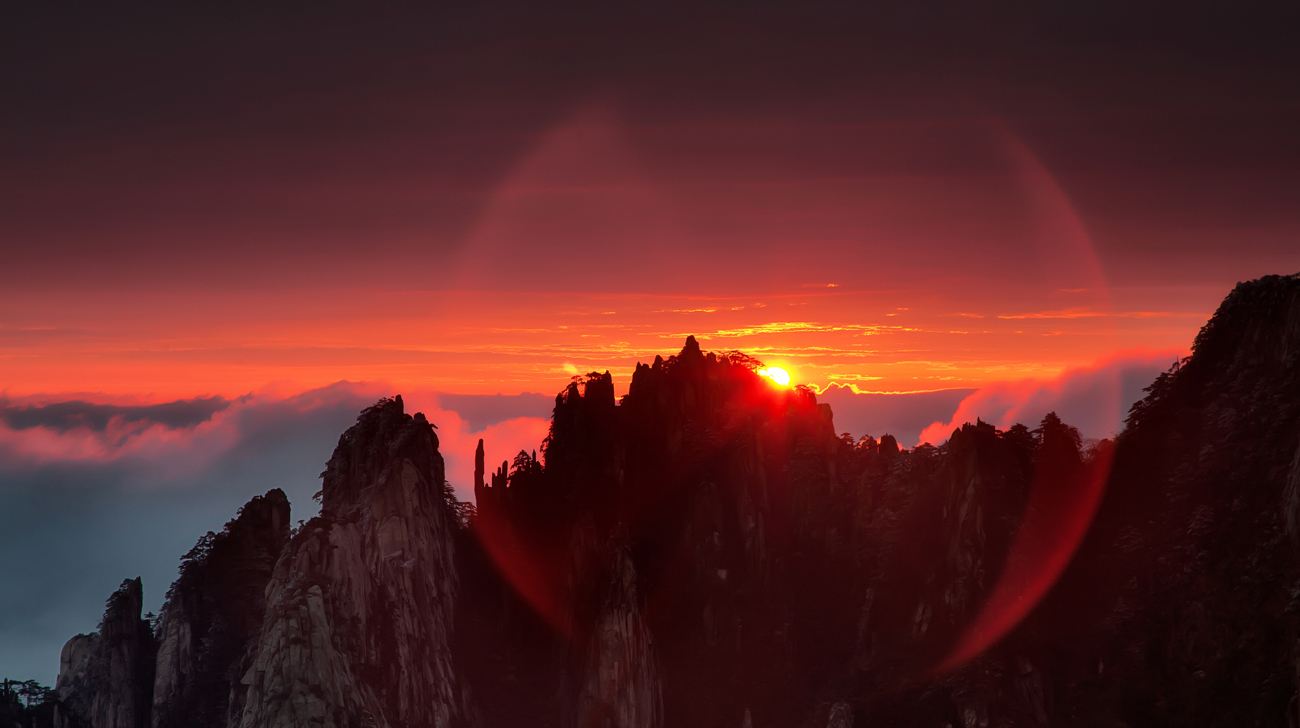 After lunch, start to descend the mountain by foot or you can take Yungu cable car down. After your tour is finished, drive you to Huangshan train station. After 8 days trip, your memorable tour ends. Have a pleasant trip!
How Our Teams Serve you at China Private Tour
1-on-1 Travel Consultant
Our travel consultants have been working in local tourism for years, they are professional, experienced and responsible sharing our wealth of knowledge to plan your trip. They will formulate customized tour plan based on your travel interests, time, and budget as well as providing professional suggestions. Beside, they will keep in contact with you during your entire tour in China, continually checking if everything is going well as planned.
Excellent Local Guides
All of our tour guides are certificated and experienced. They are local experts with detailed knowledge about attractions, history, culture but also prepared to talk frankly about whatever topic interests you. They know the best places to visit, can give you advice on restaurants that serve great local food, the best places to shop, or theaters for the best shows in town. They'll show you more about the history, culture, customs and authentic local life.
Private Car and Driver
We ensure that all of the vehicles that we use are air-conditioned, non-smoking, clean and well-maintained.(Not over 4 years). Our drivers are are local, polite, friendly and helpful with over 10-year drive experience. All kinds of vehicle are offered, and yours depends on the size of your group. Usually, we offer sedan cars, SUVs, business vans (MPV) and different types of buses, all with extra space for your luggage.
Meals & Dining
If the meals are included in the itinerary. We will take you to the best local restaurants and help you order dishes according to your preference on spot to guarantee that the food is freash not pre-cooked. Some meals excluded in your itinerary as you like, your private guide will be still delighted to give you some suggestions and take you to the local featured restaurants every week based on the online reviews of customers. We have a large selection of different restaurants which cater to the specifications of our customers, and are available to provide various options, such as vegetarian, Muslim, Chinese, Western, Jewish, and Indian restaurants.
Price Per Person in US Dollars