Putuo Shan (Putuo Mountain)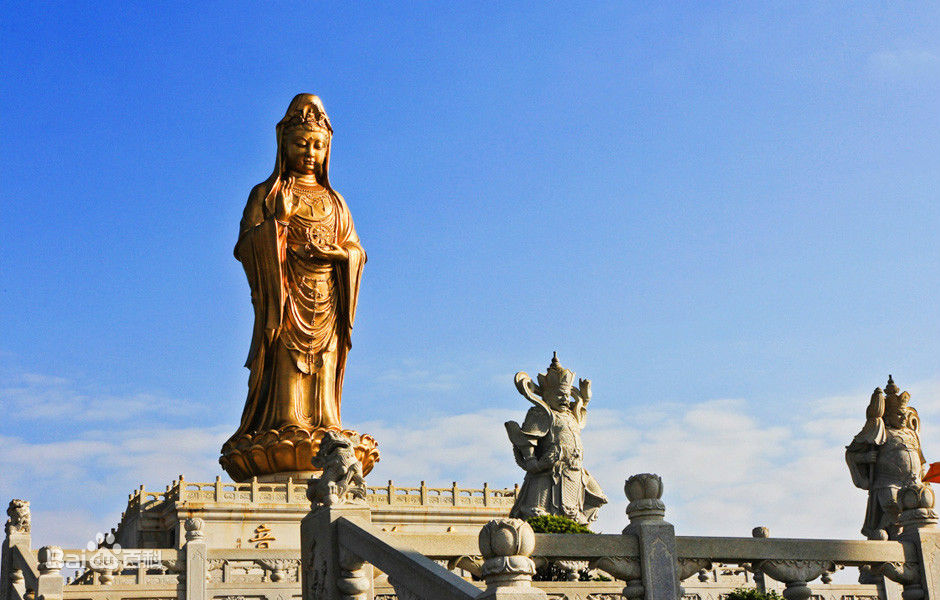 OverView
Putuoshan is only 297 meters above sea level and is located 5km east of Zhoushan island in Zhejiang province. The mountain is dedicated to Guanyin, often known in English as the Goddess of Mercy or the Bodhisattva Avalokitesvara.
There is an accommodation bureau at the port. The staff are extremely helpful, and provide reliable information on hotels and guest houses on the island. During national holidays, it is advisable to make prior room reservations, but this is not generally necessary at other periods.

Another tourist office is located on the main square near the Puji temple, and this is a good place to pick up free English-language guides and maps.

History & Background
Putuo Mountain is the world famous place to enshrine Kwan-yin and the famous Buddhism Holy Land. The religious activity of Putuo Mountain was originated from Qin Dynasty. The spring up of the Maritime Silk Road in Tang Dynasty promoted the formation of Kwan-yin Dojo. And it was soon became the Buddhism center. In the late Qing Dynasty, the mountain had three big temples, 88 zen temples, 128 ahahedsheds and thousands of monks. When religious activities were held, lots of people would come here to worship. For thousand years, the faith of Kwan-yin had been the faith of half Asia.
Putuo Mountain Scenic Area consists Putuo Mountain, Luojia Mountain, Zhujiajian Island. It covers a total area of 41.95 square kilometers. The highest peak, Foding Mountain, is about 300 meters above sea level. The famous scenic spots in the mountain include Chaoyin Cave, Fanyin Cave, Chaoyang Cave, Pantuo Rock, Two Tortoise Listening to the Doctrine Rock, Hundred Pace Beach, Thousand Pace Beach, South Sea Kwan-yin, Dacheng Hut and so on.
What to Buy
Near Puji Temple there is a night market that sells a variety of souvenirs, statues and raw seafood, a number of convenience stores, and a few restaurants offering inexpensive meals.
What to Eat
1. Temple food. Inexpensive (¥5-10) vegetarian fare is available at many of the temples. Note: Eating times are from 11.30-12.00 for lunch and 16.00-17.00 for dinner.
2. Vegetarian. As a Buddhist island, most of the island's restaurants offer a good selection of vegetarian dishes.
3. Chinese dishes. The hotels near Puji Temple have restaurants that are open to non-residents.
4 Seafood. The new village, south of the ferry terminal, boasts many seafood restaurants with an excellent fresh selection. Prices are 20-25% dearer than the mainland, but the quality of shellfish and fish is first rate. The non-Chinese speaker will have to point to the display and hope for the best.
Note: There are mostly no English Menues available and the staff does not speak any English, also in the bigger Hotel-Restaurants. If so, you are lucky! Don`t forget your English-Chinese dictionary, especially for food with Chinese Characters. And there is no restaurant on the island serving Western food. If you are lucky you get some toast for breakfast in the hotels.
Temples
Among the temples in Putuo Mountain, Puji Temple, Fayu Temple, and Huiji Temple are the three largest. Puji Temple was first built in Song Dynasty (sòng cháo 宋朝) with an area of 26,000 square meters. According to records, its predecessor is Unwilling-to-go Kwan-yin Temple . Fayu Temple was built in Ming Dynasty. It was 2.8 kilometers away from Puji Temple. Fayu Temple is famous for its ancient architecture, delicate wood carvings and inscribed calligraphy by ancient emperors. Huiji Temple is located on the peak of Foding Mountain. Here, you can command a excellent view of the rising sun in the morning. Also this is the only temple that enshrines Buddha but not Kwan-yin Statue in the Main Hall.

The famous twelve sceneries in Putuo Mountain are Lian Yang Wu Du, Duan Gu Sheng Ji, Mei Wan Chun Xiao, Pan Tuo Xi Zhao, Lian Chi Ye Yue, Fa Hua Ling Cave, Ancient Cave and the Tide, Zhao Yang Yong Ri, Thousand Pace Golden Beach (qiān bù jīn shā 千步金沙), Guang Xi Xue Ji, Cha Shan Su Wu (chá shān sù wù 茶山夙雾) and Tian Men Qing Fan.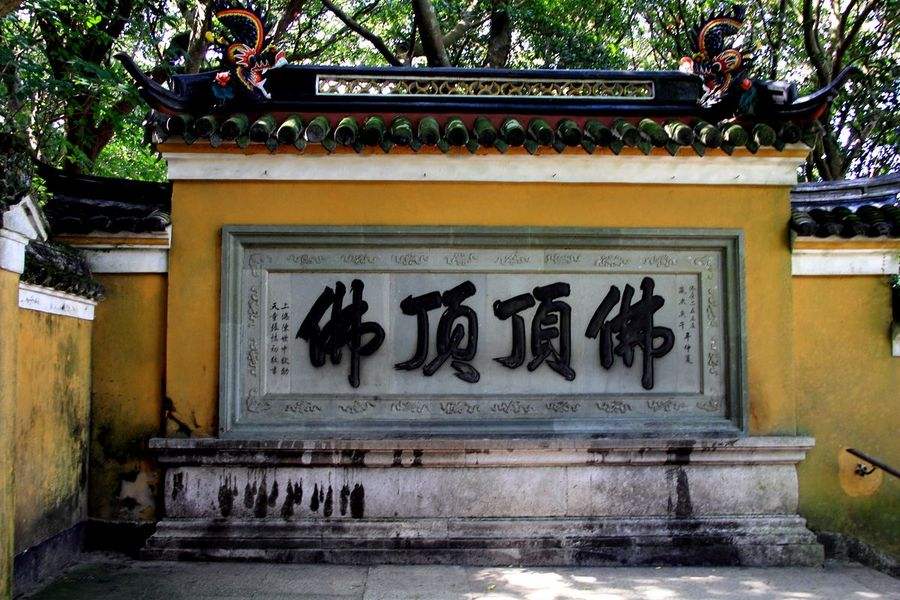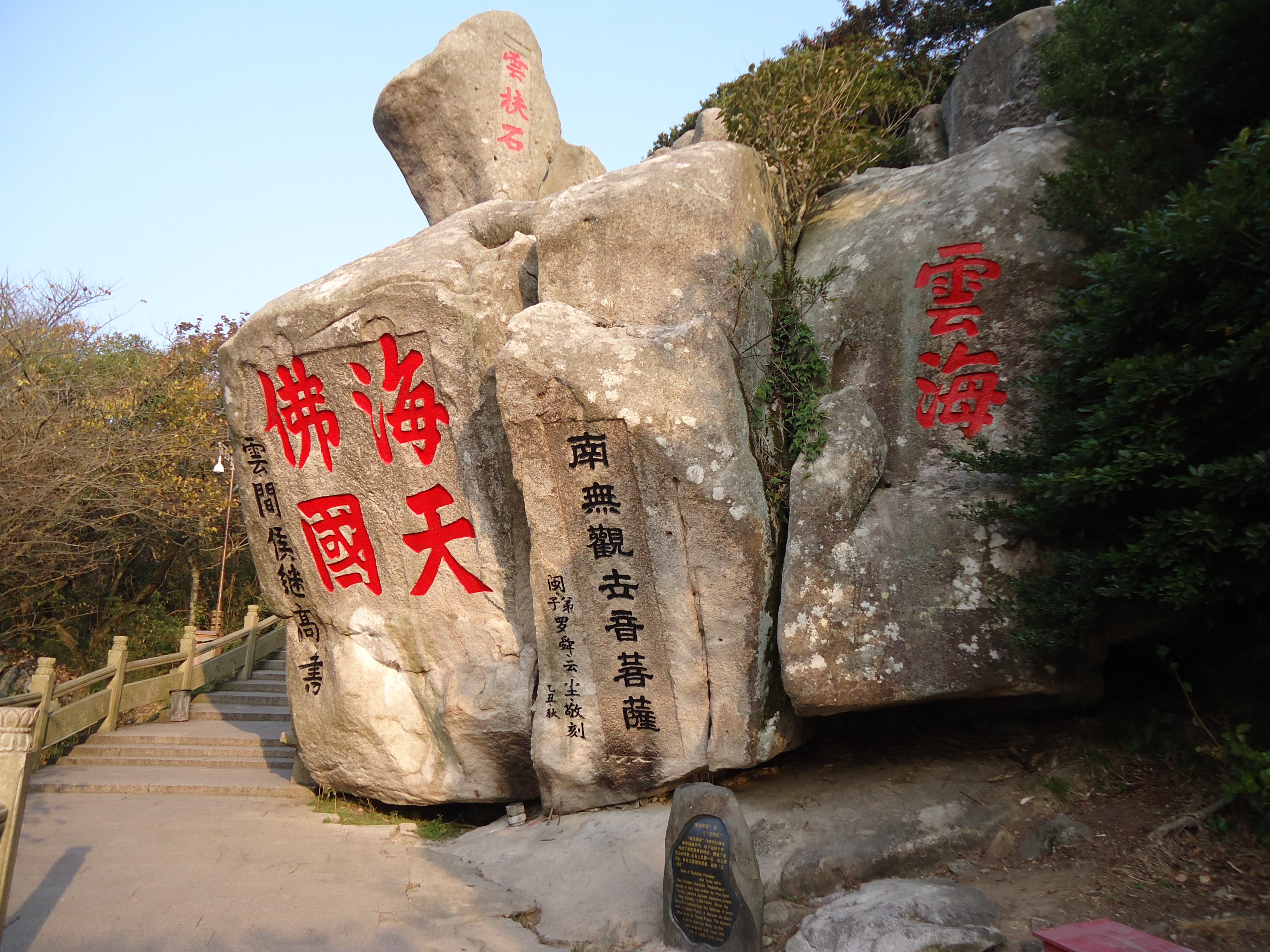 Information
Transportation:
Many of the Zhoushan Islands are now linked by bridges. This means that Putuoshan can easily be reached by bus from Shanghai and Hangzhou. The bus terminates at Shenjiamen Bus Station. From the Banshengdong Wharf on the Shenjiamen waterfront it is a 10 minute ride by fast ferry (22rmb) to Putuoshan.
From Shanghai to Putuo Mountain:
1)By Boat: The best way to get there is take the overnight ferry departing from the Shanghai Wusong Port every evening (at 19:20/20:00 – arriving the next day at 07:00/07:30). Tickets are available at the ferryboat agency (No. 59 East Jinling Road; Tel: 021-63283120; business hours 07:00 – 17:30) two days prior to departure. Passengers should note that boarding is at the Wusong Passenger Transportation Center (Tel: 021 – 56575500), not Wusong Port itself.

2) By Bus: In Shanghai, the Nanpu Bridge Bus Station, Shanghai Stadium Sightseeing Bus Center and Shanghai South Long Distance Bus Station have several departures daily to Shenjiamen (4-5 hours, 138rmb).

From Hangzhou to Putuo Mountain:
1, Depart at Hangzhou East Bus Station to Shenjiamen Bus Station every day(From06:55-17:45, evevry 1 hour per bus). Ticket price:77RMB Per Ticket. Arrive in shenjiamen Bus Station, take Public Bus No.7 or No.7 and get off at Banshendong Wharf. (Take taxi is about 8RMB/car)

2, Depart at Huanglong Sport Center to the Banshendong Wharf. Four buses everyday, namely:
7:30/ 9:30/ 14:00/ 16:00

3, Depart at Wushan Square to the Banshendong Wharf. Four buses everyday, namely:
8:00 / 9:00 / 14:30 / 16:30

Address: No. 115 Meiling Road (méi lǐng lù 梅岭路), Putuo District, Zhoushan City, Zhejiang Province.
Opening hours: 8:00 a.m. - 5:00 p.m.
Admission fee:
CNY 140 (Dec.1-Jan.31)
CNY 160 (Feb.1-Nov.30)
CNY 200 during the legal holidays;
Excluding:
CNY 5 for the Puji Temple
CNY 5 for the Fayu Temple
CNY 5 for the Huiji Temple
CNY 5 for the Violet Bamboo Grove Buddhist Temple (Zizhu Lin)
CNY 6 for the Standing Kwan-yin Statue of Mt. Putuoshan
CNY 49 for the Luojia Hill
CNY 40 for the round-trip cable car or CNY 25 for the one-way cable car
Tour The Putuo Shan (Putuo Mountain) with Hangzhou Private Tour
We design private and tailor-made Hangzhou Tours customized to your style of travel at affordable local prices. We will provide a private & spacious car and a local professional tour guide with over 5 years guiding experience only work for you or your group. Transport, ticket, and dining (We find the most authentic dishes popular with locals) all we will arrange for you according your requirements. Please check our most popular Hangzhou Tours including The Putuo Shan (Putuo Mountain) as below:

2 Days Hangzhou to Putuo Island Buddism Pilgrimage Tour Package
Are the above sample tour programs not suitable for you? We have more Hangzhou Tours. Our tours can be tailor-made based on your requirements and budget to create unique Hangzhou experiences that allow you to interact with the local people and culture. We are Hangzhou travel experts who know what your guidebook and foreign agencies don't. Our enthusiastic tour expert will promptly reply you in details within 24 hours.