China National Tea Museum Hangzhou
Overview of China National Tea Museum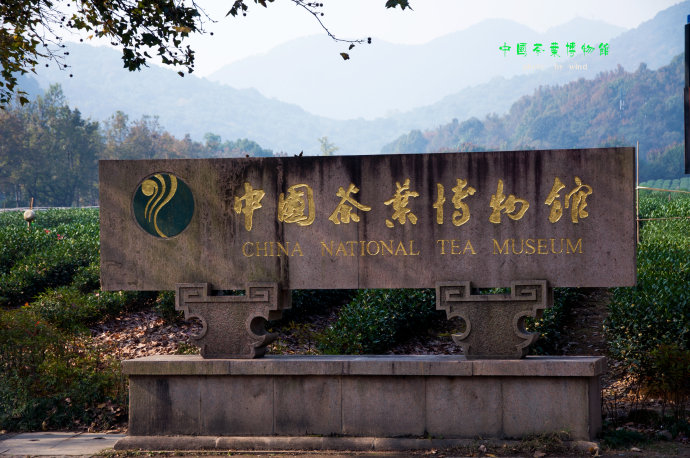 National Tea Museum is situated in the Longjing (Dragon Well) Tea plantation near West Lake in Hangzhou, Zhejiang Province. The museum is clustered around the tea plantations. The function buildings are que disorder. In side the museum, the flower corridors, fake hills, ponds and water-side pavilions are well integrated. So they make it as the park in the south of the Changjiang River where has the clean atmosphere and can feel the closeness to nature.The museum was first built in 1987 and opened to public in April 1991, occupying a total construction area of 3500 square meters (less than one acre).The museum itself is a comprehensive one and has descriptions in English and Chinese.

National Tea Museum is the only state-level museum specialized in the theme of tea culture. It is also the largest tea museum in China with the most comprehensive collection of tea utensils and other relative exhibits on view. The museum is made up of five themed buildings: exhibition, tea drinking, tea performance, multiple functions, and international exchanges. The exhibition hall is the main body of the museum. Branching off it are areas dedicated to the history of Chinese tea, tea drinking customs, tea utensils used in past dynasties, and the knowledge surrounding tea culture, and even the complicated process of picking and roasting tea leaf.

Through years of research, China National Tea Museum has created a dozen of tea ceremonies such as Zen tea, West Lake tea ceremony, literati`s tea, grind tea, farmer`s tea, etc. They are not only performed in the museum, but also in Beijing, Shanghai, Guangzhou and in other countries including Japan, Vietnam, Australia and Germany. In addition, the ceremonies are played in a lot of Chinese and overseas TV programs.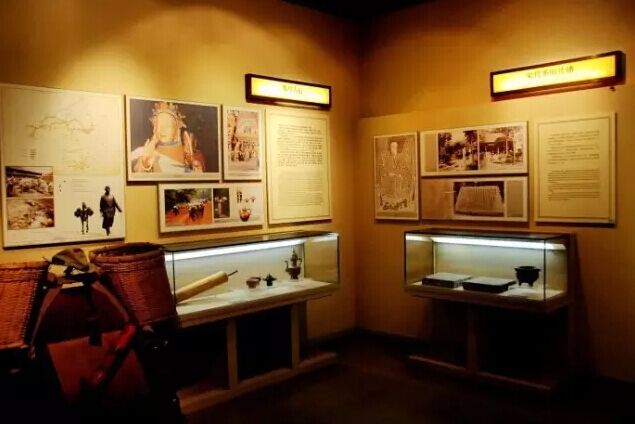 The museum is divided into mainly 5 sections. The first section talked about the history of tea from its prehistoric beginnings up till the present day. The second section talked about the six kinds of tea and their different varieties and where they are produced. There were examples of many varieties on display. The third section talked about the processing techniques of tea and had examples of some of the machines used in produced Chinese tea. The fourth section is the antique tea utensils exhibition. There were tea cups and pots from thousands of years ago until the Qing Dynasty on display. And finally, it is the tea house section where you can have different teas to taste, guided through it by a pleasant girl wearing traditional silk dress. Into tiny cups she poured tea steeped carefully for 30 or 40 seconds: oolong, green, one-leaf, pu-erh and jasmine, just to name a few. When ready, the tea is transferred to a glass pot so you can see it. And it is time to enjoy the good tea.

National Tea Museum plays an important role on the tea stage and offers the chance and space for international research and exchange about tea and tea culture. So far, the museum has been a hot tourist spot and an educational base that attracts millions of people from both home and abroad. Undoubtedly, National Tea Museum will help begin a new era in tea development.


Information
Address: 88#,Longjing Road, Hangzhou, Zhejiang, China
Tel: 0571-87964221/87964232
Fax:0571-87982096
Opening Hours: 8:30-16:30 (Oct. 8 - the next Apr. 30); 9:00-17:00 (May 1 - Oct. 7) Close on Monday
Transport: Take bus 27 or Y3 (Tourism Bus Line 3) and get off at Shuangfeng Station
Legends of Dragon Well Tea in Hangzhou

There are many legends surrounding the naming of the tea. It is named after a single well, named as you would imagine, the Dragon Well. Located in Dragon Well Village, the well was located behind the Dragon Well Temple which was built over 1,700 years ago.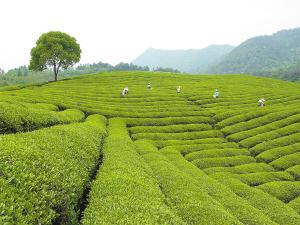 Legend #1 According to the first legend, locals when digging the well found a stone shaped like a dragon and so they named the well Dragon Well.

Legend #2 The well's water is particularly dense and after rainstorms, the lighter rain water floats on the surface of the water and exhibits a twisting pattern which resembles the long and sinuous body of Chinese dragons. I have personally witnessed this effect.

Legend #3 This is my personal favorite. Locals believe that in the ancient past, a benevolent dragon lived in the well. He controlled the weather and ensured that the area had enough rain. Locals would pray to the dragon and bring him offerings.

History and Legends of Dragon Well Tea
Longjing tea was granted the status of Gong Cha, or Imperial tea, in Qing Dynasty by Chinese emperor Kangxi. According to the legend, Kangxi's grandson Qianlong visited West Lake during one of his famous holidays.

He went to the Hu Gong Temple under the Lion Peak Mountain (Shi Feng Shan) and was presented with a cup of Longjing tea. In front of the Hu Gong Temple were 18 tea bushes. Emperor Qianlong was so impressed by the Longjing tea produced here that he conferred these 18 tea bushes special imperial status. The trees are still living and the tea they produce is auctioned annually for more money per gram than gold.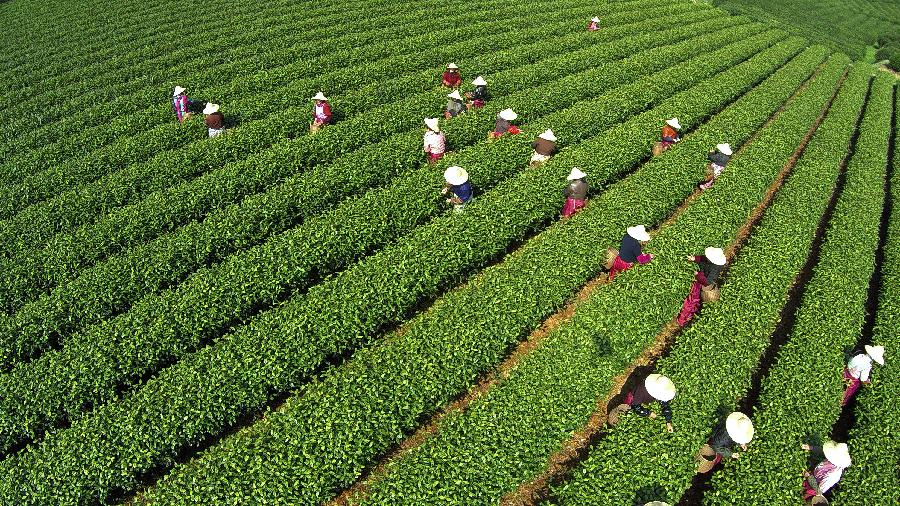 There is another legend connecting Emperor Qianlong to Longjing Tea. It is said that while visiting the temple he was watching the ladies picking the tea. He was so enamored with their movements that he decided to try it himself. While picking tea he received a message that his mother, the Empress Dowager was ill and wished his immediate return to Beijing. He shoved the leaves he had picked into his sleeve and immediately left for Beijing. Upon his return he immediately went to visit his mother. She noticed the smell of the leaves coming from his sleeves and he immediately had it brewed for her. It is said that the shape of Longjing Tea was designed to mimic the appearance of the flattened leaves that the emperor brewed for his mother.

Longjing, which literally translates as "dragon well," is said to have named after a well that contains relatively dense water, and after rain the lighter rainwater floating on its surface sometimes exhibits a sinuous and twisting boundary with the well water, which is supposed to resemble the movement of a Chinese dragon.

Legend also has it that to achieve the best taste from Longjing, water from the Dreaming of the Tiger Spring, a famous spring in Hangzhou, is to be used. The water quality of the spring now is certainly very different than before.

Tour The China National Tea Museum Hangzhou with Hangzhou Private Tour
We design private and tailor-made Hangzhou Tours customized to your style of travel at affordable local prices. We will provide a private & spacious car and a local professional tour guide with over 5 years guiding experience only work for you or your group. Transport, ticket, and dining (We find the most authentic dishes popular with locals) all we will arrange for you according your requirements. Please check our most popular Hangzhou Tours including The China National Tea Museum Hangzhou as below: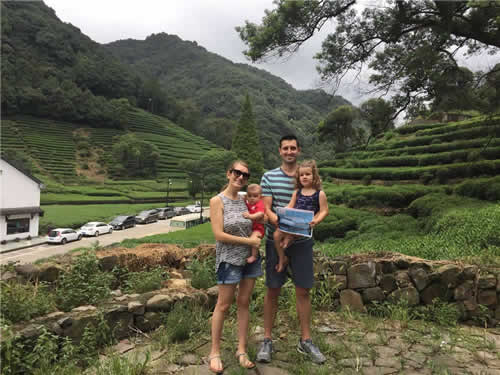 Hangzhou Dragon Well Tea Village & Longjing Tea Plantation Day Tour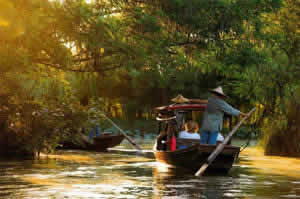 Shanghai to Hangzhou Day Trip: Dragon Well Tea Plantation and Culture Tour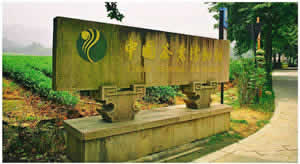 Hangzhou Tea Tour: Private Half Day Cultural Exploration
Hangzhou Longjing Tea Culture Day Tour In Spring
Are the above sample tour programs not suitable for you? We have more Hangzhou Tours. Our tours can be tailor-made based on your requirements and budget to create unique Hangzhou experiences that allow you to interact with the local people and culture. We are Hangzhou travel experts who know what your guidebook and foreign agencies don't. Our enthusiastic tour expert will promptly reply you in details within 24 hours.