Dragon Well Tea Plantation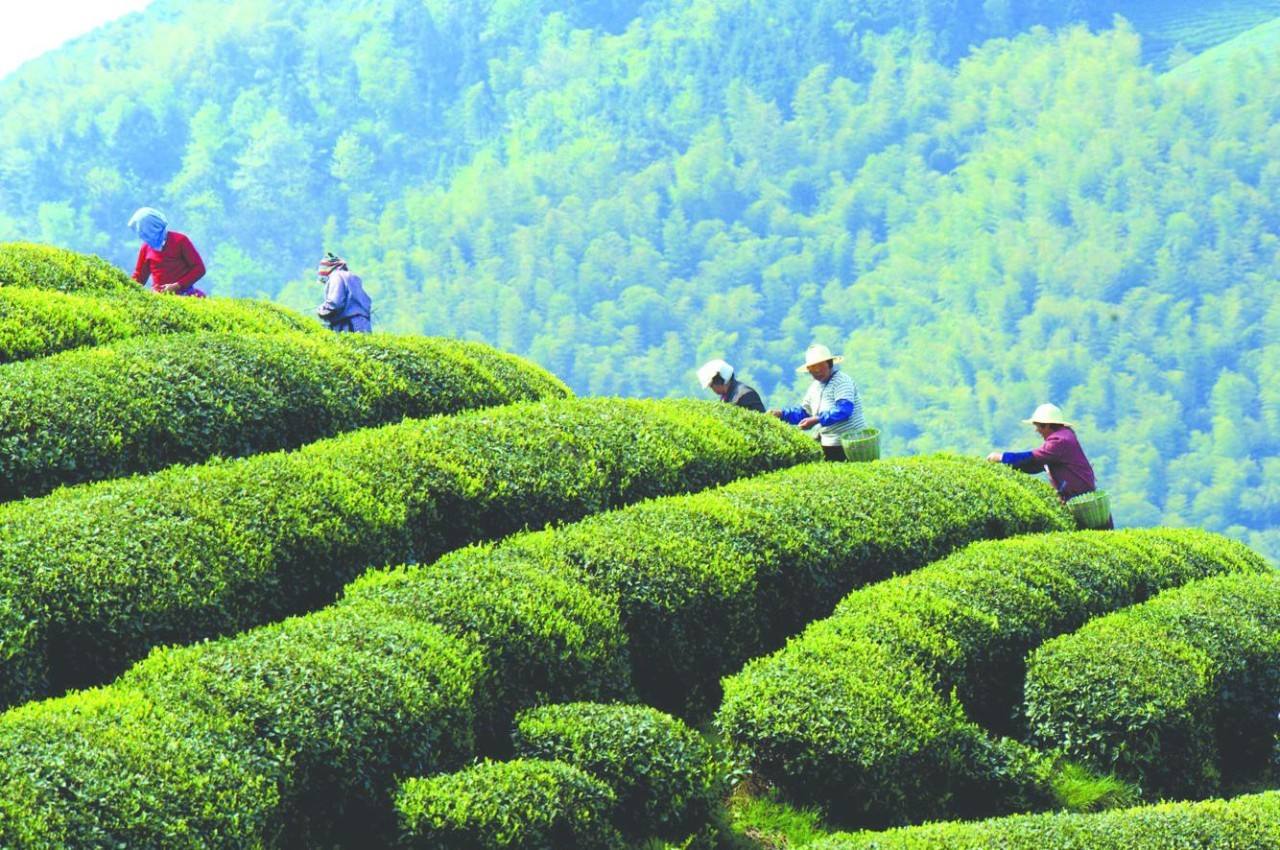 Overview of Dragon Well Tea
Longjing, literally "dragon well", is a name applied to a number of locations and products from the southwestern region of the city of Hangzhou in Zhejiang province, China. Most notably, the name refers to the titular Dragon Well itself, located near Longjing village in Xihu District, as well as the area encompassing the well and the Longjing tea famously grown there.
The Dragon Well region consists of a number of villages, tea plantations, tea houses, parks, and a temple. The area is popular for drinking and buying tea as well as visiting the Eight Scenes of the Dragon Well (龙井八景).
Like most other Chinese green tea, Longjing tea leaves are roasted early in processing (after picking) to stop the natural "fermentation" process, which is a part of creating black and oolong teas. In the world of tea, the term "fermentation" refers to the actions of natural enzymes, present in the leaves, on the juices and tissues of the leaf; this is not "fermentation" in the true sense of the term (as, for example, the action of yeast in producing beer). The actions of these enzymes is stopped by 'firing' (heating in pans) or by steaming the leaves before they completely dry out. As is the case with other green teas (and 'white teas'), Longjing tea leaves are therefore "unfermented." When steeped, the tea produces a yellow-green color, a gentle, pure aroma, and a rich flavor. The tea contains Vitamin C, amino acids, and, like most finer Chinese green teas, has one of the highest concentrations of catechins among teas.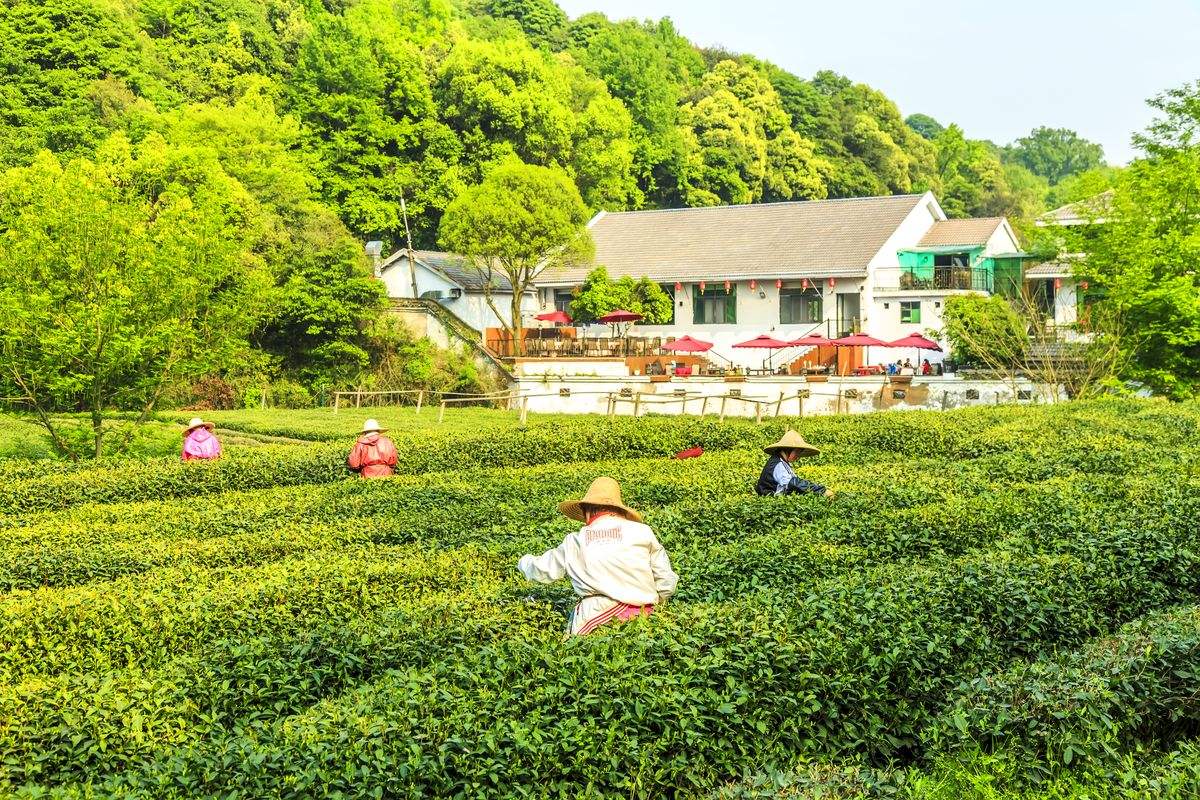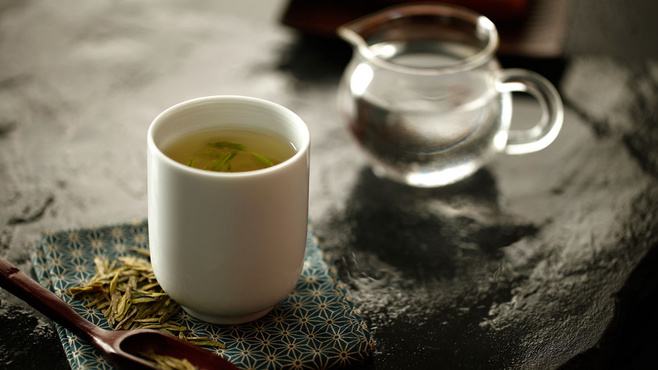 For best infusion results, water at around 75°C should be used to brew the tealeaves. Although it is common practice nowadays to steep Longjing tea in porcelain or glassware, the real taste profile of a finer Longjing is achieved only by using a genuine Yixing teapot, which since the beginning, was popular exactly for preparing green tea well.
Longjing is divided into seven grades: Superior, Special, and then 1 down to 5. Infused leaves are a good indicator of quality, which is characterized by maturity and uniformity of the shoots harvested for processing. High quality Longjing teas produce tender, whole leaves that are uniform in appearance. Lower quality varieties may vary in color from bluish to deep green after steeping. Before infusion, higher quality Longjing teas have a very tight, flat shape and light green color. A study by Wang and Ruan (2009) found that one aspect of the perceived low quality of Longjing teas was a higher concentration of chlorophyll, producing a darker green color. The study revealed that free amino acids and theanine concentrations contribute positively to what is perceived as a good taste.

Legends
There are many legends surrounding the naming of the tea. It is named after a single well, named as you would imagine, the Dragon Well. Located in Dragon Well Village, the well was located behind the Dragon Well Temple which was built over 1,700 years ago.
Legend #1 According to the first legend, locals when digging the well found a stone shaped like a dragon and so they named the well Dragon Well.

Legend #2 The well's water is particularly dense and after rainstorms, the lighter rain water floats on the surface of the water and exhibits a twisting pattern which resembles the long and sinuous body of Chinese dragons. I have personally witnessed this effect.

Legend #3 This is my personal favorite. Locals believe that in the ancient past, a benevolent dragon lived in the well. He controlled the weather and ensured that the area had enough rain. Locals would pray to the dragon and bring him offerings.

History & Background
Longjing tea was granted the status of Gong Cha, or Imperial tea, in Qing Dynasty by Chinese emperor Kangxi. According to the legend, Kangxi's grandson Qianlong visited West Lake during one of his famous holidays.
He went to the Hu Gong Temple under the Lion Peak Mountain (Shi Feng Shan) and was presented with a cup of Longjing tea. In front of the Hu Gong Temple were 18 tea bushes. Emperor Qianlong was so impressed by the Longjing tea produced here that he conferred these 18 tea bushes special imperial status. The trees are still living and the tea they produce is auctioned annually for more money per gram than gold.

There is another legend connecting Emperor Qianlong to Longjing Tea. It is said that while visiting the temple he was watching the ladies picking the tea. He was so enamored with their movements that he decided to try it himself. While picking tea he received a message that his mother, the Empress Dowager was ill and wished his immediate return to Beijing. He shoved the leaves he had picked into his sleeve and immediately left for Beijing. Upon his return he immediately went to visit his mother. She noticed the smell of the leaves coming from his sleeves and he immediately had it brewed for her. It is said that the shape of Longjing Tea was designed to mimic the appearance of the flattened leaves that the emperor brewed for his mother.
Longjing, which literally translates as "dragon well," is said to have named after a well that contains relatively dense water, and after rain the lighter rainwater floating on its surface sometimes exhibits a sinuous and twisting boundary with the well water, which is supposed to resemble the movement of a Chinese dragon.

Legend also has it that to achieve the best taste from Longjing, water from the Dreaming of the Tiger Spring, a famous spring in Hangzhou, is to be used. The water quality of the spring now is certainly very different than before

Dragon Well Tea Plantation
Longjing Village is the most real and original place where produces Dragon Well tea in Hangzhou! You can see the real tea field! It was once visited by Queen Elisabeth and Bill Clinton and other famous Prime Minister and governors.
Dragon well tea Village is located southwest of West Lake scenic area, surrounded by mountains, trending from north to south, and the village resident population of about 800 people. It has nearly 800 acres of high mountain tea garden. In the northwest of the village, there are Beigao Peak, Lion Peak, Tianzhu Peak. They become the natural barrier to resist breeze wind. In the south, there is a streamlet called Nanxi. This creek valley is vary wide, and it straight towards Qiantang River. Southeast wind blow into the valley in spring and summer. So ventilation makes the tea grow well and geography conditions provide a unique advantage.
In this area, the tea booth (Chatan) and small tea house (Chaliao) existed longtime ago. During the Song Dynasty, Chasi and Chafang, where tea was sold, were already ubiquitous. The tea shop industry was further developed in the Ming Dynasty. At the same time, the business of selling big bowls of tea began prosperous in Beijing and was included as a formal industry into 360 industries. During the Qing Dynasty, since the Manchu aristocracy often spent their time in tea houses, they become important activity places for people from all walks of life, such as high officials, merchants and underlings, there. To the Chinese people, tea house, similar to the cafes in western countries, are social places where various kinds of social information are gathered and spread and where customers taste tea and talk about birds, news and daily things. In order to attract customers, stages are built in some tea houses to play tom-tom, Storytelling (Pingshu) and Beijing opera, making these tea houses amusement places. The drama Tea House, written by famous Chinese writer Lao She, revealed vividly the unstable society of the last phase of the Qing Dynasty through describing various kinds of people's words and behaviors in a tea house.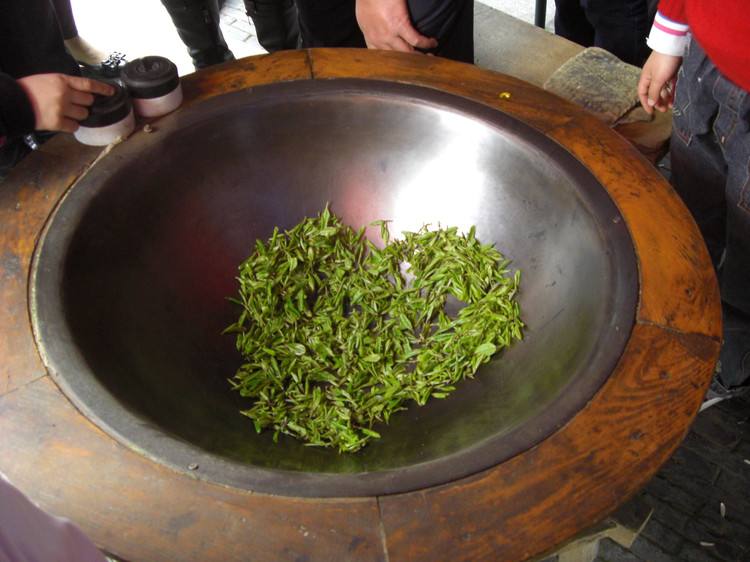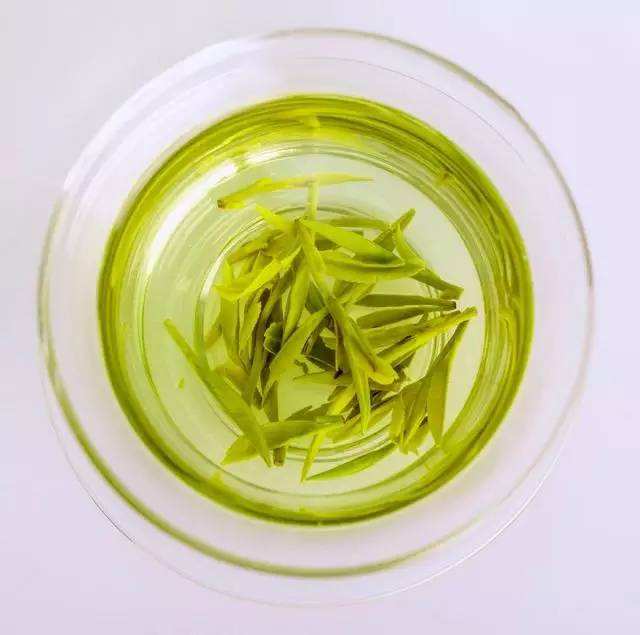 Varieties
Xi Hu (西湖) Longjing
This is an example of the very standard convention of naming; the Xi Hu (West Lake) is a place where this particular Longjing is grown. This Longjing, also known as West Lake Longjing, is a China Famous Tea—in fact the most famous one—and is grown in the Zhejiang Province near Xi Hu lake. It is grown in a designated area of 168 square kilometers. Historically, Xi Hu longjing tea was divided into four sub-regions: Lion (Shi), Dragon (Long), Cloud (Yun) and Tiger (Hu). As the distinction between the sub-regions blurred over the years, this categorisation has now been adjusted to Shi Feng Longjing, Mei Jia Wu Longjing, with the remaining known collectively as Xi Hu longjing, although the Lion variety is still considered the "crème de la crème" by connoisseurs.
Bird's Tongue Longjing
First growth picked on March 21 yields a more intense aroma and taste of sweetness than the better known Ming Qian Longjing. Supply solely depends on yearly climate; therefore it can be expensive. [2009 Data:1200 RMB per 500gm for Bird's Tongue; 900 RMB for Ming Qian at Xi Hu Tea Village]. It is not necessarily more expensive since you will need less for the cup.
Pre-Qingming Longjing
The premium early season first-picking known as Ming Qian or Pre-Qingming (or Before Ching Ming) Longjing tea requires it to be produced from the very tender first spring shoots prior to the Qingming Festival on the 5th of April each year (approximately). The production cycle is very short, only ten days before Qingming every year. Tea picked after this period is of a lower grade called Yu Qian Longjing (雨前龍井), or "Dragon Well Before the Rain". In the 10-day span when Ming Qian Longjing is produced, the sprouts at the tip of the stalks are only hand-picked by experienced workers, and then specially processed; as a result, Pre-Qingming Longjing is more expensive than "standard" Longjing tea.
Shi Feng Longjing
A type of Xi Hu Longjing. This tea is considered the highest quality in China. Fresh tasting, its fragrance is sharp and long lasting. Its leaves are yellowish green in color. Some unscrupulous tea makers excessively pan-fry their tea to imitate its colour.
Mei Jia Wu Longjing
A type of Xi Hu Longjing. This tea is renowned for its attractive jade green color. Early teas can fetch up to 6000 yuan per kilogram (2005 data) direct from the growers.
Bai Longjing
Not a true Longjing but looks like one and is commonly attributed, it is actually a Bai Pian. It comes from Anji in the Zhejiang Province. It was created in the early 80's and is a Green tea from a race of White tea trees and is hence very unusual; it is said to contain more amino acids than ordinary Green tea.
Qian Tang Longjing
This tea comes from just outside the Xi Hu Longjing designated area, in Qian Tang. It is generally not as expensive as Xi Hu Longjing.
Where you can buy Dragon Well Tea
Meijiawu Village 梅家坞
Located to the west of West Lake, Meijiawu Village is Hangzhou's quintessential tea destination. Its quaint alleys and hilly landscape make it the ideal location to watch a tea ceremony, learn about different varieties of Chinese tea, and pick up some invigorating Longjing for the road.
Add: Meijiawu Village, Hangzhou


Getting there from downtown Hangzhou:
By bus: from the bus stop on Tiyuchang Lu (体育场路) in front of the post office just east of Wulin Square (武林广场), take No. 28 bus to Qu Yuan Feng He stop(曲院风荷站); walk south a few meters to the Yu Quan stop (玉泉站); transfer to No. 27 bus and ride to Longjing Cha Shi stop(龙井茶室站); walk west to the last fork in road, turn right and go to the end to find the tea garden.
By taxi: fares from downtown should be about RMB 35-45.
Spring and autumn are the most pleasant times to visit.

From Shanghai: catch the high-speed train to Hangzhou from Hongqiao Railway Station, take taxi or B2(区间) bus to Wulin Square, then follow previous directions.
More Information About Meijiawu tea plantation

Location : 13 kilometers (8 miles) west of West Lake, 30 minutes' drive
Highlights: Pick tea leaves, stir-fry tea, taste tea food, learn about tea culture, witness a Chinese tea ceremony
Best time: March to May
Opening hours: Whole day
Admission Fee: Free
More News About the Longjing (Dragon Well Tea) in Hangzhou!
1,Tea:add flavor to your meal,or even a cocktail
2, Ancient tea traditions are making a comeback in Hangzhou
3, Heat to affect Longjing tea in hangzhou
4, The Second China International Tea Expo in Hangzhou

The Following Hangzhou Tours including the visit to the Dragon Well Tea Plantation & Village may interest you!
1, Hangzhou Classic Day Tour from Shanghai By High Speed Train
2, Hangzhou Essence Highlights Day Tour from Shanghai By High Speed Train
3, Hangzhou Dragon Well Tea Culture Tour (Longjing Tea)
4, Two Days Hangzhou Classic Tour With Impression Westlake Show

Tour The Dragon Well Tea Plantation with Hangzhou Private Tour
We design private and tailor-made Hangzhou Tours customized to your style of travel at affordable local prices. We will provide a private & spacious car and a local professional tour guide with over 5 years guiding experience only work for you or your group. Transport, ticket, and dining (We find the most authentic dishes popular with locals) all we will arrange for you according your requirements. Please check our most popular Hangzhou Tours including The Dragon Well Tea Plantation as below:

Are the above sample tour programs not suitable for you? We have more Hangzhou Tours. Our tours can be tailor-made based on your requirements and budget to create unique Hangzhou experiences that allow you to interact with the local people and culture. We are Hangzhou travel experts who know what your guidebook and foreign agencies don't. Our enthusiastic tour expert will promptly reply you in details within 24 hours.